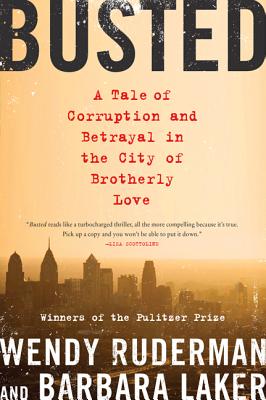 Busted (Hardcover)
A Tale of Corruption and Betrayal in the City of Brotherly Love
Harper, 9780062085443, 256pp.
Publication Date: March 11, 2014
Other Editions of This Title:
Digital Audiobook (11/17/2014)
Paperback (3/10/2015)
Compact Disc (11/1/2014)
Compact Disc (11/1/2014)
* Individual store prices may vary.
Description
In the vein of Erin Brockovich, The Departed, and T. J. English's Savage City comes Busted, the shocking true story of the biggest police corruption scandal in Philadelphia history, a tale of drugs, power, and abuse involving a rogue narcotics squad, a confidential informant, and two veteran journalists whose reporting drove a full-scale FBI probe, rocked the City of Brotherly Love, and earned a Pulitzer Prize .
In 2003, Benny Martinez became a Confidential Informant for a member of the Philadelphia Police Department's narcotics squad, helping arrest nearly 200 drug and gun dealers over seven years. But that success masked a dark and dangerous reality: the cops were as corrupt as the criminals they targeted.
In addition to fabricating busts, the squad systematically looted mom-and-pop stores, terrorizing hardworking immigrant owners. One squad member also sexually assaulted three women during raids. Frightened for his life, Martinez turned to Philadelphia Daily News reporters Wendy Ruderman and Barbara Laker.
Busted chronicles how these two journalists—both middle-class working mothers—formed an unlikely bond with a convicted street dealer to uncover the secrets of ruthless kingpins and dirty cops. Professionals in an industry shrinking from severe financial cutbacks, Ruderman and Laker had few resources—besides their own grit and tenacity—to break a dangerous, complex story that would expose the rotten underbelly of a modern American city and earn them a Pulitzer Prize. A page-turning thriller based on superb reportage, illustrated with eight pages of photos, Busted is modern true crime at its finest. 
About the Author
A reporter at the Philadelphia Daily News, Wendy Ruderman has worked at several media outlets, including the New York Times, Philadelphia Inquirer, WHYY-TV and WHYY-FM, the Trenton Times, the Associated Press, and the Bergen Record.
Barbara Laker has worked for several newspapers, including the Atlanta Journal-Constitution, Dallas Times Herald, and Seattle Post-Intelligencer. She began working at the Philadelphia Daily News in 1993 and has since been a general assignment reporter, an assistant city editor, and an investigative reporter.
Praise For Busted: A Tale of Corruption and Betrayal in the City of Brotherly Love…
"Equal parts serious journalism and sisterly sass, Busted is a personable and fast-reading ride…a shoe-leather journalistic procedural set against the ticking clock of the failing newspaper industry."
— New York Times Book Review

"The chick, noir version of All the President's Men with a little Rocky… and a little almost anything with Rosalind Russell or Barbara Stanwyck."
— Washington Post

"A riveting tale of two brave reporters who love what they do and are totally committed….engaging, down to earth and at times, very funny."
— USA Today

"Busted is a very good book about very bad people, a great read about great injustice.…Busted is proof that journalism still lives, still matters."
— Newsweek

"The new book Busted: A Tale of Corruption and Betrayal in the City of Brotherly Love is the chick, noir version of All the President's Men."
— Washington Post

"I admire Wendy Ruderman and Barbara Laker, who are not only Pulitzer-Prize winning journalists, but fearless and fascinating women. Busted reads like a turbo-charged thriller, all the more compelling because it's true. Pick up a copy, and you won't be able to put it down."
— Lisa Scottoline

"A story that not only pounds at the door to come inside, but stands as a much-needed reminder that newspapers are and always have been and, as far as I know, always will be the bedrock of the art of journalism."
— Pete Dexter, journalist and author of National Book Award-winner Paris Trout

"Busted: A Tale of Corruption and Betrayal in the City of Brotherly Love is the scorching, devastating, and action-packed story of two journalists' journey into the dark heart of a major city.…Wendy Ruderman and Barbara Laker are true heroes…. I love this book."
— Edna Buchanan, Pulitzer Prize-winning journalist and bestselling author

"Busted is a thoroughly engaging…trip into Philadelphia's underworld, where cops prey on those they are pledged to protect…. Rich with character and incident, it's a complete original, and a love letter to newspapers in their hour of dire need."
— Mark Bowden, author of Black Hawk Down

"Busted is a taut, gritty story of drug dealers and corrupt cops written with passion, fury and what Philadelphians refer to as attitude (pronounced 'atty-tood'). Ruderman and Laker have a lot of that, which is why they're two of the best reporters in the country."
— George Anastasia, author of Blood and Honor and The Last Gangster

"Busted reads like a gritty crime novel, but it is a paean to journalistic professionalism."
— Michael Smerconish, columnist, MSNBC contributor, and host of The Michael Smerconish Program on SiriusXM

"A fast-paced, well-written true crime book."
— Washington Times

"Busted is a welcome addition to the literature of journalism procedurals."
— Philadelphia Inquirer

"Fans of The Front Page and All the President's Men will be transfixed by this astounding tale of police corruption."
— New York Post

"Prevailing against threats, intimidation, and the impending bankruptcy of their newspaper, Ruderman and Laker delivered a powerful series on police corruption, ultimately earning the Pulitzer Prize for investigative reporting. This is a gritty, true-life thriller about the intersection of policing, drug dealing, and news reporting"
— Booklist (starred review)

"This true crime book offers an impressive, crisply told account of the reporting of a police corruption scandal that yielded a Pulitzer Prize…. The book is a tough, lively lesson in how doing the right thing, the right way, may not be enough."
— Publishers Weekly

"Ruderman and Laker provide a welcome addition to the shelves of books about the mechanics and logistics of journalistic exposés . . . . [t]he narrative offers an insightful view of high-risk, high-reward investigative journalism."
— Kirkus Reviews

"Prevailing against threats, intimidation, and the impending bankruptcy of their newspaper, [Ruderman and Laker]…tell a story of a city the tourists seldom see."
— Booklist Online

"As investigative reporters for the Philadelphia Daily News, this writing duo won a Pulitzer Prize for their series on police corruption in Philadelphia. The story starts with Benny Martinez, a drug informant…. It ends by exposing the dirty dealings of an elite narcotics squad."
— Houston Chronicle, "10 Books Worth Reading in 2014"

"Part study in investigative journalism, it also delivers a commentary on the state of print journalism today, and justice."
— Daily News

"Busted is a Philadelphia classic…. It's an easy, breezy read but that's not to say it's insubstantial."
— Philadelphia Magazine

"[A] gritty, honest, often surprisingly funny book."
— Philadelphia Weekly

"Readers of true crime and students of sociology will especially enjoy this highly engaging read about the modern realities that plague many American cities."
— Library Journal
Coverage from NPR
or
Not Currently Available for Direct Purchase