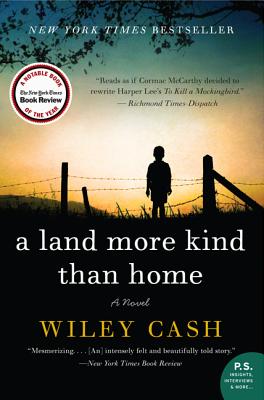 A Land More Kind Than Home
A Novel
Paperback

* Individual store prices may vary.
Other Editions of This Title:
Digital Audiobook (4/16/2012)
Compact Disc (4/17/2012)
MP3 CD (4/17/2012)
Description
In his phenomenal debut novel—a mesmerizing literary thriller about the bond between two brothers and the evil they face in a small North Carolina town—author Wiley Cash displays a remarkable talent for lyrical, powerfully emotional storytelling. A Land More Kind than Home is a modern masterwork of Southern fiction, reminiscent of the writings of John Hart (Down River), Tom Franklin (Crooked Letter, Crooked Letter), Ron Rash (Serena), and Pete Dexter (Paris Trout)—one that is likely to be held in the same enduring esteem as such American classics as To Kill a Mockingbird, Of Mice and Men, and A Separate Peace. A brilliant evocation of a place, a heart-rending family story, a gripping and suspenseful mystery—with A Land More Kind than Home, a major American novelist enthusiastically announces his arrival.
Praise For A Land More Kind Than Home: A Novel…
"Mesmerizing . . . only Jess knows why his autistic older brother died on the very day he was taken into the church, and it's his voice that we carry away from this intensely felt and beautifully told story." — New York Times Book Review
"Cash adeptly captures the rhythms of Appalachian speech, narrating his atmospheric novel in the voices of three characters . . . The story has elements of a thriller, but Cash is ultimately interested in how unscrupulous individuals can bend decent people to their own dark ends." — Washington Post
"Absorbing . . . Cash uses well-placed flashbacks to flesh out his characters . . . and to illuminate a familiar truth of Southern lit: Many are the ways that fathers fail their sons." — Entertainment Weekly
"As lyrical, beautiful, and uncomplicated as the classic ballads of Appalachia, Cash's first novel is a tragic story of misplaced faith and love gone wrong . . . In a style reminiscent of Tom Franklin and John Hart, Cash captures the reader's imagination." — Library Journal (starred review)
"This book will knock your socks off. It's so good to read a first novel that sings with talent. Wiley Cash has a beautifully written hit on his hands." — Clyde Edgerton, author of The Night Train
"A riveting story! The writing is bold, daring, graceful, and engrossing." — Bobbie Ann Mason, author of In Country
"I try to state the truth and dislike flinging superlatives about with mad abandon, but I have been so deeply impressed by this novel that only superlatives can convey the tenor of my thought: this is one of the most powerful novels I have ever read." — Fred Chappell, author of Brighten the Corner Where You Are
"This novel has great cumulative power. Before I knew it I was grabbed by the ankle and pulled down into a full-blown Greek tragedy." — Gail Godwin, author of Evensong
"The first thing that struck me about Wiley's novel is the beautiful prose: the narrative is strong, clean, direct and economical. . . . I think this could be the beginning of a long, fruitful career." — Ernest J. Gaines, author of A Lesson Before Dying
"Cash's debut novel explores Faulkner-O'Connor country . . . As lean and spare as a mountain ballad, Cash's novel resonates perfectly, so much so that it could easily have been expanded to epic proportions. An evocative work about love, fate and redemption." — Kirkus Reviews
"A Land More Kind Than Home is a powerfully moving debut that reads as if Cormac McCarthy decided to rewrite Harper Lee's To Kill a Mockingbird." — Richmond Times-Dispatch
"A lyrical, poignant debut . . . In the mode of John Hart, Tom Franklin, and early Pat Conroy, A Land More Kind Than Home explores the power of forgiveness [and] the strength of family bonds." — Florida Sun-Sentinel
"Wiley Cash's novel embeds a tender coming-of-age story within a suspense-filled thriller. . . . [A] clear-sighted, graceful debut." — Atlanta Journal-Constitution
"So beautifully written that you'll be torn about how fast to read it. This is great, gothic Southern fiction." — NPR
William Morrow Paperbacks, 9780062088239, 368pp.
Publication Date: January 22, 2013
About the Author
Wiley Cash is the New York Times bestselling author of A Land More Kind Than Home, the acclaimed This Dark Road to Mercy, and most recently The Last Ballad. He is a three-time winner of the SIBA Southern Book Prize, won the Conroy Legacy Award, was a finalist for the PEN/Robert W. Bingham Prize and the Edgar Award for Best Novel, and has been nominated for many more. A native of North Carolina, he is the Alumni Author-in-Residence at the University of North Carolina Asheville. He lives in Wilmington, NC with his wife, photographer Mallory Cash, and their two daughters.
Think about the epigraph the author chose to open the book and from which the novel's title derives. What is the significance of this particular quote? How does it set the novel's tone and mood? Explain what the title—"a land more kind than home"—signifies.
The novel is told from three characters' perspectives. How does this add to the story and deepen it as it unfolds? How might it be different if it had been told from only one of the character's point of view?
Talk about Carson Chambliss. Describe his character. Why does he have such a magnetic hold on his congregation, and especially on Julie? Is Julie a good mother? Can you understand why she behaved the way she did? Do you think she understood the truth of her son, Stump's fate? Why is Addie so afraid of him?
How might the events of the story have unfolded differently if Jess had told his mother the truth about what she heard at the Sunday afternoon service?
Describe this small North Carolina town in which the story takes place. What is it like? How does its size and remoteness influence the lives of those who call it home? Sheriff Clem Barfield is not native to Madison County. How does this impact the way he sees this place and its people?
How can religion uplift a person's soul? How can it be corrupting influence? Julie considers herself to be a "good Christian woman." What do you think? Whether you are Christian or not, religious or not, what is your definition of a "good Christian?" Is anyone in the novel virtuous, and if so, in what way?
Why did Addie pull the children out of Chambliss's services? Did she have any other options?
When Jess asks his grandpa if Stump will be able to talk in heaven, Jimmy tells him, "Of course he will. We'll all be able to talk. And we'll be able to understand each other." What does his answer reveal about him and the world? What is he trying to teach Jess?
Think about Jimmy Hall. What kind of relationship does she have with his son? What about with Sheriff Barefield?
Can this novel be compared to a Shakespearean tragedy? If so, in what ways? Think about various stories and proverbs from the Bible. How are they reflected in the story?
What role does nature and the natural world play in the novel?
Addie believes that this place and its people will be saved in the wake of tragedy. Do you believe in salvation? What role does forgiveness play in this story? Do you think people can change for the better? What about Jimmy Hall? How do the novel's events impact his relationship with the sheriff and with his grandson, Jess?
Think about the novel's themes: revenge, faith, betrayal, goodness and evil, forgiveness and understanding. Choose a character and show how these themes are demonstrated through his or her life.
or
Not Currently Available for Direct Purchase