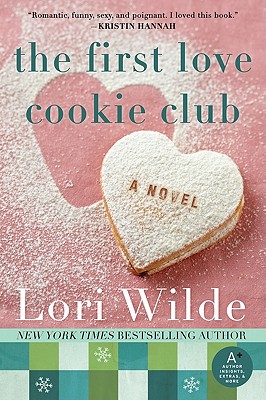 The First Love Cookie Club (Paperback)
A Novel (Twilight, Texas #3)
William Morrow Paperbacks, 9780062089212, 384pp.
Publication Date: August 16, 2011
Other Editions of This Title:
Mass Market (10/26/2010)
* Individual store prices may vary.
Description
"Lori Wilde has created a rich and wonderful story about the charm of small town life combined with the power and passion of first love. Delicious!"
—New York Times Bestselling author Robyn Carr
Come back to Twilight, Texas with award-winning author Lori Wilde. The First Love Cookie Club is heartwarming contemporary romance fiction, the story of a famous writer's return to the hometown she once fled in humiliation—only to discover that the boy she foolishly gave her heart to those many years ago might just be her Christmas miracle. Fans of Debbie Macomber, Susan Wiggs, Susan Mallery, and Sherryl Woods will delight over The First Love Cookie Club, a wonderfully poignant tale of small town second chances.

About the Author
Lori Wilde is the New York Times, USA Today and Publishers' Weekly bestselling author of 87 works of romantic fiction. She's a three-time Romance Writers' of America RITA finalist and has four times been nominated for Romantic Times Readers' Choice Award. She has won numerous other awards as well. Her books have been translated into 26 languages, with more than four million copies of her books sold worldwide. Her breakout novel, The First Love Cookie Club, has been optioned for a TV movie.
Lori is a registered nurse with a BSN from Texas Christian University. She holds a certificate in forensics and is also a certified yoga instructor.
A fifth-generation Texan, Lori lives with her husband, Bill, in the Cutting Horse Capital of the World; where they run Epiphany Orchards, a writing/creativity retreat for the care and enrichment of the artistic soul.
This novel explores the "wounds" that hold people back in life. Are Sarah's emotional wounds understandable? How does her physical wound complicate her emotional healing?
What are some of Travis's wounds? How do his wounds differ from Sarah's? In what ways are his coping mechanisms more effective than hers?
The community is a strong influence in this story. What do the members of The First Love Cookie Club teach Sarah? What do they offer Sarah that her own family did not?
The annual Dickens Christmas event is very important to the town of Twilight. Why do you think the author chose Dickensian symbolism? In what way is it a metaphor for Sarah's emotional journey?
Secrets are an important theme in this novel. Sarah has a secret scar. Travis's Aunt Raylene has a dark secret. Even Travis's ex-wife Crystal has a secret. How common are secrets in families? Have secrets been kept in your family?
Sarah grew up isolated from her brilliant heart surgeon parents. She learned to live in her own head and spun stories to comfort herself. These stories led her to be an author of children's books, but her coping mechanism of withdrawing has kept her from fully embracing life. Do you believe Sarah has learned better coping skills?
In order to deal with his grief over his wife's death, Travis's father isolated himself from others. How is Sarah's isolation different from that of Travis's father? What important lessons did she learn that Travis's father did not?
Christmas cookies are an important element in The First Love Cookie Club. Cookie swaps are a popular holiday activity. What is it that the cookies offer to Sarah and the ladies of the Cookie Club? What do the cookies really represent?
Travis tells Sarah that "Scars are just evidence of where you've been, they're not markers of where you're going." What are some examples of this throughout the story? How have people allowed scars to hold them back? Who is the one person who doesn't let anything hold her back?
Raylene has a dark secret that once it's exposed damages her marriage. Did the secret change your feelings about Raylene? The author purposely chose not to resolve Raylene's story line. Would you have liked more closure for that character? Or do you appreciate that life is more fluid and things can't always be tied up with a pretty bow?
Finding out Crystal's secret makes it easier to understand her behavior. Still, she is a mother who abandoned her child. Does she deserve a second chance at being Jazzy's mother? Or are there some actions that can never be redeemed?
The First Love Cookie Club teaches us that it is possible to heal old wounds. Through loving Jazzy, Sarah comes to understand her parents better and they are able to take steps toward bridging the gap between them. What has this novel shown us about love, belonging, community, forgiveness, and healing?