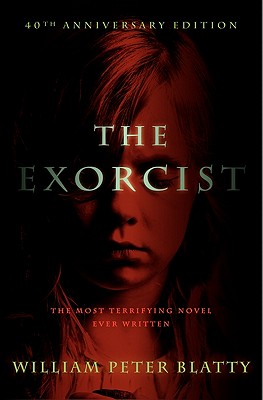 The Exorcist
A Novel
Hardcover

* Individual store prices may vary.
Description
"What an excellent day for an exorcism..."
Originally published in 1971, The Exorcist remains one of the most controversial novels ever written. A literary phenomenon soon after its release, it spent fifty-seven weeks on the New York Times bestseller list, seventeen consecutively at number one. Inspired by the shockingly true story of a child's demonic possession in the 1940s, William Peter Blatty's iconic novel focuses on Regan, the eleven-year-old daughter of a movie actress residing in Washington, D.C. When sweet Regan's behavior turns sinister, a small group of overwhelmed yet determined individuals take it upon themselves to rescue the poor girl from her unspeakable fate. Timeless and terrifying, The Exorcist is a story that has gripped the public zeitgeist for nearly half a century.
Soon after its publication, The Exorcist became a wildly popular motion picture, garnering ten Academy Award nominations. On the opening day of the film, lines of fans stretched around city blocks. In Chicago, frustrated moviegoers used a battering ram to gain entry through the double side doors of a theater. In Kansas City, police used tear gas to disperse an impatient crowd who tried to force their way into a cinema. The three major television networks carried footage of these events, and CBS's Walter Cronkite devoted almost ten minutes to the story. The Exorcist was, and is, more than just a novel and a film: it is a true landmark of American culture. . .and a reflection of our innermost fears.
Purposefully raw and profane, The Exorcist continues to engross and disturb readers. Now, fifty years since its publication, it remains an unforgettable reading experience that will continue to shock and frighten a new generation of readers.
Praise For The Exorcist: A Novel…
"A horror story for all midnights." — The Boston Globe
"There are not many readers who will be unmoved. Written in a literate style, The Exorcist is to most other novels of its kind as an Einstein equation is to an accountant's column of figures." — New York Times Book Review
"Immensely satisfying, it hold its readers in a vise-like grip worthy of Poe." — Los Angeles Times
"Wonderfully exciting." — Newsweek
"Absolutely superb. Blatty makes you think this scary tale really might have happened." — Cleveland Plain Dealer
"Up till dawn, I was, with The Exorcist. A shocker . . . driving to a violent conclusion." — Cosmopolitan
"A page-turner par excellence. Poe and Mary Shelley would recognize [Blatty] as working in their ambiguous limbo between the natural and the supernatural . . . hair-rising." — Life
"A tremendous novel . . . fast, powerful, and completely gripping, a hypnotic combination of morality tale and supernatural detective story. A parable for our times, a stunning achievement." — London Sunday Express
"The Exorcist should be read twice; the first time for the passion and horrifying intensity of the story, with a second reading to savor the subtleties of language and phrasing. . . . It's an experience you will never forget." — St. Louis Post-Dispatch
"Suspense that never lets up!" — Publishers Weekly
"A fantastic and deeply religious novel that will touch the reader to his very soul as it touches on things in this world that cannot be explained away rationally." — Texas Abilene Reporter-News
Harper, 9780062094353, 400pp.
Publication Date: October 4, 2011
About the Author
William Peter Blatty is the bestselling author of The Exorcist, which he turned into an Academy Award–winning screenplay. The son of immigrant parents, he was a comic novelist before embarking on a four decade career as a Hollywood writer, penning the screenplays for A Shot in the Dark, What Did You Do in the War, Daddy?, the Julie Andrews romantic comedy Darling Lili, and The Ninth Configuration (which he also directed), among many other films. Blatty died on January 12, 2017 in Bethesda, Maryland.