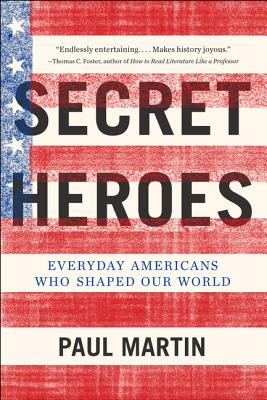 Secret Heroes: Everyday Americans Who Shaped Our World (Paperback)
Everyday Americans Who Shaped Our World
William Morrow & Company, 9780062096043, 337pp.
Publication Date: April 10, 2012
* Individual store prices may vary.
or
Not Currently Available for Direct Purchase
Description
Secret Heroes is a remarkable compendium by Paul Martin, former Executive Editor of National Geographic Traveler, that illuminates the lives of thirty forgotten American heroes. Gathering together remarkable stories about unknown champions, explorers, inventors, and innovators who never made the pages of American history textbooks--not George Washington, but the tailor who saved his life...twice; the first African-American combat pilot; the 62-year-old female muckraking journalist who refused to turn her back on injustice--Secret Heroes is just the sort of fascinating and fun popular history that readers love, not unlike Kenneth C. Davis's bestselling Don't Know Much About(R) series and Rick Beyer's The Greatest Stories Never Told.

Praise For Secret Heroes: Everyday Americans Who Shaped Our World…
"Martin's life-and-work portraits, with their subjects' pluck and pioneering spirit, will surprise and, perhaps, inspire readers."
-Booklist

"Self-sacrifice and determination abound in the tales....Meticulously researched, Martin holds his subjects in deserved high-esteem."
-Publishers Weekly

"Reverent character sketches of some unusually self-reliant Americans....Inspirational yarns of exceptional folks who made a difference...surprisingly entertaining."
-Kirkus Reviews

"Paul Martin creates a fascinating sub-text to American history: the literally un-sung hero who through imagination, daring, perseverance, and occasional great risk affects the shaping of democracy. This enthralling, episodic ramble's perfect for anyone interested in how America managed to get from there to here."
-James Conaway, author of Napa: The Story of an American Eden

"Look who Paul Martin found hiding in the cracks and crevices of American history--a colorful cast of forgotten characters definitely worth getting to know!...From the grocery store to the battlefield, forgotten heroes who left an indelible mark on American history. An enjoyable and eye-opening read."
-Rick Beyer, author of The Greatest Stories Never Told

"Endlessly entertaining…Martin introduces us to a colorful cast of saints, visionaries and occasional rogues, and he does so with style and zest. Heroes, yes, but secret no more, these are (extra)ordinary men and women well worth our attention, in a book that makes history joyous."
-Thomas C. Foster, author of How to Read Literature Like a Professor
Advertisement