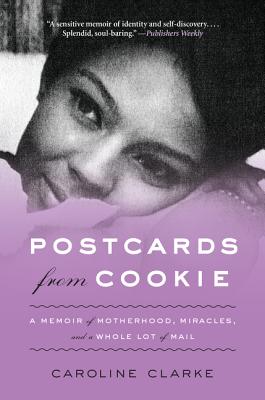 Postcards from Cookie
A Memoir of Motherhood, Miracles, and a Whole Lot of Mail
Paperback

* Individual store prices may vary.
Other Editions of This Title:
Digital Audiobook (2/1/2021)
Compact Disc (2/2/2021)
Hardcover (4/15/2014)
MP3 CD (2/2/2021)
Description
Award-winning journalist and host of Black Enterprise Business Report Caroline Clarke's moving memoir of her surprise discovery of her birthmother—Cookie Cole, the daughter of Nat King Cole—and the relationship that blossomed between them through the heartfelt messages they exchanged on hundreds of postcards.
Caroline Clarke was born in an era when adoptions were shameful and sealed. She kept her curiosity about her biological parents in check, until a series of small health problems raised concerns about her genetic heritage and its consequences for her two children's lives and her own.
Though the agency that handled her adoption could not reveal the name of her birth mother, it provided details that lead to a shocking truth. Caroline's birth mother and her family were related to a friend: Carole "Cookie" Cole, the daughter of iconic crooner and pianist Nat King Cole.
Drawing on details provided by the agency and her own investigative skills, Caroline embarked on a life-changing journey of discovery that stretched from coast to coast, forged through e-mail, phone calls, and post cards. The constancy, volume, and intimacy of her steady correspondence with Cookie filled the days and distance between them. Through brief yet poignant messages squeezed onto three-inch open-faced squares, mother and daughter revealed themselves, ultimately building a bond like no other.
A heartfelt, inspiring tribute to both Caroline's adoptive parents and her biological mother, Postcards from Cookie illuminates the enduring power of love to shape and guide our lives.
Praise For Postcards from Cookie: A Memoir of Motherhood, Miracles, and a Whole Lot of Mail…
"A moving account of a woman who finally finds out who she is."
— New York Times Book Review

"Page after elegant, funny, and poignant page, Postcards from Cookie astounds. The power of Clarke's writing is matched by the complex and remarkable relationship between two extraordinary and unforgettable women."
— Essence

"A sensitive memoir of identity and self-discovery. . . . Splendid, soul-baring."
— Publishers Weekly

"Downright riveting. . . . Read it."
— Ebony

"A loving . . . account of the enduring power of family love."
— Booklist (starred review)

"The exchange of postcards, phone calls and emails between mother and daughter are moving, and Clarke's capacity for forgiveness is real."
— Juicy

"Caroline Clarke has written more than a memoir. Postcards from Cookie is an iconic portrait of a singular American family— complete with celebrity and wealth, secrets and lies, heart pounding loss and hard-earned, often uneasy, love."
— Veronica Chambers, author of Mama's Girl

"Clarke's prose is elegant, crisp and deeply personal, and her narration is gripping. . . . Clarke effectively explores her crisis of identity by peeling back layer after layer of a complex, riveting personal history. . . . A captivating memoir."
— Kirkus Reviews

"I'm excited to add Postcards from Cookie to the bookshelves at my restaurant, the Red Rooster. This stunning memoir is so emblematic of the love and joy I see in our patrons every day; a never-ending story about family, friendship, love and history. It's as American as fried chicken, mac and greens. This book is soulful—and delicious."
— Marcus Samuelsson, co-owner of the Red Rooster in Harlem and award-winning author of Yes, Chef

"No, seriously - you're going to want to read this book because Postcards from Cookie will send you away satisfied."
— Long Island Pulse

"Their journey of reunion is captured with sensitivity, as Caroline describes all the anxieties (including those of her adopted parents) in this touching diary which reveals the joys and sorrows of adoption."
— Iron Mountain Daily News

"A 'must read' novel-like memoir."
— Black Enterprise
Harper Paperbacks, 9780062103185, 336pp.
Publication Date: February 3, 2015
About the Author
Caroline Clarke has spent most of her career at the media company Black Enterprise, where throughout the years she has held several key positions. She has a bachelor's degree in English from Smith College and a master's degree from Columbia University Graduate School of Journalism. A passionate advocate for adoption, she lives in New York with her family.