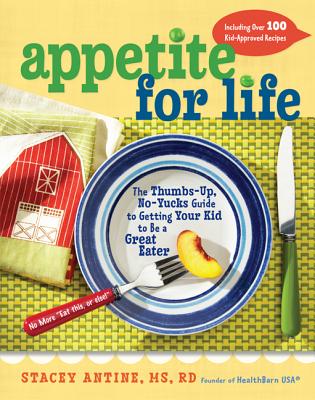 Appetite for Life (Hardcover)
The Thumbs-Up, No-Yucks Guide to Getting Your Kid to Be a Great Eater--Including Over 100 Kid-Approved Recipes
HarperOne, 9780062103703, 272pp.
Publication Date: September 11, 2012
* Individual store prices may vary.
Description
From fluorescent yogurt to 100-calorie snack packs, most "kid friendly" food has little nutritional benefit. We've convinced ourselves that in order to get kids to eat it, food needs to be packaged into something fake, colored, and far from its natural source. No wonder kids protest when we ask them to eat their vegetables. They don't come in a box
Enter Stacey Antine, founder of HealthBarn USA, an organization at the front lines of introducing kids and their families to healthy eating habits and real food. While some parents "sneak" nutritious foods into meals, Antine knows from experience that the key to raising adventurous, wise eaters is to connect kids to the food they eat. Kids are more likely to try new foods and make healthy choices if they understand where ingredients come from, know why certain foods are good for their bodies and minds, and have an active role in preparation, from gathering ingredients to cooking.
In Appetite for Life, mealtime is no longer a battleground, but an opportunity for fun and experimentation. In fact, Antine encourages giving children a voice: with her "no yucks allowed" method, kids use a thumbs-up/thumbs-down rating system for each new food they try, but they always have to try at least one bite.
Featuring food the whole family will love (no more separate kids menu ), this book includes: nutritious, easy-to-make recipes for all three meals plus snack time, which have been tested and approved by the thousands of kids who attend HealthBarn; family activities like Stacey's Supermarket Spy Kids game; and great-tasting, home-made alternatives to your go-to store-bought foods, with side-by-side nutritional analysis to highlight the benefits of learning to eat the HealthBarn way. Appetite for Life is the key ingredient to a healthier, happier dinner table.
Praise For Appetite for Life: The Thumbs-Up, No-Yucks Guide to Getting Your Kid to Be a Great Eater--Including Over 100 Kid-Approved Recipes…
"I love this book! Antine has taken what some call complicated ideas about food and nutritional intake and made it easy for kids and parents to understand. Your young ones will live happier and healthier!"
-Curtis G. Aikens Sr., Food Network chef and author of Curtis Aikens' Guide to the Harvest

"Stacey Antine understands kids, nutrition, and the joys of good food and knows how to bring them all together. She gets kids to love foods that love them back. If you care about food, health, and kids, you will love this book!"
-David L. Katz, MD, Yale University School of Medicine and Editor-in-Chief of Childhood Obesity

"Who doesn't want their kids to love eating healthy foods? As a pediatrician, I highly recommend Appetite for Life for all families who want to make healthy eating fun again. Stacey Antine provides a practical and engaging roadmap to helping your child become the great eater you want them to be. This book will change your life." "
-Lawrence D.Rosen, MD, The Whole Child Center

"My kids are now reading ingredient labels, making their own healthy and informed food choices and are eager to try new foods and experiment with growing some of their own. Stacey Antine has changed the way our family eats. "
-Kerry Kittles, former NBA player, Los Angeles Clippers and New Jersey Nets.

"Stacey has been able to translate important health and nutrition concepts into fun, hands-on learning experiences. Appetite for Life brings this proven model for food, gardening, and nutrition home to millions of parents who want the best for their children's health."
-Christine L. Williams, MD, MPH, Professor of Clinical Pediatrics, and Director of the Children's Cardiovascular Health Center at Columbia University
or
Not Currently Available for Direct Purchase