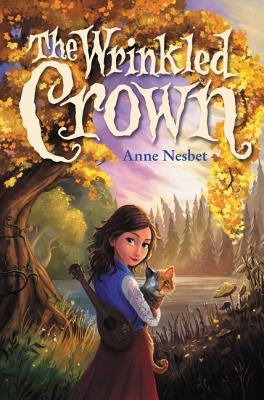 The Wrinkled Crown
Hardcover

* Individual store prices may vary.
Description
Fans of Anne Ursu will love Anne Nesbet's tale of music and friendship, set against an age-old war between magic and science.
In the enchanted village of Lourka, almost-twelve-year-old Linny breaks an ancient law. Girls are forbidden to so much as touch the town's namesake musical instrument before their twelfth birthday or risk being spirited away. But Linny can't resist the call to play a lourka, so she builds one herself.
When the punishment strikes her best friend instead, Linny must leave home to try to set things right. With her father's young apprentice, Elias, along for the journey, Linny travels from the magical wrinkled country to the scientific land of the Plain, where she finds herself at the center of a battle between the logical and the magical.
Praise For The Wrinkled Crown…
"Nesbet has a sure touch in bringing this breathless tale to tween readers. Her characters are realistic and likable, and kids will care about them. Nesbet's writing is deft and unpredictable, with adventure following adventure, keeping readers hooked to the end." — School Library Journal (starred review)
"With hints of a sequel to come, this agreeable adventure introduces an appealing, spunky heroine and sets the stage for more conflict and compromise to come." — Kirkus Reviews
"A good choice for fans... of Cornelia Funke or Erin Hunter." — Booklist
Nesbet's fable explores the relationship of science, logic, and imagination, forging ahead with eventfulness and visual richness. A cozy, personable narrative voice punctuates the drama with light humor." — Horn Book Magazine
PRAISE FOR THE CABINET OF EARTHS: "In her debut novel, Nesbet has crafted a carefully imagined, magical world-one that is shrouded in mystery and keeps the reader engaged and guessing. With imaginative alchemy, compelling action, and sensitive characterizations, this novel will undoubtedly win over fantasy fans." — Booklist
PRAISE FOR THE CABINET OF EARTHS: "Nesbet's first novel is an impressive achievement, its substance and style gracefully blended. Above all, Maya is a fully rounded, complex character, someone whose qualities and struggles are admirably and appealingly central to the fantasy." — The Horn Book
PRAISE FOR THE CABINET OF EARTHS: "Blending elements of magic, science, and even horror with evocative prose and a confident narrative voice, Nesbet immerses readers in her contemporary Parisian setting." — Publishers Weekly
PRAISE FOR THE CABINET OF EARTHS: "Nesbet has written a unique, interesting fantasy with just enough suspense to keep readers turning the pages long into the night. Fantasy readers of all ages, especially middle school students, will enjoy this story." — Voice of Youth Advocates (VOYA)
PRAISE FOR THE CABINET OF EARTHS: "This debut novel of intrigue, family betrayal and an unsolved case of missing children will grip readers from first page to last. Readers will be swept along by the novel's swift pace and enjoy the mystery's unraveling with Maya and Valko as their companions." — Shelf Awareness
PRAISE FOR A BOX OF GARGOYLES: "A flavorful mille-feuille with equally tasty layers of dark magic, light comedy and salty determination." — Kirkus Reviews (starred review)
PRAISE FOR A BOX OF GARGOYLES: "Nesbet's style is both animated and animating...all elements of her story fairly quiver with life." — The Horn Book
HarperCollins, 9780062104298, 400pp.
Publication Date: November 10, 2015
About the Author
Anne Nesbet teaches classes on silent films and Russian novels at UC Berkeley. The author of The Cabinet of Earths and A Box of Gargoyles, she lives near San Francisco with her husband, three daughters, and one irrepressible dog.