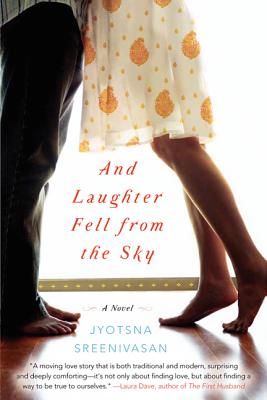 And Laughter Fell from the Sky
A Novel
Paperback

* Individual store prices may vary.
Description
"A timely story about what matters most deeply: our quest for love and acceptance….Jyotsna Sreenivasan's writing speaks straight to the heart."
—Kim Barnes, author of In the Kingdom of Men
And Laughter Fell from the Sky, the enthralling first novel from Jyotsna Sreenivasan, is a stirring contemporary love story about two young Indian-Americans trying to find love and their place in the world, while dealing with the confines and pressures of their culture and their families. A remarkable literary journey that carries the reader from the American heartland to the Pacific Northwest and into the teeming heart of India, And Laughter Fell from the Sky is a magnificent debut by a fresh and exciting new voice, immediately placing Sreenivasan alongside Jhumpa Lahiri, popular author of The Namesake, as an expert chronicler of the Indian-American cultural experience.

Praise For And Laughter Fell from the Sky: A Novel…
"Jyotsna Sreenivasan's poignant debut novel And Laughter Fell from the Sky is a moving love story that is both traditional and modern, surprising and deeply comforting - it's not only about finding love, but a way to be true to ourselves." — Laura Dave, author of The First Husband
"And Laughter Fell from the Sky is a timely story about what matters most deeply: our quest for love and acceptance, and our fear that we will never find that person who might give us both. Jyotsna Sreenivasan's writing speaks straight to the heart." — Kim Barnes, author of In the Kingdom of Men
"Insightful, hopeful, and luminescent, Sreenivasan's novel will make you believe in the power of love to overcome all obstacles." — Anjali Banerjee, author of Haunting Jasmine and Imaginary Men
"Sreenivasan writes with a tender, seemingly semiautobiographical view of her subjects and clearly understands the familial and cultural pressures on second-generation Americans. . . . A witty, timely exploration of the varying definitions of success, belonging, cultural identity, and the human desire to connect." — Booklist
William Morrow Paperbacks, 9780062105769, 336pp.
Publication Date: June 19, 2012
About the Author
The daughter of Indian immigrants, Jyotsna Sreenivasan was born and raised in Ohio. Her short fiction has appeared in numerous literary magazines and she has received literature grants from the Washington, D.C., Commission on the Arts and Humanities. The author of several nonfiction books published by academic presses and the creator of the online Gender Equality Bookstore, she lives in Moscow, Idaho, with her family. This is her first novel.
At the beginning of the book, Rasika and Abhay each have very different perspectives on life. By the end of the book, they have each influenced the other. In what ways have they changed in response to each other? Have you ever changed in response to someone else? Do you think it is a good thing to allow someone else to influence you in this way?
Why do you think Rasika changed her mind so dramatically about Abhay at the end? Could this have happened without a traumatic event like the accident? What causes people to revise their perspectives on life?
On the surface, Rasika and her grandmother seem to have very different lives. Yet in some ways her grandmother understands her better than her own mother does. Why do you think this is so?
Abhay has an intense experience during the Thai yoga massage at Auroville. How would you characterize this experience? Have you ever had a similar experience?
As part of Abhay's journey to find himself he travels across the globe—Portland, Oregon; India. In what ways, if any, do you believe he gets some answers through his travels? Does Abhay remind you of anyone you know in your own life?
During the pivotal scene with Kanchan, Rasika says, "She couldn't believe what was happening. This scene was not supposed to be part of her life." Have you ever felt that way?
By having a heavy influence on her life, Rasika's parents believe they are protecting her best interests. Do you agree with their method? Why or why not?
If you have read The House of Mirth by Edith Wharton, compare and contrast the characters: Rasika vs. Lily Bart, and Abhay vs. Lawrence Selden.