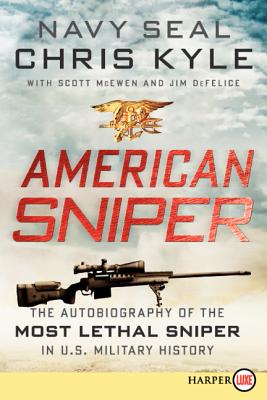 American Sniper (Paperback)
The Autobiography of the Most Lethal Sniper in U.S. Military History
HarperLuxe, 9780062107060, 502pp.
Publication Date: January 17, 2012
* Individual store prices may vary.
Description
From 1999 to 2009, U.S. Navy SEAL Chris Kyle recorded the most career sniper kills in United States military history. Iraqi insurgents feared him so much they called him al-Shaitan ("the devil") and placed a $20,000 bounty on his head. Kyle earned legendary status among his fellow SEALs, Marines, and U.S. Army soldiers, fighting alongside them in the streets, as well as protecting them from rooftops and stealth positions. Through four combat deployments, he was awarded seven medals for bravery, including two Silver Stars. Gripping and unforgettable, Kyle's masterful account of his extraordinary battlefield experiences ranks as one of the great war memoirs of all time.
Praise For American Sniper: The Autobiography of the Most Lethal Sniper in U.S. Military History…
#1 NEW YORK TIMES BESTSELLER
-No Source

"In the community of elite warriors, one man has risen above our ranks and distinguished himself as unique. Chris Kyle is that man. A master sniper, Chris has done and seen things that will be talked about for generations to come."
-MARCUS LUTTRELL, former USN SEAL, recipient of the Navy Cross for extraordinary heroism under fire, #1 bestselling author of Lone Survivor

"The raw and unforgettable narrative of the making of our country's record-holding sniper, Chris Kyle's memoir is a powerful book, both in terms of combat action and human drama. Chief Kyle is a true American warrior down to the bone, the Carlos Hathcock of a new generation."
-CHARLES W. SASSER, Green Beret (US Army Ret.) and author of One Shot, One Kill

"American Sniper is the inside story of what it's like to be in war. A brave warrior and patriot, Chris Kyle writes frankly about the missions, personal challenges, and hard choices that are part of daily life of an elite SEAL Sniper. It's a classic!"
-RICHARD MARCINKO (USN, Ret.), First Commanding Officer of SEAL Team Six and #1 bestselling author of Rogue Warrior

"Eloquent ... An aggressively written account of frontline combat, with plenty of action."
-KIRKUS REVIEWS

"Reads like a first-person thriller narrated by a sniper. The bare-bones facts are stunning. .... A first-rate military memoir."
-BOOKLIST