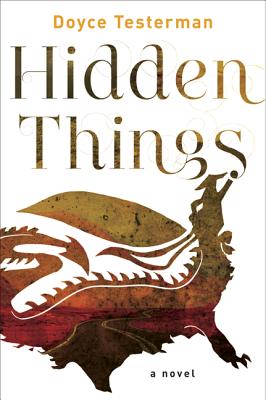 Hidden Things
A Novel
Paperback

* Individual store prices may vary.
Description
A phone call from a soon-to-be-deceased ex-boyfriend launches a young woman on a bizarre road trip to a dark supernatural world hidden beneath America's heartland in this remarkably imaginative debut novel from an electrifying new voice in contemporary fantasy. With Hidden Things, author Doyce Testerman immediately takes his place alongside Neil Gaiman, Kim Harrison, and Melissa Marr by viewing modern-day America through a glass darkly and transforming our mundane world into a place where unseen monsters and paranormal beings have long inhabited the shadows. Among the Hidden Things in Testerman's exceptional first novel are goblins, dragons, a road-weary clown, and creatures that have never been categorized, joining a smart, tough, courageous female protagonist on a wild cross-country thrill ride that readers will never forget.

Praise For Hidden Things: A Novel…
"Reminiscent of Neil Gaiman's dark fantasies and the early books of Stephen King." — Library Journal
"Although this has many of the trappings of a detective story, drawing noticeably on The Maltese Falcon, Calliope's search ends up more of a quest in contemporary fantasy form . . . An entertaining read and a very solid first novel." — Locus
"I loved this book from start to finish. It's strange, weird and down to earth, all at the same time; chock full of fascinating characters, dark dreams and fantasy elements that deliver a real sense of wonder. What's not to love?" — Charles de Lint
"Along with the clever, determined, dauntless protagonist, Testerman brings an impressive dark energy to the scenario and plotting . . . Agreeably creepy, with original flourishes and flashes of dark humor." — Kirkus Reviews
"A satisfying blend of noir and magic." — Publishers Weekly
"Hidden Things reveals the America I want to believe in--dragons on highways, trolls in the hills, motels that lead to new dimensions. I'll never look at a rest stop the same way again." — Maureen Johnson, author of the Shades of London series
"This world of wizened wizard-men and demon clowns will lure you into the shadows, and once you meet the characters who live in those dark strange places you'll never want to leave. The magic matters here, but it's the human touch that really brings the book to life." — Chuck Wendig, author of Blackbirds and Irregular Creatures
"Apparently this is Testerman's first novel. You'd never know it from his assured writing style and his ability to tell a story...He is helping to build a uniquely North American mythology that still has its roots in older traditions." — Charles de Lint, Fantasy & Science Fiction
"The real deal when it comes to North American fantasy (or as I like to call it, mythic fiction). — Charles de Lint, Fantasy & Science Fiction
Harper Voyager, 9780062108111, 336pp.
Publication Date: August 21, 2012
About the Author
Doyce Testerman was born and raised in the wilds of South Dakota, where he began a lifelong love affair with the written word. He moved to Denver in 1995, and has since steadily ceded control of his weekends to two dogs, a brilliant wife, and two astounding children.