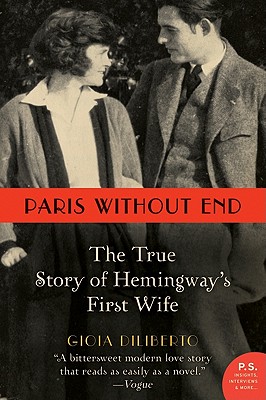 Paris Without End (Paperback)
The True Story of Hemingway's First Wife
Harper Perennial, 9780062108821, 400pp.
Publication Date: September 6, 2011
* Individual store prices may vary.
Description
"A bittersweetmodern love story [that] reads as easily as a novel." —
Vogue
Hemingway'screative influences for novels like The Sun Also Rises, A Farewell toArms, and The Old Man and the Sea came not only from his famoushunting trips, his liaisons in Cuba, or his relationships with Gertrude Stein,F. Scott Fitzgerald, James Joyce and other Lost Generation writers. DuringHemingway's period of greatest literary foment, his most seminal relationshipwas with Hadley Richardson, his first wife. In Paris Without End,acclaimed author Gioia Diliberto,biographer of Jane Addams and Brenda Frazier, delivers a gripping, novelisticexploration of Hadley's personality and her role in Hemingway's life, finally unclouding our view of Hemingway's relationship with theone woman he never stopped loving.

About the Author
Gioia Diliberto is a journalist, biographer, and novelist. She is the author of the biographies Paris without End: The True Story of Hemingway's First Wife, A Useful Woman: The Early Life of Jane Addams, and Debutante: The Story of Brenda Frazier and the novels I Am Madame X and The Collection. Her work has appeared in numerous publications, including the New York Times, Los Angeles Times, the Chicago Tribune, Smithsonian, and Vanity Fair, and she is a visiting lecturer in writing at the Savannah College of Art and Design and DePaul University. She lives in Chicago.
Praise For Paris Without End: The True Story of Hemingway's First Wife…
"Fascinating….A detailed, grittier portrait of the woman Hemingway loved and left."
— Newsday

"Impressively researched and judiciously written . . . Diliberto has made a lasting place for Hadley in readers' hearts."
— People

"A bittersweet modern love story [that] reads as easily as a novel . . . their intimacy and candour was the raw material for Hemingway's great early short stories which achieved a powerful new realism about he relations between men and women."
— Vogue

"No one has written with such insight about [Hadley]."
— The Oregonian (Portland)

"Diliberto has done an exemplary job of digging out the facts…the book brings Hadley to life on the page as never before."
— Chicago Tribune

"Tell[s] the sweeping story of [Hadley's] romance with Hemingway with all the warmth and excitement they generated…It portrays Hadley - somewhat neglected by Hemingway's earlier biographers - as a spirited and interesting woman."
— Washington Post Book World

"Gioia Diliberto's book…cuts through the simplistic myths surrounding her subjects and gives us instead a thoughtful, detailed and rewarding look at what it cost one very talented woman to inspire the best work from one of America's…literary geniuses."
— Minneapolis Star Tribune

"Skillfully shows how Hemingway's life with Hadley was reflected in his writing . . . Insightful…Turns both Ernest and Hadley Hemingway, with all their flaws, into recognizably human figures, as it relives their bittersweet romance."
— Parade

"Fascinating not only for its portrait of a very special woman but for its insight into Hemingway's personality and work as well."
— Daily News

"Beautifully crafted, rigorously researched, and absolutely heartbreaking."
— Chicago Magazine

"An unusual biography that makes its points with intelligence and clarity."
— Newark Star Ledger

"Juicy."
— Los Angeles Times

"A riveting portrait . . . superbly evokes Paris of the 1920s."
— New Woman