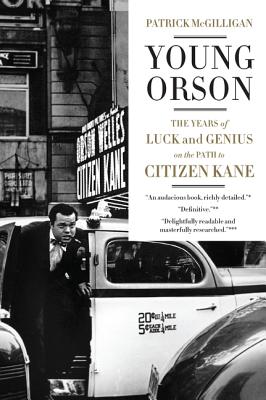 Young Orson
The Years of Luck and Genius on the Path to Citizen Kane
Paperback

* Individual store prices may vary.
Other Editions of This Title:
Digital Audiobook (12/14/2015)
Hardcover (11/17/2015)
Compact Disc (12/15/2015)
MP3 CD (12/15/2015)
Compact Disc (12/15/2015)
Description
On the centennial of his birth, the defining wunderkind of modern entertainment gets his due in a groundbreaking new biography of his early years—from his first forays in theater and radio to the inspiration and making of Citizen Kane.
In the history of American popular culture, there is no more dramatic story—no swifter or loftier ascent to the pinnacle of success and no more tragic downfall—than that of Orson Welles. In this magisterial biography, Patrick McGilligan brings young Orson into focus as never before. He chronicles Welles's early life growing up in Wisconsin and Illinois as the son of an alcoholic industrialist and a radical suffragist and classical musician, and the magical early years of his career, including his marriage and affairs, his influential friendships, and his artistic collaborations.
The tales of his youthful achievements were so colorful and improbable that Welles, with his air of mischief, was often thought to have made them up. Now after years of intensive research, McGilligan sorts out fact from fiction and reveals untold, fully documented anecdotes of Welles's first exploits and triumphs, from starring as a teenager on the Gate Theatre stage in Dublin and bullfighting in Sevilla, to his time in the New York theater and his fraught partnership with John Houseman in the Mercury Theatre, to his arrival in Hollywood and the making of Citizen Kane. Filled with intriguing new insights and startling revelations—including the surprising true origin and meaning of "Rosebud"—Young Orson is a fascinating look at the creative development and influences that shaped this legendary artistic genius.
Praise For Young Orson: The Years of Luck and Genius on the Path to Citizen Kane…
"[Young Orson] takes the directorial hero from his birth to the threshold of 'Citizen Kane.' I've only just started it and can so far confess to fascination and pleasure; the wealth of detail and the measured tempo are up to the Shakespearean complexity of Welles's character."
— New Yorker

"McGilligan's Orson is a Welles for a new generation. . . .McGilligan's book vibrates with uncertainty and risk, and it hums with the possibility that talented people actually can realize their dreams in the forms they choose."
— BookForum

"No one writes biographies of film legends like Patrick McGilligan. . . . It is a meticulous recreation of Welles's life and achievement up to 1941."
— Daily Beast

"Welles's native brilliance and his ascent from producing plays as a boy at the Todd School to his conquest of New York theater and radio as an adult has seldom been documented with more clarity."
— Library Journal (starred review)

"To read this book is to be taken with just how much meaningful work [Welles] packed into his youth, and awestruck by the self-assurance with which he approached his burgeoning career. . . With McGilligan's superb biography, we have the definitive portrait of Welles in his youth."
— San Francisco Chronicle Book Review

"Engrossing . . . Exhaustively researched but well-paced and stuffed with beguiling detail, this is a vivid, sympathetic portrait of Welles's youthful promise and achievement, before the misfires and compromises of his later years."
— Publishers Weekly

"A richly detailed, often nuanced study of Welles' life and work. It's a welcome addition to the burgeoning shelf of books on one of America's most distinctive talents. . . . Although Young Orson reads easily, it is powered by an evenhanded, almost scholarly rigor."
— Milwaukee Journal Sentinel

"Must reading for anyone interested in the history of film."
— Mark Levine, Booklist (starred review)

"Exhaustively researched but well-paced and stuffed with beguiling detail, this is a vivid, sympathetic portrait of Welles's youthful promise and achievement, before the misfires and compromises of his later years."
— Publishers Weekly

"An indefatigable reporter and masterful biographer, McGilligan has unearthed endless revelations that will change our view of Welles's. This book is a constant joy to read, showing that the truth about Welles's upbringing and youthful artistic triumphs is even more remarkable than the legend."
— Joseph McBride, author of What Ever Happened to Orson Welles? and Searching for John Ford

"No other biographer has done such a superb job of investigating Orson Welles's Midwestern origins and dazzling early success. McGilligan convincingly refutes untruths and myths that others have accepted. This is by far the best book on the most formative period of Welles's life."
— James Naremore, author of The Magic World of Orson Welles

"A prodigious and illuminating account of the extraordinary life of Orson Welles up to when he turned from theater and radio to launch his fabled movie career. McGilligan blends valuable new reporting with insights from existing sources to draw a bold portrait of the master that can fairly be called definitive."
— George Stevens, Jr., producer and founder of the American Film Institute

"In many ways,Young Orson is my favorite of all the Welles biographies to date. The overall portrait of Welles's character and background that emerges, uncharacteristically sympathetic, is both dense and persuasive - and a page-turning pleasure to read."
— Jonathan Rosenbaum, author of Goodbye Cinema, Hello Cinephilia
Harper Perennial, 9780062112491, 864pp.
Publication Date: November 15, 2016
About the Author
Patrick McGilligan is the author of Alfred Hitchcock: A Life in Darkness and Light; Fritz Lang: The Nature of the Beast; and George Cukor: A Double Life; and books on the lives of directors Nicholas Ray, Robert Altman, and Oscar Micheaux, and actors James Cagney, Jack Nicholson, and Clint Eastwood. He also edited the acclaimed five-volume Backstory series of interviews with Hollywood screenwriters and (with Paul Buhle), the definitive Tender Comrades: A Backstory of the Hollywood Blacklist. He lives in Milwaukee, Wisconsin, not far from Kenosha, where Orson Welles was born.
or
Not Currently Available for Direct Purchase