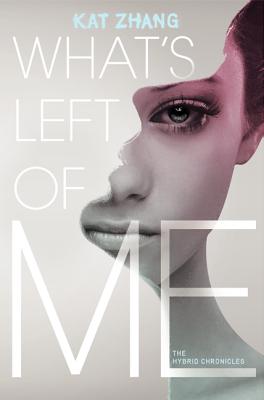 What's Left of Me (Hybrid Chronicles #1) (Hardcover)
HarperCollins, 9780062114877, 352pp.
Publication Date: September 18, 2012
Other Editions of This Title:
Digital Audiobook (9/17/2012)
Paperback (8/13/2013)
* Individual store prices may vary.
Description
I should not exist. But I do.
Eva and Addie started out the same way as everyone else—two souls woven together in one body, taking turns controlling their movements as they learned how to walk, how to sing, how to dance. But as they grew, so did the worried whispers. Why aren't they settling? Why isn't one of them fading? The doctors ran tests, the neighbors shied away, and their parents begged for more time. Finally Addie was pronounced healthy and Eva was declared gone. Except, she wasn't. . . .
For the past three years, Eva has clung to the remnants of her life. Only Addie knows she's still there, trapped inside their body. Then one day, they discover there may be a way for Eva to move again. The risks are unimaginable—hybrids are considered a threat to society, so if they are caught, Addie and Eva will be locked away with the others. And yet . . . for a chance to smile, to twirl, to speak, Eva will do anything.
About the Author
Kat Zhang is an avid traveler, and after a childhood spent living in one book after another, she now builds stories for other people to visit, including the Hybrid Chronicles.
Praise For What's Left of Me (Hybrid Chronicles #1)…
"A shockingly unique story that redefines what it means to be human."
— Lauren DeStefano, New York Times bestselling author of Wither

Zhang's concept is original and provocative; the deep bond between Eva and Addie (the shifts between I, we, and she in Eva's narration are especially haunting) and the mystery about why their society is so desperate to "fix" hybrids are riveting.
— Publishers Weekly (starred review)

"A deeply original tale of longing for identity; so skillfully crafted, the words float above the page."
— Lissa Price, international bestselling author of STARTERS

An unsettling dystopian adventure of two souls trapped in a single body.
— Kirkus Reviews

"Uniquely imagined…Zhang's prose is lovely, and the plot is compelling to the last page"
— School Library Journal

"An intriguing depiction of sibling relationships and the challenges of learning to live as distinct, though not physically separate, individuals."
— Booklist