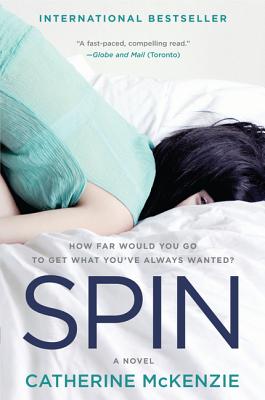 Spin
A Novel
Paperback

* Individual store prices may vary.
Description
"At once comic, heart-breaking, and life-affirming."
—Tish Cohen, author of Town House
"Imagine if Bridget Jones fell into a million little pieces, flew over the cuckoo's nest, and befriended Lindsay Lohan along the way, and you are beginning to grasp the literary roller coaster ride that is Catherine McKenzie's Spin."
—Leah McLaren, author of The Continuity Girl
How far would you go to get what you wanted?  That's the question author Catherine McKenzie addresses in Spin—a delectable debut novel that takes readers into the connected worlds of pop culture, tabloid journalism, and celebrity rehab. The story of a newbie undercover gossip reporter who follows a troubled starlet into a rehab clinic intending to dig up all the dirt she possibly can, Spin is smart, hip, utterly engaging contemporary fiction in the vein of Jennifer Weiner and Emily Giffin.

Praise For Spin: A Novel…
"A compelling, fast-paced read." — Globe and Mail (Toronto)
"In Kate Sandford, Catherine McKenzie has created a 21st century Bridget Jones—dark and delicate, broken yet strong. SPIN is all at once comic, heart-breaking, and life-affirming." — Tish Cohen, author of Inside Out Girl and Town House
"Spin is a fresh, sassy and compelling novel delivered with pitch-perfect humor. McKenzie's light touch with a serious topic will have readers cheering for Katie as she proves people can change." — Holly Kennedy, author of The Penny Tree, The Silver Compass and The Tin Box
"Imagine if Bridget Jones fell into a million little pieces, flew over the cuckoo's nest, and befriended Lindsay Lohan along the way...." — Leah McLaren, Globe and Mail columnist, author of The Continuity Girl
"With Spin, Catherine McKenzie taps into both the ridiculous and sublime elements of the world her characters inhabit, and, more importantly, points out how those are often exactly the same. A thoroughly engaging debut." — David Sprague, music journalist, contributor to Variety, Village Voice, and Rolling Stone
"[A] charming debut...With fresh, fast-paced storytelling and a personable, self-deprecating protagonist, McKenzie whirls a perfectly indulgent tale." — Publishers Weekly on SPIN
"[McKenzie] is a writer to watch." — Booklist on SPIN
"Catherine McKenzie, in her debut novel, ably invites the reader into the story... For readers who enjoy a light, breezy love story, this book clips along well and satisfies. Many will likely find this book enjoyable and a worthy debut effort by Catherine McKenzie." — New York Journal of Books
"McKenzie's tale of girls gone wild and gone to rehab is ripped straight from the latest tabloid headlines and will keep readers intrigued to the very last page." — RT Book Reviews (top pick)
"The characters are easily imagined and well thought out.... Making her U.S. debut, Canadian author McKenzie introduces a modern literary heroine who will remind readers of Sophie Kinsella's "Shopaholic" protagonist: flawed but compelling....compulsively readable. " — Library Journal on SPIN
"McKenzie's deliciously tart sense of humor and her tough yet tender heroine are as refreshing as a perfectly mixed mimosa." — Chicago Tribune on SPIN
William Morrow Paperbacks, 9780062115355, 448pp.
Publication Date: February 7, 2012
About the Author
Catherine McKenzie was born and raised in Montreal, where she now practises law. Her  bestselling novels include Spin, Arranged, Forgotten, Hidden, Smoke, The Good Liar  and I'll Never Tell, which was an instant bestseller. Visit Catherine online at www.catherinemckenzie.com, on Facebook at www.facebook.com/catherinemckenzieauthor, and on Twitter or Instagram at @catherinemckenzieauthor.
In the beginning of the novel, Katie is writing for small local music or indie magazines, trying to make it as a music writer, but the impression she has of herself and that others have of her is that she's not a success or doesn't have a "real" job. Discuss if there are limits (age, amount of time, salary) to following your dreams, and how people are influenced by the expectations of others.
One of Spin's central themes is the public's obsession with celebrities, even in their private moments. Do you think an experienced journalist would take the assignment offered to Katie? What would be the moral implications of doing so?
Do you read gossip magazines or websites? Do you talk about celebrities with your friends? What do you think constitutes "going too far" when covering a celebrity's life? How do you feel about the ways that celebrities and the media seem to manipulate each other?
Is Amber a sympathetic character? Do you understand Katie's attraction to her as a friend? Did any of Amber's actions take you by surprise or reveal something about her that you didn't expect?
The description of the days that Katie spends writing her article echoes the description of the days she spends in rehab. Do you see a parallel between the arc that Katie goes through in rehab and the one she goes through while writing the article?
How did you feel when Katie wrote the article? Were you disappointed? Could you relate to her choice? Why or why not?
Did you find Henry appealing? Many books and movies merely "tell" the reader that a couple is in love, rather than "showing" it (i.e., music set over scenes of frolicking in parks, etc.). Did the author successfully overcome this problem? Did you "see" a progress from Katie and Henry's initial attraction to love?
Katie and Henry each seem to work through their problems while running. Do you have a similar activity in your life that helps you think things through?
How did the ending of this book play with the convention of the romantic comedies that Katie discusses? Did you find the ending of the book satisfying in this respect?
The author has said that she was trying to write a novel that was a musical. Did you pick up on this idea? Did the author succeed in creating a soundtrack for the novel? The songs on Katie's playlist are meant to reflect the mood/theme of the chapter. Do you think the song choices were suitable?
Do you think Spin would make a good movie? Who do you see playing the main characters?
or
Not Currently Available for Direct Purchase