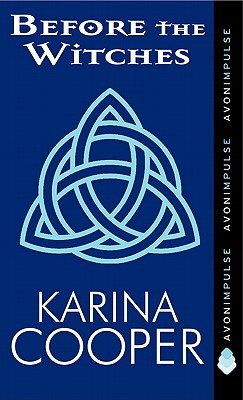 Before the Witches (A Dark Mission Novella)
Mass Market

* Individual store prices may vary.
Description
In America, they didn't care about witches. But all that was about to change.
Katya Zhuvova fled a country that fearedher gifts, but her escape to Seattle left her at themercy of a ruthless man. With no one left toturn to, Katya hatches a desperate escape plan.Undercover Detective Nigel Ferris is determinedto bring down a prostitution ring, whatever the cost.In order to get the answers he needs, he attemptsto win the trust of one of the prostitutes involved—but one look at the deceptively sultry Katyaand the cool, objective cop disappears.Before either can put their plans into place,Mother Nature shrugs: a cataclysm rocks Seattle,and life is turned upside down.
Brought together by chance, Nigel and Katyaare in the fight for their lives. Surrounded by deathand fear, shattered by immeasurable loss, they have only a bond forged in fire to cling to as they struggleto survive in a world gone straight to hell.
Praise For Before the Witches (A Dark Mission Novella)…
"Chilling, gripping, and totally believable, this e-original novella is an engaging story in its own right and the perfect segue into Cooper's "Dark Mission" series."
— Library Journal

, "BEFORE THE WITCHES was edge-of-the-seat good and I couldn't stop reading until I was finished."
— Parajunkee's View

"WOW! What an absolutely fantastic start to this series…it packs a punch and a half in there. Karina rips the world as we know it apart."
— Thoughts of a Scot

"If you like dramatic, highly intense, passionate novels Before the Witches is for you! Before the Witches is a pulse-pounding, breath-stealing nonpareil feat! I'll be impatiently waiting for the next story in this incredible series!"
— Joyfully Reviewed
Avon Impulse, 9780062115430, 144pp.
Publication Date: July 26, 2011
About the Author
Born from the genetic mash-up of lesser royalty, storytellers, wanderers and dreamers, Karina Cooper was destined to be a creative genius. As a child, she moved all over the country like some kind of waifish blonde gypsy and learned how to adapt to the new cultures her family settled in. When she (finally) grew up, she skipped the whole genius part and fell in love with writing Paranormal Romance because, really, who doesn't love hot men and a happy ending?
When she isn't writing about things that go bump in the night, Karina designs Steampunk and neo-Victorian couture for gentleman hobbyists and ladies of questionable reputation. She lives in the beautiful Pacific Northwest with a husband, three cats, one rabbit and a passel of adopted gamer geeks.
or
Not Currently Available for Direct Purchase