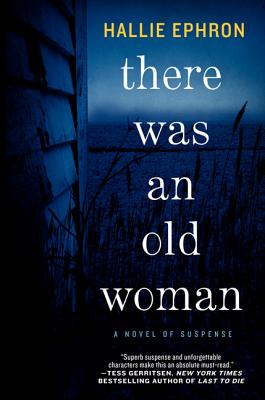 There Was an Old Woman
A Novel of Suspense
Hardcover

* Individual store prices may vary.
Other Editions of This Title:
Digital Audiobook (4/21/2014)
Paperback (12/10/2013)
Hardcover, Large Print (7/1/2013)
Compact Disc (4/22/2014)
Compact Disc (4/22/2014)
Description
There Was An Old Woman by Hallie Ephron is a compelling novel of psychological suspense in which a young woman becomes entangled in a terrifying web of deception and madness involving an elderly neighbor.
When Evie Ferrante learns that her mother has been hospitalized, she finds her mother's house in chaos. Sorting through her mother's belongings, Evie discovers objects that don't quite belong there, and begins to raise questions.
Evie renews a friendship with Mina, an elderly neighbor who might know more about her mother's recent activities, but Mina is having her own set of problems: Her nephew Brian is trying to persuade her to move to a senior care community. As Evie investigates her mother's actions, a darker story of deception and madness involving Mina emerges.
In There Was an Old Woman, award-winning mystery author Hallie Ephron delivers another work of domestic noir with truly unforgettable characters that will keep you riveted.
Praise For There Was an Old Woman: A Novel of Suspense…
"Ephron's novels are gripping because her characters are just real and nuanced enough to identify with. Ultimately, it's compassion that makes us stay up late reading and, nose in book, miss our subway stop the next morning."
— Boston Globe

"Intensive, sustaining suspense . . . Ephron ratchets up the suspense by using short chapters and strong characterization, deftly capturing the instability and plight of the elderly. . . A dark, captivating and deliciously creepy tale that's liable to keep you reading all night long."
— Lansing State Journal

"In portraying the inner life of an aged widow struggling heroically against her limitations, [THERE WAS AN OLD WOMAN] is very good . . . Ephron . . . continues to assert her own thoughtful style."
— Kirkus Reviews

"Ephron delivers a suspenseful punch that kept me up all night reading...A cleverly plotted, well-orchestrated, and thoroughly engaging novel."
— Ellery Queen

"Superb suspense and unforgettable characters make this an absolute must-read. THERE WAS AN OLD WOMAN is so good, I devoured this in one ravenous gulp!"
— Tess Gerritsen, New York Times bestselling author of Last to Die

"Haunting. Compelling. And beautifully written. This insidiously creepy and eerily sinister tale twists and turns with suspense-and a surprise around every corner. Hallie Ephron is the queen of secrets-and the star of suburban noir."
— Hank Phillippi Ryan, Award-winning author of The Other Woman

"Hallie Epron has an extraordinary talent for imbuing the ordinary with menace, and for creating wonderful, memorable characters. Mina, the old woman of the title, shines. This is Ephron's best book yet, and readers won't be able to put it down."
— Deborah Crombie, New York Times bestselling author

"Hallie Ephron's newest is that thing you almost never see—an utterly fresh story. Evie and her crew will keep you guessing and hoping and teetering between laughter and tears, all the way home."
— Jacquelyn Mitchard, author of The Deep End of the Ocean

"Hallie Ephron hits a grand slam with this suspenseful tale of long-held secrets, family foibles and human frailty . . . Her smooth prose paints colorful characters then slowly tightens its grip on your throat until you simply can't put THERE WAS AN OLD WOMAN down. A stellar novel."
— Julia Spencer-Fleming, New York Times-bestselling author of One Was a Soldier

"Enjoy [There Was an Old Woman]...for the characterizations--particularly of Mina, still sharp in her tenth decade--and the nicely detailed sense of place."
— Booklist

"In this touching novel of suspense...Ephron's double portrait of the intimate details of the inescapable consequences of age and alcoholism is as gripping as any traditional mystery."
— Publishers Weekly

"A tightly wrought, expertly written and frighteningly real suspense thriller that will keep you turning pages . . . There is a depth to [Ephron's] characters that is reminiscent of Ruth Rendell's probing, often painful characterizations."
— Winnipeg Free Press

"A New York suspense story set in an extraordinary outer-borough neighborhood that will stay with readers . . . For those who love Gotham and abhor gore, THERE WAS AN OLD WOMAN is the perfect thriller lite."
— Washington Post

There Was an Old Woman is a well-crafted thriller with compelling characters, an entertaining story and just the right amount of suspense...[It] will certainly keep you riveted from the first page to the last.
— The Times News

"Hallie Ephron spins an intriguing tale of suspense...which is both thrilling and chilling...Ephron's characters are full-bodied and realistic, the story is fast-paced and captivating, and readers will find themselves completley submerged into the mystyer of who-dun-it."
— Times Record News (Wichita Falls, Texas)
William Morrow, 9780062117601, 304pp.
Publication Date: April 2, 2013
About the Author
Hallie Ephron is the New York Times bestselling author of Never Tell a Lie, Come and Find Me, There Was an Old Woman, and Night Night, Sleep Tight. For twelve years she was the crime fiction reviewer for the Boston Globe. The daughter of Hollywood screenwriters, she grew up in Beverly Hills, and lives near Boston, Massachusetts.
or
Not Currently Available for Direct Purchase