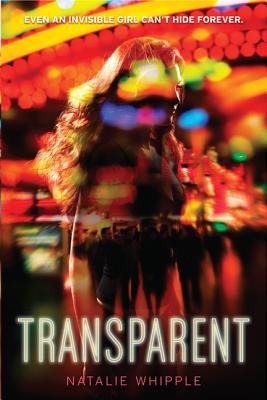 Transparent (Paperback)
HarperTeen, 9780062120168, 368pp.
Publication Date: May 21, 2013
Other Editions of This Title:
Digital Audiobook (5/20/2013)
* Individual store prices may vary.
Description
Transparent's Fiona McClean could be a superhero. She has a mutation that allows her to become invisible. But her father, a Las Vegas crime lord, forces her to use her power for evil. Since she was five, she's been stealing cars, robbing banks, and spying on people.
 
Fiona's had enough, so she escapes to a small town far from her father's reach. Happiness is hard to find surrounded by a mother she hates, a brother she can't trust, and a guy at school she can't stand, but Fiona manages to make some friends. And when her father finally tracks her down, Fiona discovers how far she'll go to protect everyone she's come to love.
 
Fans of strong heroines like Daughter of Smoke and Bone's Karou or Maximum Ride's Max will fall in love with Transparent by Natalie Whipple.
About the Author
Natalie Whipple loves testing new concoctions in the kitchen, and sometimes pretends she's actually mixing potions instead. Her food has yet to curse anyone, which she supposes is a good thing. Along with cooking, Natalie loves anime, kdrama, drawing, and exercising (so she can eat more food). She lives in Utah with her three kids and husband.
Praise For Transparent…
"Debut author Natalie Whipple deftly explores painfully real teen experience through delightfully unreal stories. Transparent is a smart, funny, tense gem of a book, and Fiona claims a spot as one of my favorite heroines."
— Kiersten White, New York Times bestselling author of the Paranormalcy trilogy

"The quick-paced story is a great fit for fans of unusual love interests."
— Kirkus Reviews

"Readers looking for a romantic action/adventure with a fresh and engaging X-men-ish sci-fi twist will find it here."
— Bulletin of the Center for Children's Books