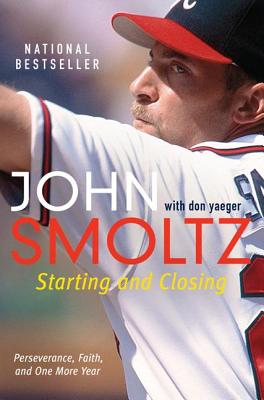 Starting and Closing: Perseverance, Faith, and One More Year (Paperback)
Perseverance, Faith, and One More Year
William Morrow & Company, 9780062120564, 293pp.
Publication Date: March 26, 2013
Description
John Smoltz was one of the greatest Major League pitchers of the late twentieth / early twenty-first century--one of only two in baseball history ever to achieve twenty wins and fifty saves in single seasons--and now he shares the candid, no-holds-barred story of his life, his career, and the game he loves in Starting and Closing.
A Cy Young Award-winner, future Baseball Hall of Famer, and currently a broadcaster for his former team, the Atlanta Braves, Smoltz delivers a powerful memoir with the kind of fascinating insight into game that made Moneyball a runaway bestseller, plus a heartfelt and truly inspiring faith and religious conviction, similar to what illuminates each page of Tim Tebow's smash hit memoir, Through My Eyes.
Praise For Starting and Closing: Perseverance, Faith, and One More Year…
"When Smoltz talks about baseball, the book comes alive . . . it all has the ring of authenticity and wisdom."
-Kirkus Reviews
Advertisement