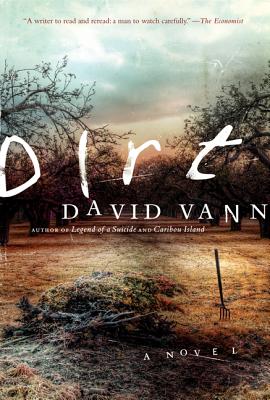 Dirt
Hardcover

* Individual store prices may vary.
Other Editions of This Title:
Paperback (4/23/2013)
Description
The year is 1985, and twenty-two-year-old Galen lives with his emotionally dependent mother in a secluded old house surrounded by a walnut orchard in a suburb of Sacramento. He doesn't know who his father is, his abusive grandfather is dead, and his grandmother, losing her memory, has been shipped off to a nursing home. Galen and his mother survive on the family's trust fund--old money that his aunt, Helen, and seventeen-year-old cousin, Jennifer, are determined to get their hands on.
Galen, a New Age believer who considers himself an old soul, yearns for transformation: to free himself from the corporeal, to be as weightless as air, to walk on water. But he's powerless to stop the manic binges that overtake him, leading him to fixate on forbidden desires. A prisoner of his body, he is obsessed with thoughts of the boldly flirtatious Jennifer and dreams of shedding himself of the clinging mother whose fears and needs weigh him down.
When the family takes a trip to an old cabin in the Sierras, near South Lake Tahoe, tensions crescendo. Caught in a compromising position, Galen will discover the shocking truth of just how far he will go to attain the transcendence he craves.
An exhilarating portrayal of a legacy of violence and madness, Dirt is an entirely feverish read.
Praise For Dirt…
"Searing. . . . Vann has an extravagantly literary sensibility, and his novel is full of echoes: One thinks of the stately inevitability of classical tragedy, of Chekhov's lost souls, of the hallucinatory quality of Faulkner's rural fantasia, and of Stephen King's depictions of an unraveling mind."
-Washington Post Book World

"There's a lot of humor here, of a very dark vein. And Vann, a Guggenheim fellow, excels at sly truths"
-Boston Globe

"Brilliant narrative. . . . This is a novel of violence, destruction and ruin. There is no salvation. And yet Mr. Vann's soaring writing carries it forward-a reminder of the beauty that can grace even the beastliest things."
-The Economist

"His language is sharply funny, even as his characters enact a tragedy of Greek proportions."
-The New Yorker

"The book is wonderfully twisted, but a sinister humor keeps things from getting too bleak. What begins as a literary family drama turns slowly into a heady horror story, part Stephen King and part Immanuel Kant."
-The Daily Beast

"Brave and brilliant. . . . Dirt is showing us something unexpected, and unexpectedly stunning . . . Vann's details here, as always, are pitch-perfect."
-San Francisco Chronicle

"Haunting."
-Financial Times

"Vann has a remarkable gift for capturing the harsh realities of a family held together by hate and violence. Riveting and impossible to put down."
-Library Journal (starred review)

"Multi-award winner Vann writes undeniably powerful prose, whether he is blithely satirizing transcendental meditation, or meticulously detailing Galen's descent into madness."
-Booklist

"David Vann excels at writing about the darkest side of the human heart. . . . Vann fully exhibits the writer's chops that served him well in his earlier works, and he again plumbs the darker parts of the human psyche. This novel is simultaneously disturbing and haunting."
-Denver Post

"Harrowing. . . . Vann, a professor at UC San Francisco, is often compared to Cormac McCarthy; he exerts a powerful grip here, as Galen learns how far he's willing to go to get free."
-San Jose Mercury News

"Vann truly is brave. . . . there is no denying we emerge indelibly affected."
-Philadelphia Inquirer

"This experience is prolonged to the very last page, graceful paragraph, stunning word. Then it reverberates. Vann's book is art, and not to be missed."
-BookPage
Harper, 9780062121035, 272pp.
Publication Date: April 1, 2012
or
Not Currently Available for Direct Purchase