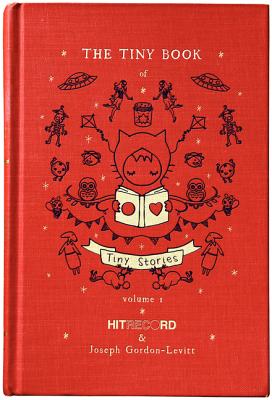 The Tiny Book of Tiny Stories
Volume 1
Hardcover

* Individual store prices may vary.
Other Editions of This Title:
Hardcover (11/13/2012)
Hardcover (11/5/2013)
Description
HitRECord's collaborative coalition of artists andwriters are making history with The TinyBook of Tiny Stories: Volume 1, a collection of innovative crowd-sourcedcreative projects that pushes the limits of originality, cooperation,imagination, and inspiration. HitRECord, a grassrootscreative collective founded by actor Joseph Gordon-Levitt, known worldwide forhis performances in (500) Days of Summer and Inception, is aforum where thousands of artists worldwide share work and contribute to theirpeers' projects in writing, music, videos, illustration, and beyond. AlongsideDean Haspiel's ACT-I-VATE, a groundbreaking comicscollective, and the photographer JR's Inside Out Project, hitRECordis a haven for budding creatives. Now, the collectivehas edited together its most promising stories and illustrations to serve asits face in introducing the world to a new generation of talent, in The Tiny Book of Tiny Stories.
Praise For The Tiny Book of Tiny Stories: Volume 1…
"With more than 40,000 participants working together to create short films, music, art or stories, Joseph Gordon-Levitt's hitRECord offers a creative opportunity for fresh talent to team together and expose their art."
— Time magazine
It Books, 9780062121660, 88pp.
Publication Date: December 6, 2011
About the Author
HitRECord founder and director Joseph Gordon-Levitt's acting career has managed to garner a massive popular appeal while maintaining a widely respected artistic integrity. He recently starred in Christopher Nolan's Academy Award-nominated Inception and received Golden Globe, Independent Spirit and People's Choice award nominations for his performance in (500) Days of Summer. Currently earning rave reviews for his performance in 50/50, also starring Seth Rogen, his upcoming films include David Koepp actioner Premium Rush and Rian Johnson's sci-fi thriller Looper, with Bruce Willis. He is currently in production on The Dark Knight Rises, the third installment in Christopher Nolan's Batman trilogy, and will next begin work opposite Daniel Day Lewis in Steven Spielberg's Abraham Lincoln biopic, Lincoln.