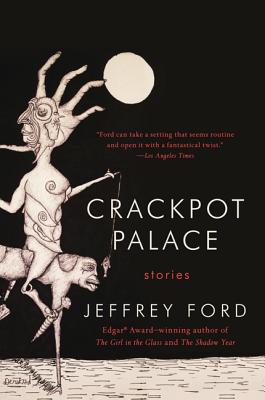 Crackpot Palace (Paperback)
Stories
William Morrow Paperbacks, 9780062122599, 352pp.
Publication Date: August 14, 2012
* Individual store prices may vary.
Description
"Jeffrey Ford is one of the few writers who uses wonder instead of ink in his pen….A rare and wonderful talent."
—Jonathan Carroll, author of The Wooden Sea
Eclectic is certainly an adjective that can be used to describe the work of the phenomenal Jeffrey Ford—along with imaginative, provocative, mesmerizing, and brilliant. His powerful dark fantasy, The Physiognomy, was a New York Times Notable Book of the Year; his novel, The Girl in the Glass, won the Edgar® Award, mystery and crime fiction's most prestigious prize. Crackpot Palace is Ford's fourth superb collection of short fiction, and in it, his prodigious talent shines as brightly as ever. Here are twenty tales both strange and wonderful, filled with mad scientists, vampires, lost souls, and Native American secrets, from an author who has been glowingly compared to Kafka, Dante, and Caleb Carr (The Alienist).

About the Author
Jeffrey Ford is the author of the novels The Physiognomy, Memoranda, The Beyond, The Portrait of Mrs. Charbuque, the Edgar Award–winning The Girl in the Glass, The Cosmology of the Wider World, The Shadow Year, and The Twilight Pariah, and his collections include The Fantasy Writer's Assistant, The Empire of Ice Cream, The Drowned Life, Crackpot Palace, and A Natural History of Hell. He lives near Columbus, Ohio, and teaches writing at Ohio Wesleyan University.
Praise For Crackpot Palace: Stories…
"Unusual and provocative…sometimes shocking, sometimes mesmerizing, sometimes humorous, this collection will please fans of Raymond Carver and Flannery O'Connor. Recommended."
— School Library Journal on THE DROWNED LIFE

"We should be grateful that alongside the firm of Updike, Cheever, Ford & Company there exists, in both fiction and film, an American tradition that depicts the suburbs as places of wonder rather than stultification, discovery rather than predictability."
— New York Newsday

"Think Ray Bradbury's Green Town stories, Harper Lee's To Kill a Mockingbird and Stephen King's The Body (made into the film Stand by Me) and you get an idea of the tone of Ford's latest fine work. Grade: A"
— Rocky Mountain News

"The trilogy [The Physiognomy, Memoranda, and The Beyond] is simply brilliant and constitutes a modern masterwork of fantasy."
— Terri Windling, "Top Twenty Fantasy Novels of 2001" from Year's Best Fantasy & Horror vol. 15

"The Shadow Year captures the totality of a lived period, its actualities and its dreams, its mundane essentials and its odd subjective imperatives; it is a work of episodic beauty and mercurial significance."
— Nick Gevers, Locus

"Surreal, unsettling, and more than a little weird. Ford has a rare gift for evoking mood with just a few well-chosen words and for creating living, breathing characters with only a few lines of dialogue."
— Booklist

"Spooky and hypnotic...Recommended for all public libraries."
— Library Journal

"Properly creepy, but from time to time deliciously funny and heart-breakingly poignant, too."
— Kirkus Reviews (starred review)

"Properly creepy, but from time to time deliciously funny and heart-breakingly poignant, too. For those of you—and you know who you are—who think the indispensable element for good genre fiction is good writing, this is not to be missed."
— Kirkus Review, Starred

"Jeffrey Ford's latest triumph, THE SHADOW YEAR, is as haunting as it is humorous…readers will recognize real talent in Ford's vivid, unerring voice."
— Louisville Courier Journal on THE SHADOW YEAR

"Ford travels deep into the wild country that is childhood in this novel …the observations and adventures of these sharp, wayward children provide more than enough depth to be satisfying."
— New York Times on THE SHADOW YEAR

"Children are the original magic realists. The effects that novelists of a postmodern bent must strive for come naturally to the young, a truth given inventive realization in this wonderful quasi-mystery tale by Jeffrey Ford."
— Boston Globe on THE SHADOW YEAR

"A collection of surreal, melancholy stories dealing with everything from worlds of the drifting dead to drunken tree parties. Ford is the author of the superlative, creepy Well-Built City trilogy and his writing is both powerful and disturbing in the best possible way."
— Gawker on THE DROWNED LIFE

"[Ford's] writing is both powerful and disturbing in the best possible way."
— io9 on Jeffrey Ford

"The 16 stories in this collection are a perfect introduction to Ford's work and illustrate the vast range of his imagination…If you haven't discovered Ford, it's time you did. His carefully crafted novels and short stories are all top-notch. Grade: A."
— Rocky Mountain News