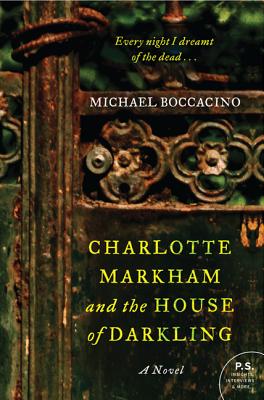 Charlotte Markham and the House of Darkling (Paperback)
William Morrow & Company, 9780062122612, 296pp.
Publication Date: July 24, 2012
* Individual store prices may vary.
or
Not Currently Available for Direct Purchase
Description
Debut novelist Michael Boccacino invites readers into the world beyond the realm of the living in Charlotte Markham and the House of Darkling, a Victorian gothic tale of the strange and supernatural. But all who enter this house must beware--for there is a price to pay for visitors who wish to save those they love. The story of a British governess and her young charges seduced by the otherworldly enticements of a mysterious mansion in the forest following the inexplicable death of the former nanny, this Tim Burton-like tale of dark fantasy is a bewitching treat for fans of horror and paranormal fiction, as well as readers who love creepy gothic tales and mysterious shadowy English manor houses. Not since Suzanna Clarke introduced Jonathan Strange to Mr. Norrell, and Neil Gaiman's Coraline crawled through a secret door into a twisted and sinister mirror world, has there been a journey as wondrously fantastic and terrifying as Charlotte Markham's adventures in the House of Darkling.

Praise For Charlotte Markham and the House of Darkling…
"Debut author Boccacino bowls the reader over with his note-perfect rendition of a spooky Victorian atmosphere. . . . Boccacino's deft handling of this delicately supernatural period piece makes it a sterling genre selection."
-Publishers Weekly (starred review)

"Fantasy and fact blur as Boccacino excels in twisting and turning the plot in increasingly unexpected directions. Perfect reading for a dark and stormy night."
-Booklist

"A lyrical and visceral adventure into a realm beyond time and death."
-Katherine Webb, author of The Unseen and The Legacy

"Thanks to Michael Boccacino the Gothic is reborn! Charlotte Markham and the House of Darkling is an elegant, intelligent, and compelling debut novel. Bravo!"
-Jonathan Maberry, New York Times bestselling author of Assassin's Code and Dust & Decay

"Michael Boccacino has delivered a studied, enchanting, and most welcome contribution to the Gothic literary landscape rolling back to Brontë and du Maurier. . . . This is not one to miss."
-Christopher Ransom, international bestselling author of The Birthing House and The Fading

"With Charlotte Markham and the House of Darkling, Boccacino has created a new vision of the Afterlife, at one moment stunningly beautiful and full of wonder, the next, darkly sinister and without pity. A remarkable book. Michael Boccacino is a writer to watch."
-Susie Moloney, author of The Dwelling and The Thirteen
Advertisement