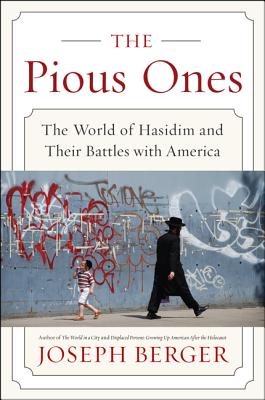 The Pious Ones
The World of Hasidim and Their Battles with America
Paperback

* Individual store prices may vary.
Description
As the population of ultra-Orthodox Jews in the United States increases to astonishing proportions, veteran New York Times journalist Joseph Berger takes us inside the notoriously insular world of the Hasidim to explore their origins, beliefs, and struggles—and the social and political implications of their expanding presence in America.
Though the Hasidic way of life was nearly extinguished in the Holocaust, today the Hasidim—"the pious ones"—have become one of the most prominent religious subcultures in America. In The Pious Ones, New York Times journalist Joseph Berger traces their origins in eighteenth-century Eastern Europe, illuminating their dynamics and core beliefs that remain so enigmatic to outsiders. He analyzes the Hasidim's codified lifestyle by telling the story of some of its followers, revealing the religion's fascinating secrets, complexities, and paradoxes. Berger provides a nuanced and insightful portrayal of how their all-encompassing faith dictates nearly every aspect of life—including work, education, food, sex, clothing, and social relations—sustaining a sense of connection and purpose in a changing world.
From the intense sectarian politics to the conflicts that arise over housing, transportation, schooling, and gender roles, The Pious Ones also chronicles the ways in which the fabric of Hasidic daily life is threatened by exposure to the wider world and also by internal fissures within its growing population.
Praise For The Pious Ones: The World of Hasidim and Their Battles with America…
"Mr. Berger, who has reported on Hasidic communities for 30 years, plays the role of mythbuster…. The Pious Ones is a nice primer on Hasidim. There's so much more to say on this subject, and no one is better placed to do so than Joseph Berger. "
— Wall Street Journal

"A fascinating behind-the-scenes look at the world of Hasidim.… [S]olid research and approachable writing."
— Kirkus

"For those who've wondered about the black-hatted men in frock coats with long beards, Berger …provides many of the answers…. An absorbing read."
— Booklist

"Fascinating…, Although sympathetic, Berger does not romanticize the chasidim…. His book takes us on a remarkable journey into the complexities of their lives."
— Jewish Week

"The most intriguing sections in Berger's book discuss the conflicts between Hasidim and the more secular, often Jewish, neighbors with whom they butt heads over issues of property, pluralism and women's rights."
— New York Times Book Review
Harper Perennial, 9780062123343, 384pp.
Publication Date: September 9, 2014
About the Author
Joseph Berger has been a New York Times reporter, columnist, and editor for thirty years. He is the author of three books: Displaced Persons: Growing Up American After the Holocaust, which was a New York Times Notable Book; The World in a City: Traveling the Globe Through the Neighborhoods of the New New York; and The Young Scientists: America's Future and the Winning of the Westinghouse. He lives in Westchester County, New York.