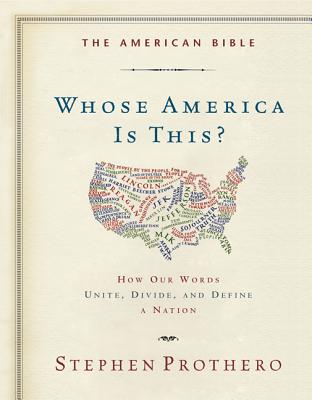 The American Bible-Whose America Is This? (Paperback)
How Our Words Unite, Divide, and Define a Nation
HarperOne, 9780062123459, 533pp.
Publication Date: January 8, 2013
Description
The New York Times bestselling author of Religious Literacy and God Is Not One presents a provocative crash course in the great "American scriptures"--those texts that have both divided and defined our understanding of what it is to be American. Stephen Prothero gives readers an exciting and user-friendly introduction to American cultural history in The American Bible. Highlighting the touchstones of our collective cultural legacy, from Thomas Paine's Common Sense to Maya Lin's Vietnam Veterans Memorial; from the speeches of Abraham Lincoln, Martin Luther King Jr., John F. Kennedy, and Ronald Reagan to the novels of Mark Twain and Ayn Rand, and beyond, Prothero's stirring and provocative handbook peels back the curtain on the inner workings of what makes America tick.
Praise For The American Bible-Whose America Is This?: How Our Words Unite, Divide, and Define a Nation…
"In these pages Stephen Prothero has brilliantly captured the American spirit-a spirit that has always seen us through hours of division and disagreement. With Prothero's expert analysis, these texts should spark civil conversation, informed debate, and intelligent discussion."
--Jon Meacham, Pulitzer Prize-winning author of American Lion.

"There are certain speeches, songs, books, letters, laws, and axioms that Americans honor enough to argue about, says religion scholar Stephen Prothero. Like the Declaration of Independence, this almost consecrated canon inspires endless commentary about what it means to be American-and what 'America' means."
-Religion News Service

"Required for putting in one place so many historic pieces that are more opined over than actually read. Awesome scholarship to an admirable purpose."
-Kirkus Reviews (starred review)

"The American Bible is a provocative, brilliantly realized illumination of American values by means of excerpted historical documents."
-Colloquy, Harvard University

"In The American Bible, Prothero has turned his considerable talents to assembling a version of the American canon. The author's prose is, as usual, spritely, informed and incisive."
-Washington Post
Advertisement