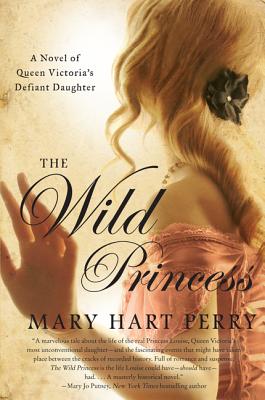 The Wild Princess (Paperback)
A Novel of Queen Victoria's Defiant Daughter
William Morrow Paperbacks, 9780062123466, 432pp.
Publication Date: July 31, 2012
* Individual store prices may vary.
Description
The astronomical success of the historical novels of Phillipa Gregory and Christine Trent prove that readers simply can't get enough of the British royals—and now Mary Hart Perry enters the fray with an exciting, deliciously sensual novel of Queen Victoria's "wild child" daughter, the Princess Louise. The Wild Princess transports us back to Victorian England and plunges us into the intrigues of the royal court, where the impetuous Louise brazenly followed no one's rules but her own—even marrying a commoner, which no one of royal blood had done in the previous three centuries. Filled with rich period deal, The Wild Princess is an exciting, enthralling read. The Tudors have gotten the lion's share of attention in historical fiction; it's high time Queen Victoria and her family got their due!

About the Author
Mary Hart Perry lives in Maryland with her two cats and husband. She teaches at the Writer's Center in Washington, D.C., and is an inspiring speaker for international and regional groups interested in the joys of writing and history and the promotion of teen and adult literacy.
Praise For The Wild Princess: A Novel of Queen Victoria's Defiant Daughter…
"Romantic, exciting, historically accurate and deliciously imaginative, THE WILD PRINCESS is a lush and entertaining read. I look forward to more from Mary Hart Perry!"
— Susan Fraser King, author of Lady Macbeth and Queen Hereafter

THE WILD PRINCESS is a fascinating, intriguing glimpse into a royal household. There is the public image and then there is the reality that Mary Hart Perry brilliant brings to life.
— Cathy Maxwell, New York Times bestselling author of Lyon's Bride

The Wild Princess is a wild ride, artfully told and overflowing with lavish Victorian detail. Perry's Louise is equal parts fearless and vulnerable, admirable but also approachable. Perry walks the line between fact and invention with ease, weaving a fictional tale that nevertheless feels real.
— Shelf Awareness for Readers

Lots of action, compassion, mystery, and romance. Definitely a must read for those who love a great romance.
— A Date with a Book

[A] marvelous tale about the life of the real Princess Louise, Queen Victoria's most unconventional daughter-and the fascinating events that might have taken place between the cracks of recorded history. Full of romance and suspense …. a masterly historical novel.
— Mary Jo Putney, New York Times bestselling author of No Longer a Gentleman, and Dark Destiny as M. J. Putney.

I love historical fiction and I'm a huge fan of Philippa Gregory's work, and now I am also a fan of Mary Hart Perry. This novel has mystery, romance and historical elements...it's just wonderful. Rating: 4.2 Stars!
— For the Love of Film and Novels

"A rollicking adventure about Queen Victoria's bold artist daughter who finds herself ensnared in a plot involving expert bombers, a murderous pimp, and the former undercover guard to Abraham Lincoln, one of which vies for her heart."
— Heather Webb, Between the Sheets
or
Not Currently Available for Direct Purchase