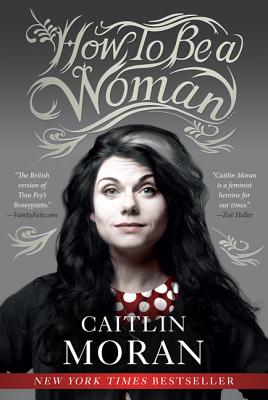 How to Be a Woman (Paperback)
Harper Perennial, 9780062124296, 320pp.
Publication Date: July 17, 2012
Other Editions of This Title:
Digital Audiobook (9/24/2012)
Paperback (10/11/2016)
Paperback (3/1/2012)
Paperback (6/1/2011)
* Individual store prices may vary.
Description
The New York Times bestseller, now available in paperback—"Half memoir, half polemic, and entirely necessary," (Elle UK) Caitlin Moran's debut—an instant runaway bestseller in the UK—puts a new face on feminism, cutting to the heart of issues with an irreverent, transcendent, and hilarious touch.
"Caitlin Moran is the profane, witty and wonky best friend I wish I had. She's the feminist rock star we need right now."
—Ayelet Waldman, author of Bad Mother
"Caitlin Moran is so fabulous, so funny, so freshly feminist. I don't want to be like her—I want to be her."
 —Peggy Orenstein, author of Cinderella Ate My Daughter
Caitlin Moran puts a new face on feminism, cutting to the heart of women's issues today with her irreverent, transcendent, and hilarious How to Be a Woman. "Half memoir, half polemic, and entirely necessary," (Elle UK), Moran's debut was an instant runaway bestseller in England as well as an Amazon UK Top Ten book of the year; still riding high on bestseller lists months after publication, it is a bona fide cultural phenomenon. Now poised to take American womanhood by storm, here is a book that Vanity Fair calls "the U.K. version of Tina Fey's Bossypants….You will laugh out loud, wince, and—in my case—feel proud to be the same gender as the author."

About the Author
Caitlin Moran's debut book, How to Be a Woman, was an instant New York Times bestseller. Her first novel, How to Build a Girl, received widespread acclaim. She lives in London. You can follow Caitlin on Twitter: @caitlinmoran
Praise For How to Be a Woman…
"It is bracing in this season of losing [Nora] Ephron to discover a younger feminist writer who scrimmages with the patriarchy and drop kicks zingers with comic flair….A must-read for anyone curious to find out just how very funny a self-proclaimed 'strident feminist' can be."
— Maureen Corrigan, NPR's Fresh Air

"A fresh, funny take on modern feminism that shines a light on issues facing every woman, lovingly boiled down to the basics with insight and humor."
— Today Show

"Scathingly funny….Moran makes us think about femininity and feminism, and whether you agree or not, she's fascinating."
— People (3 ½ stars)

"Caitlin Moran taught me more about being a woman than being a woman did. I'm pretty sure I had testicles before I read this book."
— Jenny Lawson, author of Let's Pretend This Never Happened: A Mostly True Memoir

"There are lots of things to love about Caitlin Moran's How to Be a Woman….A glorious, timely stand against sexism so ingrained we barely even notice it. It is, in the dour language [Moran] militates so brilliantly against, a book that needed to be written."
— New York Times

"The UK's answer to Tina Fey, Chelsea Handler, and Lena Dunham all rolled into one."
— Marie Claire

"Moran's frank wit is appealing."
— The New Yorker

"A hilarious neo-feminist manifesto….Moran reinvigorates women's lib with her personal and political polemic."
— NPR.org

"There is a good reason for [its success]: it is pretty phenomenal….[Moran] wrote the book in just 5 months….Chances are you'll read it in far less time than that, turning down the corners of extra-resonating pages to come back to later."
— Jenn Doll, The Atlantic Wire

"With her drunk-on-gin-with-my-lady-friends honesty and humor, Moran, a Times of London columnist, snips the man out of manifesto, spinning her message of radically sensible female empowerment."
— Vanity Fair.com

"Bravely and brilliantly weaves personal anecdotes and cutting insight into a book that is at once instructional, confessional, and a call for change….Moran shifts effortlessly between her own hilarious experiences and larger questions about women's place in the modern world."
— Interview Magazine

"As funny and careerist as Tina Fey's Bossypants, as divulging as Ayelet Waldman's Bad Mother and as earthy as Cheryl Strayed's Wild."
— Holloway McCandless, Shelf Awareness

"Ingeniously funny….In her brilliant, original voice, Moran successfully entertains and enlightens her audience with hard-won wisdom and wit….She doesn't politicize feminism; she humanizes it."
— Publishers Weekly (starred review)

"Caitlin Moran is so fabulous, so funny, so freshly feminist. I don't want to be like her—I want to be her. But if I can't, at least I can relish her book. You will, too."
— Peggy Orenstein, author of Cinderella Ate My Daughter

"Her arguments are hilarious and spot on….This isn't a self-help guide, and Moran's not really telling you how to be a woman. Instead, she's giving you permission to laugh: at ourselves, at her, and at anyone who think there's only one way to be a woman."
— Shannon Carlin, Bust Magazine

"How funny is Caitlin Moran's neo-feminist manifesto and memoir, How to Be a Woman? Don't read it with a full bladder….You could spend a whole book group session flagging favorite lines…..There's some comfort in Moran's book coming out so soon after Nora Ephron's death."
— Heller McAlpin, Barnes & Noble Review

"A spirited memoir/manifesto….With equal amounts snarky brio and righteous anger….That such an important topic is couched in ribald humor makes reading about Moran's journey hilarious as well as provocative….Rapturously irreverent, this book should kick-start plenty of useful discussions."
— Kirkus Reviews (starred review)

"Caitlin Moran is a feminist heroine for our times. I can't wait to give this book to my daughters."
— Zoë Heller, author of The Believers

"Caitlin Moran is the profane, witty and wonky best friend I wish I had. She's the feminist rock star we need right now; How to Be a Woman is an hilarious delight."
— Ayelet Waldman, author of Bad Mother
Coverage from NPR