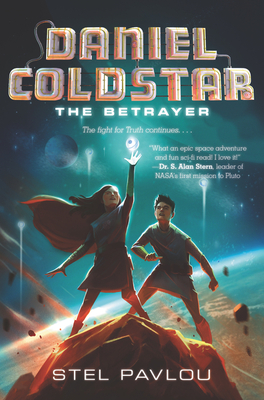 Daniel Coldstar #2
The Betrayer
Hardcover

* Individual store prices may vary.
Description
In this exciting sequel to The Relic War, adventure calls…but can Truth prevail?
The galaxy is at war. And Daniel Coldstar and his Truth Seeker friends are traversing the galaxy, saving refugees from destroyed worlds and trying to locate the stolen Book of Planets before the evil Sinja use it to cause any more damage.
Meanwhile, someone wants Daniel Coldstar to stray from his mission and sends him messages that lead him right to an abandoned ship—a ship that has mysterious ties to Daniel's past.
What does the anonymous messenger want with him? And who can Daniel really trust in a galaxy filled with the Sinja's devious lies? Ever since his old friend Blink and an anatom named Hex betrayed him, Daniel isn't sure.
When the messages eventually lead Daniel to Ionica Lux's home, long-held secrets are finally revealed and Daniel and Ionica will have to put their lives on their line to save their loved ones and destroy the Sinja forces once and for all.
Praise For Daniel Coldstar #2: The Betrayer…
"What an epic space adventure and a fun scifi read! I love it!"
— S. Alan Stern, planetary scientist, author of Chasing New Horizons: Inside the Epic First Mission to Pluto, and leader of NASA's New Horizons mission to Pluto and the Kuiper Belt

"Daniel Coldstar: The Betrayer is a binge-worthy read that slingshots from one electrifying scene to the next. Thoughtful, well-written, inventive, but most of all, pure fun."
— Rob Vlock, author of the Sven Carter series

"Packed with action and rip-roaring adventure, this space saga is sure to appeal to sci-fi readers of all ages!"
— Gareth Wronski, author of Holly Farb and the Princess of the Galaxy

"Action-packed, thought-provoking, and FUN—this is science fiction at its best."
— Jarrett Lerner, author of the Enginerds series

"Thrills, surprises, laughs, and genuine heart—this is the rare sequel that's more than worthy of its predecessor. The Daniel Coldstar books are perfect for young readers getting their feet wet in sci-fi!"  
— Katie Slivensky, author of The Countdown Conspiracy and The Seismic Seven

"Underneath all the whizbang, this is ultimately a story about friendship and family,
and who doesn't need that in tough times? A satisfying sequel!"
— Taran Matharu, New York Times bestselling author of the Summoner series

"A sci-fi adventure that's equal parts mystery, comedy, and action, Daniel Coldstar: The Betrayer will keep pages flipping at warp speed."
— Kim Tomsic, winner of the Crystal Kite Award for The 11:11 Wish

"Pavlou still excels at the slow burn, letting out a few details at a time to keep middle-grade readers coming back for more. There's enough exposition that a reader new to the series could start here, but be sure to have both books on hand for young sci-fi fans."
— Booklist Online
HarperCollins, 9780062126092, 304pp.
Publication Date: November 12, 2019
About the Author
Stel Pavlou is a British author and screenwriter. He is the author of the bestselling novel for adults Decipher, as well as Gene, and has also written short stories based in the world of the popular television series Doctor Who. Daniel Coldstar: The Relic War is his first book for young readers. Stel lives in Colorado. You can visit him online at www.stelpavlou.com and at www.danielcoldstar.com.