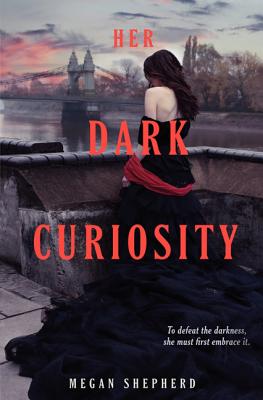 Her Dark Curiosity (Madman's Daughter #2)
Hardcover

* Individual store prices may vary.
Other Editions of This Title:
Digital Audiobook (1/27/2014)
Description
Inspired by The Strange Case of Dr. Jekyll and Mr. Hyde, this tantalizing sequel to Megan Shepherd's gothic suspense novel The Madman's Daughter explores the hidden natures of those we love and how far we'll go to save them from themselves. Perfect for fans of Libba Bray.
Back in London after her trip to Dr. Moreau's horrific island, Juliet is rebuilding the life she once knew and trying to forget her father's legacy. But soon it's clear that someone—or something—hasn't forgotten her, as people close to Juliet start falling victim to a murderer who leaves a macabre calling card of three clawlike slashes. Has one of her father's creations also escaped the island?
As Juliet strives to stop a killer while searching for a serum to cure her own worsening illness, she finds herself once more in a world of scandal and danger. Her heart torn in two, her past bubbling to the surface, and her life threatened by an obsessive killer—Juliet will be lucky to escape alive.
Praise For Her Dark Curiosity (Madman's Daughter #2)…
"Secrets and mad scientists offer a gory gothic adventure." — Kirkus Reviews
"Shepherd's integration of romance into her nods to Dr. Jekyll and Mr. Hyde, Dracula, Frankenstein, and Jack the Ripper is masterful, and she does not back down from a hugely dark cliff-hanger ending. Bosoms, prepare to heave—and throats, prepare to scream." — Booklist
"The mash-up of classic literature with modern paranormal fiction is refreshing and appealing." — Voice of Youth Advocates (VOYA)
"Deliciously dark and exciting" — School Library Journal
Praise for THE MADMAN'S DAUGHTER: "The fast-paced book is rife with excitement, romance, and intrigue." — School Library Journal (starred review)
Praise for THE MADMAN'S DAUGHTER: "A deft twist on a familiar classic, The Madman's Daughter has the best of everything: beautiful writing, breakneck pacing, a pulse-pounding mystery, and an irresistible romance." — Carrie Ryan, New York Times bestselling author of The Forest of Hands and Teeth series
Praise for THE MADMAN'S DAUGHTER: "Romantic, haunting, and full of spine-tingling thrills, THE MADMAN'S DAUGHTER kept me reading late into the night." — Veronica Rossi, New York Times bestselling author of UNDER THE NEVER SKY
Praise for THE MADMAN'S DAUGHTER: "Unexpected twists and a cliffhanger ending that should leave [readers] craving more." — Publishers Weekly
Praise for THE MADMAN'S DAUGHTER: "Anyone who doesn't pick up the next volume is mad!" — ALA Booklist
Balzer + Bray, 9780062128058, 432pp.
Publication Date: January 28, 2014
About the Author
Megan Shepherd grew up in her family's independent bookstore in the Blue Ridge Mountains. The travel bug took her from London to Timbuktu and many places in between, though she ended up back in North Carolina with her husband, two cats, and a scruffy dog, and she wouldn't want to live anywhere else. She is the author of the Madman's Daughter and Cage trilogies. Visit her online at www.meganshepherd.com.