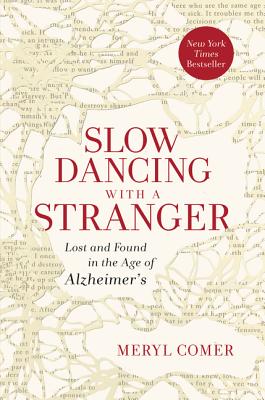 Slow Dancing with a Stranger
Lost and Found in the Age of Alzheimer's
Hardcover

* Individual store prices may vary.
Other Editions of This Title:
Digital Audiobook (10/12/2015)
Paperback (9/8/2015)
Library Binding, Large Print (1/1/2015)
Description
A New York Times Bestseller
Emmy-award winning broadcast journalist and leading Alzheimer's advocate Meryl Comer's Slow Dancing With a Stranger is a profoundly personal, unflinching account of her husband's battle with Alzheimer's disease that serves as a much-needed wake-up call to better understand and address a progressive and deadly affliction.
When Meryl Comer's husband Harvey Gralnick was diagnosed with early onset Alzheimer's disease in 1996, she watched as the man who headed hematology and oncology research at the National Institutes of Health started to misplace important documents and forget clinical details that had once been cataloged encyclopedically in his mind. With harrowing honesty, she brings readers face to face with this devastating condition and its effects on its victims and those who care for them. Detailing the daily realities and overwhelming responsibilities of caregiving, Comer sheds intensive light on this national health crisis, using her personal experiences—the mistakes and the breakthroughs—to put a face to a misunderstood disease, while revealing the facts everyone needs to know.
Pragmatic and relentless, Meryl has dedicated herself to fighting Alzheimer's and raising public awareness. "Nothing I do is really about me; it's all about making sure no one ends up like me," she writes. Deeply personal and illuminating, Slow Dancing With a Stranger offers insight and guidance for navigating Alzheimer's challenges. It is also an urgent call to action for intensive research and a warning that we must prepare for the future, instead of being controlled by a disease and a healthcare system unable to fight it.
Praise For Slow Dancing with a Stranger: Lost and Found in the Age of Alzheimer's…
"Riveting and necessary."
— New York Times

"An unflinching and intimate account...conveys a sense of passion and even frustration with a society that [Comer] believes has been slow to acknowledge the spread of Alzheimer's disease or make adequate provisions to tend to its caregivers."
— Washington Post

Alzheimer's disease is a slow killer of the health and spirit of the caregiver- the secondary victim. Comer's pain is contained in elegant writing and channeled into a worthy purpose. This book is a call to action as haunting and urgent as Rachel Carson's Silent Spring.
— Gail Sheehy, author of Passages in Caregiving and DARING: My Passages

"In an unvarnished account of caring for a husband with dementia, Meryl Comer lays out the struggles and gallantry of a devoted and remarkable caregiver."
— Peter V. Rabins, M.D., MPH, Professor of Psychiatry and Behavioral Sciences, Johns Hopkins School of Medicine, author of The 36-Hour Day

"No silver linings, no phony homages to 'spiritual growth.' Meryl Comer writes the unvarnished reality of being exposed as a wife, daughter, caregiver, and potential Alzheimer's victim herself. Admire her bravery and honesty and applaud her for taking away some of the loneliness of the long distance caregiver."
— Ellen Goodman, Pulitzer Prize winning, nationally syndicated columnist and author of Turning Points to Value Judgments and Paper Trail: Common Sense in Uncommon Times

"Slow Dancing With a Stranger is a remarkable and moving story that will change the way our generation thinks about how we deal with aging and caring for those we love. An amazing journey of caring, love, and resilience."
— Tom Rath, bestselling author of StrengthsFinder 2.0, How Full Is Your Bucket?, Strengths Based Leadership, and Eat Move Sleep

This story is real. Meryl and Harvey are real. I don't know what it's going to take to wake the public up to this emerging catastrophe, but I suspect that emotional honesty is a key ingredient. Thank you, Meryl Comer, for telling it exactly like it is.
— David Shenk, author of The Forgetting and creator of the Living with Alzheimer's Film Project

"Meryl Comer in Slow Dancing with a Stranger unveils Alzheimer's Disease in a remarkable and vulnerable way. Her personal story provides knowledge, inspiration and hope to us all. Her heroism jumps out from the pages and hopefully will motivate generations to make a difference against this horrible disease."
— David B. Agus, M.D., Professor of Medicine and Engineering, University of Southern California and author of The End of Illness and A Short Guide to a Long Life.

"Comer received the Sargent and Eunice Shriver Profiles in Dignity Award in 2004, for her work as a dedicated advocate and remarkable, decade-long caregiver. Fast forward a decade later. In Slow Dancing With A Stranger, Meryl shows what it truly means to stay the course."
— Mark K. Shriver, Senior Vice President, Save the Children and author of A Good Man: Rediscovering My Father, Sargent Shriver

"Meryl is a trailblazer in every aspect of Alzheimer's and it shines through in this wonderful new book chronicling her long and winding journey with this devastating disease."
— Dr. Rudy Tanzi, New York Times Bestselling author of Super Brain and Joseph P. and Rose F. Kennedy Professor of Neurology, Massachusetts General Hospital and Harvard Medical School

"With her trademark honesty and class, Meryl Comer shares her struggles and triumphs in dealing with Alzheimer's, one of life's most devastating diseases. In Slow Dancing With A Stranger, she charts paths that others can follow and recharges the public conversation about a pending global epidemic."
— Maria Freire, Ph.D., President and Executive Director, Foundation for the National Institutes of Health

"Meryl Comer's heart wrenching story will resonate with the millions of families who know the devastation of Alzheimer's disease first hand. Her journey makes a powerful and compelling case for the urgent need to support Alzheimer's prevention trials."
— Reisa Sperling, M.D., Professor of Neurology, Harvard Medical School and director of the A4 Study

"Written with great insight and tenderness, Slow Dancing With a Stranger is both a cautionary tale and a call to arms as Meryl Comer helps lead the charge to beat this horrific disease before it beats us."
— Ken Dychtwald, Ph.D., CEO of Age Wave, author of Bodymind, Age Wave, Age Power: How the 21st Century Will be Ruled by the New Old and A New Purpose

"Meryl Comer is one of my heroes. With unflinching courage, candor, and determination, she eloquently underscores the terrible toll that Alzheimer's takes on patients and families and the urgent need for us to address this unacceptable problem once and for all. "
— Eric M. Reiman, MD, Executive Director, Banner Alzheimer's Institue and Professor of Psychiatry, University of Arizona

"Slow Dancing with a Stranger is a poignant story of Alzheimer's disease robbing memory, personality, life and dignity... Meryl's book is a daily motivation for me personally to find a medicine against this terrible disease which is impacting so many lives."
— Professor Dr. Andrea Pfeifer, CEO of AC Immune

"As a physician-scientist who has studied Alzhiemer's disease for more than 25 years, and a son with a 99-year-old mom with Alzheimer's dementia, I recommend this book to anyone who is struggling with the tormenting issues of Alzheimer's care."
— Michael W. Wiener, MD , Professor of Radiology, University of California, San Francisco

"Meryl Comer's account is a page-turner; it is wrenching, soul-baring and beautifully written. It should shock the nation into providing more support—both for Alzheimer's research and treatments, and for the legions of family caregivers who will bear ever-growing burdens in the future."
— Susan Dentzer, Senior Policy Adviser to the Robert Wood Johnson Foundation

"Meryl Comer's Slow Dancing with a Stranger takes us into the tragedy that is Alzheimer's disease and shows what is ahead for nearly half of us who live to age 85. We must respond to this emergency and Meryl courageously shows us why."
— Jeffrey Cummings, MD, SCD, Director and Kate Zhong, MD, Senior Director for Research, Cleveland Clinic Lou Ruvo Center for Brain Health

"Although [Meryl Comer] would say she doesn't deserve the recognition, she definitely deserves the 'Rock Star of Humanity' award for her caregiving and her humanitarian work."
— Florence Haseltine, Emerita Scientist NIH and Founder of the Society for Women's Health Research

"Turning tragedy into art and productive work is a hallmark of the great human spirit. Meryl has done this in a very emotional, engaging and thoughtful manner. The book should be read by all, but especially those with Alzheimer's disease in their lives."
— Howard Fillit, M.D., Executive Director and Chief Science Officer, The Alzheimer's Drug Discovery Foundation

"An unsparing and moving account of the symptoms of early Alzheimer's disease and at the same time a call to arms, a memoir and an accurate clinical description....The author's account will help open readers' minds to the need for early diagnosis of this devastating global illness."
— Maria Isaac, M.D., Ph.D., Psychiatrist, Senior Scientific Officer, European Medicines Agency

"This is a great love story in an era when love has become an all too shallow emotional commodity. 'For better, for worse, in sickness and in health' has never been made more powerful in its deepest sense. "
— Larry Minnix, President and CEO of LeadingAge

"Relates in very human terms the essence of palliative care. Not only did the author care for her husband with unconditional love, but optimized whatever physical and mental capacities were left to preserve his dignity. Readers will be inspired to want to help both victims and caregivers."
— Elizabeth J. McCormack, Chairman, Partnership for Palliative Care

Meryl Comer offers an unvarnished account of her experience as her husband's caretaker after he was diagnosed with Alzheimer's. Comer has become an advocate for the need for early diagnosis and treatment for Alzheimer's. A poignant love story with a powerful message.
— Kirkus Reviews

"Poignant, unflinching….[Comer's] memoir is deeply personal and all the more powerful for it."
— Miami Herald

"I think there's a mythology that Alzheimer's is a passive fading away of an individual. Meryl's book highlights in a personal way the real story, the impact of the disease not just on the victim but on the entire family."
— George Vradenburg, chairman and founding board member of UsAgainstAlzheimer's
HarperOne, 9780062130822, 240pp.
Publication Date: September 2, 2014
About the Author
Meryl Comer is an Emmy award–winning reporter, veteran TV producer, and business talk show host. She is president and CEO of the Geoffrey Beene Foundation Alzheimer's Initiative, which promotes early diagnosis, innovation, and national public service campaigns like Geoffrey Beene's Rock Stars of Science™ and the 2009 HBO Alzheimer's Project. A co-founder of WomenAgainstAlzheimer's, she is a recipient of the 2005 Shriver Profi les in Dignity Award and the 2007 Proxmire Award. Comer has been the subject of prime time news stories by ABC's Nightline and the PBS NewsHour with Jim Lehrer.
or
Not Currently Available for Direct Purchase