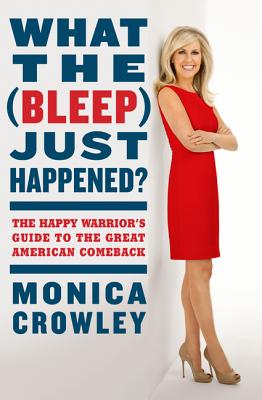 What the (Bleep) Just Happened?
The Happy Warrior's Guide to the Great American Comeback
Hardcover

* Individual store prices may vary.
Other Editions of This Title:
Compact Disc (3/5/2013)
Paperback (3/5/2013)
Description
In this funny, fast-paced, razor-sharp, well-reasoned, and supremely savvy critique of the state of our union under the disastrous reign of Barack Obama, bestselling author, Fox News contributor, syndicated columnist, and popular radio host Monica Crowley asks (and answers) the pressing question: What the @$%& has happened to America? The Happy Warrior's Guide to the Great American Comeback, What the (Bleep) Just Happened? doesn t simply bemoan the trashing of the American economy and the intentional firebombing of America's international prestige, it offers inspiration and a positive message to conservatives and concerned Americans everywhere that the way to fight back and win is with principle, conviction and a wicked sense of humor.

Praise For What the (Bleep) Just Happened?: The Happy Warrior's Guide to the Great American Comeback…
"Well (bleep) me! What a great (bleeping) book!"
-Dennis Miller

"A rip-roaring, full-blast, raise the roof, side-splitting account of what the (bleep) just happened over the past few years---and how we can get our country back. A literary 21-gun salute to freedom."
-Mark Levin

"This is the book Barack Obama and his pals don't want you to read. Crowley has the guts to tell the truth about the damage they've inflicted. No sugar-coating. No political correctness. Just the facts--and they're damning. This book is pure dynamite."
-Sean Hannity

"Monica Crowley wants to wage war against forces that would wipe out traditional America. But what's different in her book - is the positive attitude she brings. You'll be happy to read her words. No (bleep)!"
-Bill O'Reilly

"Can this nation be saved? Monica Crowley answers with a resounding 'yes!' in this brilliant, hilarious page-turner that may well—in fact, should—influence the very future of America."
-Larry Kudlow

"A brilliant and persuasive analysis of the relentless assault by the Obama administration on the principles that have made America the most exceptional nation in the world. And, a very well developed presentation of rational optimism - the happy warrior - as the process for restoring American ideals."
-Rudolph Giuliani

"Monica nailed it! This book makes you want to stand up and shout, "(Bleep) no! We won't concede America's exceptionalism!" Monica's writing is exciting, sharp, hot and hip, just like she is."
-Sarah Palin
Broadside Books, 9780062131157, 400pp.
Publication Date: June 1, 2012
or
Not Currently Available for Direct Purchase