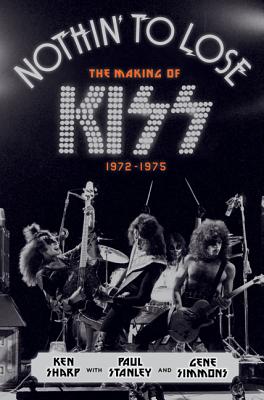 Nothin' to Lose (Hardcover)
The Making of KISS (1972-1975)
It Books, 9780062131720, 560pp.
Publication Date: September 10, 2013
Other Editions of This Title:
Paperback (4/1/2014)
* Individual store prices may vary.
Description
Nothin' to Lose: The Making of KISS (1972-1975) chronicles, for the first time, the crucial formative years of the legendary rock band KISS, culminating with the groundbreaking success of their classic 1975 album Alive! and the smash single "Rock and Roll All Nite," a song that nearly four decades later remains one of rock's most enduring anthems. Drawing on more than two hundred interviews, the book offers a captivating and intimate fly-on-the-wall account of their launch, charting the struggles and ultimate victories that led them to the threshold of superstardom.
Constructed as an oral history, the book includes original interviews with Paul Stanley, Gene Simmons, Ace Frehley, and Peter Criss, as well as with producers; engineers; management; record company personnel; roadies; club owners; booking agents; concert promoters; costume, stage, and art designers; rock photographers; publicists; and key music journalists.
Many of KISS's musical contemporaries from the time, most of whom shared concert bills with the band on their early tours, also lend their perspective via new interviews; these include Bob Seger, Alice Cooper, and Ted Nugent, as well as members of Aerosmith, Black Sabbath, Rush, Slade, Blue Öyster Cult, Mott the Hoople, Journey, REO Speedwagon, Styx, Raspberries, The James Gang, The New York Dolls, Iggy & the Stooges, The Ramones, Suzi Quatro, Argent, and Uriah Heep, among others.
The result is an indelible and irresistible portrait of a band on the rise and of the music scene they changed forever.
About the Author
Ken Sharp is the author of Starting Over: The Making of John Lennon & Yoko Ono's Double Fantasy, Elvis: Vegas '69, KISS: Behind the Mask, and numerous other books. He lives in Los Angeles.
Known as rock's ultimate showmen, Paul Stanley and Gene Simmons founded the hard rock supergroup KISS in the early 1970s. Since then, KISS has sold more than eighty million albums and performed more than two thousand shows around the world, and is still touring today.
Paul Stanley is the frontman and rhythm guitarist for KISS, which he cofounded in New York City in 1973. He is the designer of numerous KISS album covers, costumes, and concert stages, in addition to writing many of KISS's most successful songs. With sales of more than one hundred million records worldwide, KISS sits atop the list of American bands, with the most gold-certified albums earned in history. Along with his bandmates, Stanley was inducted into the Rock and Roll Hall of Fame in 2014. A painter, with art sales reaching two million dollars; a solo musician; a musical stage performer; founding partner in Rock & Brews restaurants; and co-owner of the Arena Football League's L.A. KISS, Stanley is a committed and active supporter of various Wounded Warrior Project organizations. He lives in Los Angeles with his wife, Erin, and four children.
Praise For Nothin' to Lose: The Making of KISS (1972-1975)…
"Nothin' to Lose brought back great memories of our days touring with KISS in the '70s. The book is an incredible ride through KISS's early days and a must read for any KISS fan!"
— Don Powell, Slade

"Like taking a time machine back to the '70s, Nothin' to Lose is a wild and no holds barred look at the rise of KISS."
— Eric Carmen, Raspberries

"In Nothin' to Lose you witness first-hand the extraordinary transformation of four struggling musicians from New York City overcoming almost insurmountable odds to become worldwide superstars. This is the definitive account of KISS's early years."
— Kevin Cann, author of David Bowie: Any Day Now

"The KISS boys will go down in history for their indefatigable work ethic, spirit, and insatiable appetite for all things honest-to-God outrageous rock 'n' roll. KISS is the real deal and this book is the real story of the American rock 'n' roll dream."
— Ted Nugent

"Nothin' to Lose is an electrifying look at a band that changed the course of rock and roll history by sticking to their guns and blazing their own trail of heavy metal thunder. I couldn't put it down. Two thumbs up!"
— Joe Perry, Aerosmith

"Rises above the standard cookie-cutter anecdotes... [for] a unique look at the origins of one of the greatest rock bands of all time. Anyone who wants to know what it was like to make it in rock 'n' roll in the seventies will need to pick this up."
— Dale Sherman, author of Black Diamond: The Unauthorized Biography of KISS

"Told with complete accuracy and attention to detail... Mandatory reading for every new artist. This is a masterpiece!"
— Kenny Kerner, Co-producer of KISS and Hotter Than Hell

"A joyous and mesmerizing exploration of the early history of the 'Hottest Band in the World'... This book is addictive. You won't be able to put it down!"
— Julian Gill, author of the Kiss Album Focus series

"From KISS's earliest days playing crummy bars in front of 50 people to headlining arenas, Nothin' to Lose is a gripping look at the underbelly of rock 'n' roll. And as one of the members of KISS's original road crew, I should know, I was there."
— Peter "Moose" Oreckinto, KISS roadie (1973-1976)

"The ultimate KISS book. . . Nothin' to Lose gives the insider's perspective any KISS fan must have
— Charles R. Cross, author of Heavier than Heaven: A Biography of Kurt Cobain

"Even casual fans will be enthralled."
— Robert Rodriguez, author of Revolver: How The Beatles Reimagined Rock 'N' Roll

"Revel in the roar of the greasepaint and the smell of the crowd as they share it all, blow-by-blow, first hand."
— Paul Myers, author of A Wizard A True Star: Todd Rundgren In The Studio

"A fascinating read about one of rock's most outrageous bands."
— Simon Kirke, Bad Company/Free

"I found the story of KISS's fanatical determination, shockingly rare matter-of-fact common sense, raw luck, exquisite timing-not to mention the sheer brinksmanship of the whole lunatic enterprise-exhilarating and inspiring."
— Binky Philips, My Life in the Ghost of Planets: The Story of a CBGB Almost-Was

"A vivid oral history of the early days of one of rock's most outrageous and enduring bands, Nothin' to Lose makes every reader an eyewitness to the dawn of Kiss. Here's a book that screams out: C'mon and read me."
— David Browne, author of Goodbye 20th Century: A Biography of Sonic Youth

"An incredibly vivid and gripping oral history that illustrates how Kiss went through a slow and steady transformation from a loft party band to the hottest concert attraction capable of blowing anybody and everybody off the stage."
— Daniel Siwek, House of Blues

"If you thought you knew everything there was to know about KISS . . . well, you'd be wrong. . . Buy this book or just KISS off!"
— Alice Cooper

"A fascinating chronicle of the construction of a multimedia phenomenon."
— Publishers Weekly

A rollicking oral history.
— Kirkus Reviews

Does the world really need another KISS book? Perhaps not, but the world really needs Sharp's . . . KISS book. . . Full of extraordinary primary-source material that will keep KISS fans up at night, Sharp's excellent work should serve as a blueprint for future rock oral histories."
— Library Journal (starred review)
or
Not Currently Available for Direct Purchase