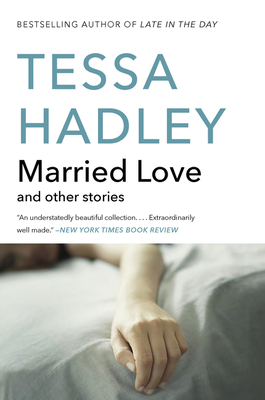 Married Love (Paperback)
And Other Stories
Harper Perennial, 9780062135643, 240pp.
Publication Date: November 20, 2012
* Individual store prices may vary.
Description
"A supremely perceptive writer of formidable skill and intelligence," (New York Times Book Review), Tessa Hadley is the author of four critically acclaimed novels, including The London Train, a New York Times Notable Book. A regular contributor to The New Yorker, Hadley returns to the short story form in this brilliant collection, her first since the celebrated Sunstroke and Other Stories. Married Love showcases beautifully her formidable talent for writing domestic fiction that rises about the genre to become literary art.
About the Author
Tessa Hadley is the author of six highly acclaimed novels, including Clever Girl and The Past, as well as three short-story collections, most recently Bad Dreams and Other Stories, which won the Edge Hill Short Story Prize. Her stories appear regularly in The New Yorker; in 2016 she was awarded the Windham Campbell Prize and the Hawthornden Prize. She lives in London.
Praise For Married Love: And Other Stories…
"Filled with exquisitely calibrated gradations and expressions of class, conducted with symphonic intensity and complexity….[An] understatedly beautiful collection….Extraordinarily well-made."
— Stacey D'Erasmo, New York Times Book Review

"A British writer whose work probes the dangers and joys of family life, Tessa Hadley writes like a dream, even if some of her stories can haunt you like a nightmare….Hadley's measured, perfectly controlled prose masterfully chronicles her characters' turmoil; these stories are gemlike and unforgettable."
— Kate Tuttle, Boston Globe

"Hadley's power...is best felt as she teases out the often dangerous crackles in the air and cracks in the heart. There's a louche tautness to her prose..."
— Helen Davies, Sunday Times (London)

"[Hadley's stories] are often like movie clips of lives in transit, their small shifts of focus yielding up flashes of psychological insight. . . . Hadley excels at the domestic context, at pinpointing the particular quiddity on which an individual character turns; at marking the tiny swings of allegiance in human relationships."
— Rachel Hore, The Independent

"One of the most interesting writer around....This collection shows a writer quietly growing in style, perception and grace. She conveys to the reader that rare ability to see completely into someone else's head."
— Philip Womack, The Spectator

"Only Alice Munro and Colm Tóibin, among all the working short story writer I'm aware of, are so adept at portraying whole lives in a few thousand words. With Married Love, Hadley joins their company as one of the most clear-sighted chroniclers of contemporary emotional journeys."
— Edmund Gordon, The Guardian

"Domestic relationships are the stuff of these delightfully understated, tightly sprung stories."
— Fanny Blake, Woman and Home

"Married Love…could more accurately be described as a concentration, not a collection, of short stories. The stories here are, in effect, a dozen novels in miniature....There is a grand sweep and an emotional charge that brings to mind DH Lawrence."
— Elena Seymenliyska, Daily Telegraph (London)

"There is not a lot of domestic bliss to be found in these finely rendered stories, but there are many small moments of everyday life made recognizable by an exceptional storyteller. Highly recommended."
— Library Journal

"A subtly incisive vision and the ability to conjure full fictional scenarios in limited spaces characterize the new collection by a noted British writer….Shrewd, insightful, unpredictable, Hadley's stories successfully plumb the complicated daily deeps."
— Kirkus

"Hadley's command of the telling detail, the unspoken riposte, and the subtle interpersonal struggles that fuel everyday human actions infuses this collection with both saucy fire and sobering fatalism."
— Booklist

"Hadley excels at the poignantly comic scene and the dangling ending that somehow still satisfies. These 12 touching tales showcase her gifts."
— Meredith Maran, People (3 ½ stars)

"Her talent is to take these small details of everyday life and build them into stirring narratives….Hadley gives space to the smallest emotional currents, allowing them to expand."
— Susannah Meadows, New York Times

"What Hadley's stories share with Munro's is an extraordinary ability to capture whole worlds - the hopes, disappointments, complexity and arc of characters' lives - in concise prose that never feels rushed."
— Heller McAlpin, San Francisco Chronicle Book Review

"Twisting her pen with words so skilled and a sensitivity so finely honed it takes mere fragments to convey the lifetime of a character to the reader, Hadley brings us twelve of the finest short stories in print today."
— Andrea Huehnerhoff, Sacramento Book Review

"A feast of angst and disappointment."
— Evening Standard (London)