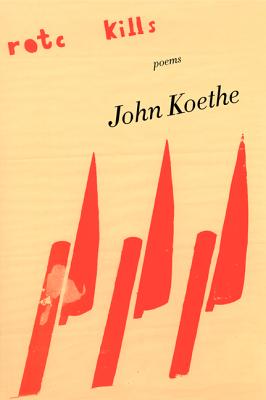 ROTC Kills (Paperback)
Poems
Harper Perennial, 9780062136022, 96pp.
Publication Date: August 28, 2012
* Individual store prices may vary.
Description
"[A] visionary new book of poems and prose meditations."
—Susan Stewart, author of Columbarium and Red Rover
"John Koethe's poems…are profound meditations on time and the curious hold it has on the human psyche. In them, even the most extreme exertions of consciousness are transformed into the faultless measures of clear and beautiful speech."
—American Academy of Arts and Letters
ROTC Kills is a lyrical and arresting new collection from renowned poet John Koethe, 2011 winner of the Arts and Letters Award and the Lenore Marshall Prize for the year's outstanding work of poetry.  As typified by the provocative title piece—a wistful look back at the poet's years at Harvard University in the late sixties—the poetry and prose within evoke the memories and dreams; the literature, popular culture, and philosophy of a generation through the lens of the poet's personal history. In the grand tradition of Wordsworth, Wallace Stevens, and John Ashbery, ROTC Kills is an important work from a major American poet.

About the Author
John Koethe is distinguished professor of philosophy emeritus at the University of Wisconsin-Milwaukee and the first Poet Laureate of Milwaukee. His collections include Falling Water, which won the Kingsley-Tufts Award, North Point North, a finalist for the Los Angeles Times Book Prize, and Ninety-fifth Street, winner of the Lenore Marshall Prize. In 2011, he received a Literature Award from the American Academy of Arts and Letters. He lives in Milwaukee, Wisconsin.
Praise For ROTC Kills: Poems…
"In this ninth collection of poems, very much obsessed with time's passage and its ending, with aging, remembering and preparing to die, poet-philosopher Koethe is in full, lucid command of his voice, an amiable hybrid of late Wallace Stevens, late John Ashbery, and William Bronk."
— Publishers Weekly (starred review)

"Koethe's winding syntax with its sudden, animating insights is like the clear, radiant path of a sunbeam; he illuminates another life inside our lives--the generous and capacious life of hte imagination that is his true province and home."
— Susan Stewart, author of COLUMBARIUM and RED ROVER

"John Koethe's poems in which he describes his past are more than simple memorials or langurous retrievals; rather, they are profound meditations on time and the curious hold it has on the human psyche."
— American Academy of Arts and Letters

"Koethe is a beautiful writer, one whose subtle inventiveness can give new life to persistent images, nail a complex feeling in just a few words, or make the basic tools of the poetic trade into sources of pleasure and persuasion."
— Slate

"Koethe . . . might be unmatched in the manner in which he thinks in his poems. Or, more than thinks, he meditates. He dramatizes the emotional vitality of an idea which nowadays is strangely and sadly rare."
— The Rumpus

"He handles big themes deftly, like the professional philosopher he is. . . . The poet seems comfortable with uncomfortable insights; readers may take comfort in Koethe's lyric musings."
— Booklist

"I can think of no one whose company I'd rather keep-for Koethe writes in the water of his time, knowing all is temporary."
— Washington Independent Review of Books
or
Not Currently Available for Direct Purchase