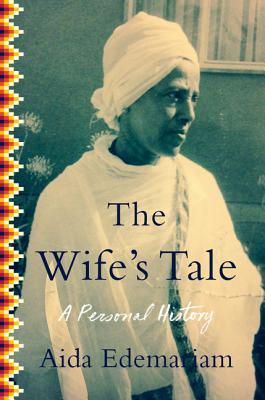 The Wife's Tale
A Personal History
Hardcover

* Individual store prices may vary.
Other Editions of This Title:
Digital Audiobook (3/19/2018)
Paperback (3/19/2019)
Compact Disc (3/20/2018)
MP3 CD (3/20/2018)
Description
A Finalist for The Governor General's Award for Nonfiction in Canada
In this indelible memoir that recalls the life of her remarkable ninety-five-year old grandmother, Guardian journalist Aida Edemariam tells the story of modern Ethiopia—a nation that would undergo a tumultuous transformation from feudalism to monarchy to Marxist revolution to democracy, over the course of one century.
Born in the northern Ethiopian city of Gondar in about 1916, Yetemegnu was married and had given birth before she turned fifteen. As the daughter of a socially prominent man, she also offered her husband, a poor yet gifted student, the opportunity to become an important religious leader.
Over the next decades Yetemegnu would endure extraordinary trials: the death of some of her children; her husband's imprisonment; and the detention of one of her sons. She witnessed the Fascist invasion of Ethiopia and the subsequent resistance, suffered Allied bombardment and exile from her city; lived through a bloody revolution and the nationalization of her land. She gained audiences with Emperor Haile Selassie I to argue for justice for her husband, for revenge, and for her children's security, and fought court battles to defend her assets against powerful men. But sustained, in part, by her fierce belief in the Virgin Mary and in Orthodox Christianity, Yetemegnu survived. She even learned to read, in her sixties, and eventually made a pilgrimage to Jerusalem.
Told in Yetemegnu's enthralling voice and filled with a vivid cast of characters—emperors and empresses, priests and scholars, monks and nuns, archbishops and slaves, Marxist revolutionaries and wartime double agents—The Wife's Tale introduces a woman both imperious and vulnerable; a mother, widow, and businesswoman whose deep faith and numerous travails never quashed her love of laughter, mischief and dancing; a fighter whose life was shaped by direct contact with the volatile events that transformed her nation.
An intimate memoir that offers a panoramic view of Ethiopia's recent history, The Wife's Tale takes us deep into the landscape, rituals, social classes, and culture of this ancient, often mischaracterized, richly complex, and unforgettable land—and into the heart of one indomitable woman.
Praise For The Wife's Tale: A Personal History…
"Edemariam anchors the book in these mundane rhythms, setting them against a vividly realized landscape…Political turmoil sweeps in like a dream…The book elegantly collapses the distance between the vast and the intimate, showing how history reaches even the most sheltered."                                                                                                                       
— New Yorker

"[Through] hauntingly beautiful recollections...Edemariam manages to reel us into a particularly gripping personal history, one that reveals the unassailable spirit of one woman."
— Minneapolis Star Tribune

"THE WIFE'S TALE is the extraordinary memoir of a woman who lived through the cataclysmic events that shaped modern Ethiopian history. The narrative, which is lovingly and expertly put together by her granddaughter, is a window into a world that would otherwise be invisible to us."
— Abraham Verghese, author of Cutting for Stone

"An ambitious, elegantly descriptive… profoundly lyrical narrative…Edemariam's book offers a glimpse into a singularly fascinating culture and history as it celebrates the courage, resilience, and grace of an extraordinary woman. A richly evocative tale of family and international history."
— Kirkus Reviews

"An intriguing depiction of a remarkable life."
— Library Journal

"A rich portrait of her grandmother's full life…through lyrical prose interspersed with poetry, prayers, and legends…Readers will appreciate Edemariam's work—part memoir, part history—for its personal look at an eventful century in Ethiopia."
— Booklist

"THE WIFE'S TALE is a remarkable achievement: meticulously researched, finely wrought and deeply felt, it is the story of one woman's life lived, not so much against the backdrop of history, but in the midst of it.  Edemariam's grandmother succeeded in building a life out of very little, except her enduring, quiet courage."
— Aminatta Forna, author of THE DEVIL THAT DANCED ON WATER
Harper, 9780062136039, 336pp.
Publication Date: March 20, 2018
About the Author
Aida Edemariam, whose father is Ethiopian and mother Canadian, grew up in Addis Ababa, Ethiopia,. She studied English literature at Oxford University and the University of Toronto, and has worked as a journalist in New York (Harper's Magazine), Toronto, and London, where she is a senior feature writer and editor for The Guardian. Her first book, The Wife's Tale, was named a Finalist for the prestigious Governor General's Award for Nonfiction in Canada. Aida Edemariam lives in Oxford.