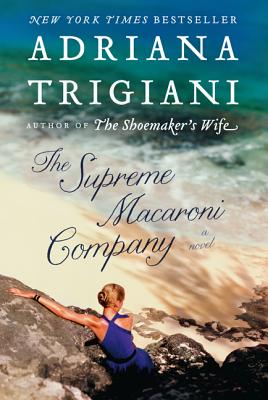 The Supreme Macaroni Company (Paperback)
A Novel
Harper Paperbacks, 9780062136596, 352pp.
Publication Date: May 6, 2014
Other Editions of This Title:
Digital Audiobook (11/25/2013)
CD-Audio (8/26/2014)
Hardcover (11/26/2013)
Paperback, Large Print (11/26/2013)
Compact Disc (11/26/2013)
Pre-Recorded Audio Player (11/26/2013)
* Individual store prices may vary.
Description
New York Times bestselling author Adriana Trigiani takes us from the cobblestone streets of Greenwich Village to lush New Orleans to Italy and back again, from the tricky dynamics between Old World craftsmanship and New World ambition, all amid a passionate love affair that fuels one woman's determination to have it all.
For more than one hundred years, the Angelini Shoe Company in Greenwich Village has relied on the leather produced by Vechiarelli & Son in Tuscany. This ancient business partnership provides a twist of fate for Valentine Roncalli, the schoolteacher-turned-shoemaker, to fall in love with Gianluca Vechiarelli, a tanner with a complex past . . . and a secret.
But after the wedding celebrations are over, Valentine wakes up to the reality of juggling the demands of a new business and the needs of her new family. Confronted with painful choices, Valentine remembers the wise words that inspired her in the early days of her beloved Angelini Shoe Company: "A person who can build a pair of shoes can do just about anything." Now the proud, passionate Valentine is going to fight for everything she wants and savor all she deserves—the bitter and the sweet of life itself.
About the Author
Beloved by millions of readers around the world for her "dazzling" novels, (USA Today) Adriana Trigiani is "a master of palpable and visual detail" (Washington Post) and "a comedy writer with a heart of gold" (New York Times). She is the New York Times bestselling author of eighteen books in fiction and nonfiction, published in 38 languages, making her one of the most sought after speakers in the world of books today.
Adriana is also an award-winning film director and screenwriter, playwright, and television writer and producer. Her screen adaptation of her bestselling novel Very Valentine premiered on Lifetime television in June 2019, launching their National Book Club. In 2018, she directed the feature film Then Came You, filmed on location in the Highlands of Scotland. She wrote and directed the award-winning major motion picture Big Stone Gap, based on her debut novel, filmed entirely on location in her Virginia hometown. Big Stone Gap spent 11 weeks in theatres in the fall of 2015 and was the #2 top-grossing romantic comedy of the year. She wrote and directed the documentary film, Queens of the Big Time, winner of the Audience Award at the Hamptons and Palm Springs International Film Festivals. Adriana co-founded The Origin Project, an in-school writing program which serves over 1,700 students in the Appalachian Mountains of Virginia. She lives in New York City with her family.
Join Adriana on Facebook and Instagram @AdrianaTrigiani or visit her website: AdrianaTrigiani.com
Praise For The Supreme Macaroni Company: A Novel…
"New York ambition clashes with dolce vita ease in Trigiani's delicious latest. . . . Feisty and poignant . . . Readers will root for Valentine and the lessons she learns--which apply equally to designing elegant shoes and to crafting a rewarding life."
— People

"Superb. Trigiani's ability to bring the large, warm, enveloping--if somewhat dysfunctional--family to life will keep any reader engrossed and entertained."
— Publishers Weekly

"Val's eccentric family keeps the book going at a quick pace. . . . Recommended for all Trigiani fans and those who've enjoyed a good cookie table (an Italian tradition commonly seen at weddings in Pennsylvania, Ohio, and West Virginia)."
— Library Journal

"I've always loved reading Trigiani, but [this] is something totally new and completely wonderful: a rich, sweeping epic which tells the story of the women and men who built America dream by dream. If you're meeting her work for the first time, get ready for a lifelong love affair. Splendid."
— Kathryn Stockett, #1 New York Times Bestselling Author of The Help

"The novel is a sweeping epic, but at its heart, it's a love story. It speaks to an era of possibilities."
— Providence Journal

"Delightful, energetic. . . . Trigiani is a seemingly effortless storyteller."
— Boston Globe
Describe Valentine and Gianluca's relationship. Is he the true love she has waited for?generic viagra price canada
What are the biggest obstacles to their happiness as a couple? What are their greatest strengths? What does Val expect from marriage? How does the reality compare? What makes for a good marriage? Is it realistic to want it all?generic viagra price canada
Think about the advice Val received from her family. If you are or have been married, what advice would you give her? If you aren't married what do you think marriage might be like?generic viagra price canada
Is Gianluca a good husband? Is Valentine a good wife? How much can their differences be attributed to age? To gender? To culture? Do you think they found the right balance in their relationship?generic viagra price canada
Is having such a large and close family like the Roncalli clan a blessing? Are there any downsides? What is your family like? How can families impact our romantic relationships?generic viagra price canada
Talk about Val's wedding. Do you like the idea of a big wedding? If you are married, what was your day like? If not, what kind of wedding would you like to have?generic viagra price canada
Keeping secrets partially define Val and Gianluca's relationship. What information do they keep from each other and how do they affect the course of their lives? What is the biggest secret they each keep from the other?generic viagra price canada
Gianluca wants them to live in Italy. Why doesn't Val want to? Is it possible for them to live part time in both NewYork and Italy while still building the business?generic viagra price canada
Val not only married an older man,she married one who was married before. How do both of these facts shape her marriage? What is it like for her to meet Gianluca's first wife? Why doesn't he like to talk about his first marriage with Val? Why does she need to know about his past?generic viagra price canada
What does building the business mean to Valentine? Is Gianluca right--does she put her ambition ahead of her family? How do we juggle both? How does Val?generic viagra price canada
How does Alfie impact their relationship and Val's ambitions?generic viagra price canada
Were you surprised about the turn of events toward the end of the novel? How does Val handle this change? How does her family help her get through it? Should Gianluca have told her about the house? Didn't she have a right to weigh in with her opinion? Did he do the right thing?generic viagra price canada
What do you think the future holds for Val? generic viagra price canada
Discuss the book's title. Do you think it is appropriate for the story? What did Val gain in this novel? What lessons did she learn?generic viagra price canada
What did you take away from reading The Supreme Macaroni Company?generic viagra price canada