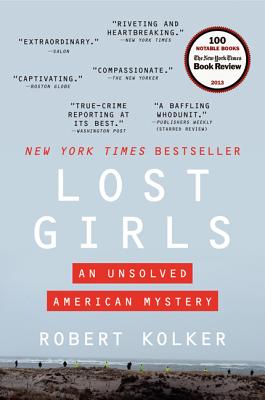 Lost Girls
An Unsolved American Mystery
Paperback

* Individual store prices may vary.
Other Editions of This Title:
Digital Audiobook (7/8/2013)
Paperback (1/28/2020)
Description
Soon to be a Netflix film
One of Slate's Best Nonfiction Books of the Past 25 Years
A literary account of the lives and presumed serial killings of five "Craigslist" prostitutes, whose bodies were found on the same Long Island beach in 2010. Based on the New York Magazine cover story.
Shannan wanted acceptance. Maureen wanted a solution. Megan wanted love. Melissa wanted adventure. Amber wanted to be saved.
Over the course of three years, each of these young women vanished without a trace: Maureen in 2007, Melissa and Megan in 2009, and Amber and Shannan in 2010. All but one of their bodies was discovered on Gilgo Beach, Long Island, an unsettled, overgrown seven-mile stretch of shoreline on the string of barrier islands along South Oyster Bay.
Sharing the same profile—all were in their twenties, all but one was under five feet tall, and all were prostitutes who advertised on Craigslist—the police concluded they were all the victims of one murderer, the Long Island serial killer—the most skillful and accomplished serial killer in New York since the "Son of Sam," David Berkowitz. But as intrepid young reporter Robert Kolker discovered, the truth about these women went far deeper than common assumptions. The victims weren't outcasts; they weren't kidnapped or enslaved. All came from a slice of America ignored by politicians and the media: the poor, often rural and white parts of the country hit hard by economics, where limited opportunities force people to make hard choices—choices that lead them to places like Gilgo Beach.
Working closely with the women's families, Lost Girls tells the stories of their deaths and their lives, offering a searing portrait of crime and circumstance that goes to the heart of modern America itself.
Praise For Lost Girls: An Unsolved American Mystery…
"Kolker is a careful writer and researcher...[he paints] a far more nuanced picture of each young woman than any screaming headline could."
— Miami Herald

"Through extensive interviews with the victims' families and friends, Kolker creates compassionate portraits of the murdered young women, and uncovers the forces that drove them from their respective home towns into risky, but lucrative, careers as prostitutes in a digital age."
— New Yorker

"Captivating."
— Boston Globe

"Robert Kolker unflinchingly probes the 21st-century innovations that facilitated these crimes… ...An important examination of the socioeconomic and cultural forces that can shape a woman's entry into prostitution."
— Kirkus Reviews

"Beautifully and provocatively written.... [Lost Girls] will make all but the hardest-hearted empathetic. Add a baffling whodunit that remains, as the subtitle indicates, unsolved, and you have a captivating true crime narrative that's sure to win new converts and please longtime fans of the genre."
— Publishers Weekly (starred review)

"Robert Kolker's LOST GIRLS is reportage at the highest level; it's miss-your-bedtime storytelling… It's a wonder."
— Darin Strauss, author of Half A Life

"Lost Girls is a marvelous book, taking a complicated, trying story and making it compulsively readable. Kolker is an outstanding reporter and a sensitive narrator who does justice to a horrible tragedy by paying exactly the kind of attention that no one else did, or would."
— Nick Reding, author of Methland

"The absence of the killer is the making of this book, a constraint that allows it to become extraordinary…humane and imaginative…[Kolker] shows the dented magnificence and universal sorrow within ordinary lives, and makes you realize how much more they are worth."
— Laura Miller, Salon

"Kolker indulges in zero preaching and very little sociology; his is the lens of a classic police reporter. And often in Lost Girls, the facts are eloquent in themselves."
— Newsday

"Some true crime books are exploitative…others grasp at serious literature. Robert Kolker's new book falls into the latter category."
— New York Observer

"Readers expecting an SVU-style true-crime story will be disappointed. But through detailed profiles of the victims themselves, Kolker has written a more provocative book—a book that is as much about class and economic pressures as it is about sex work and murder."
— The Daily Beast

"Meticulously reported and beautifully written, Robert Kolker's Lost Girls is a haunting and powerful crime story that gives voice to those who can no longer be heard. It is a story that you will not be able to forget."
— David Grann, author of Killers of the Flower Moon

"A gothic whodunit for the Internet age…nearly unputdownable…[LOST GIRLS is] a horrific, cautionary tale that makes for a very different kind of beach read…Kolker expertly chronicles the sad cycle of poor, uneducated white women faced with lots of kids and few resources."
— Mimi Swartz, New York Times Book Review

"Rich, tragic...monumental...true-crime reporting at its best."
— Washington Post

"Engrossing...a car-crash of a book...By humanizing the women, Mr. Kolker has produced a subtle indictment of the sex trade."
— Nina Burleigh, New York Observer

"A heart-chilling non-fiction tour-de-force...terrifying and intensely reported."
— Complex Magazine

"A rare gem of a book that not only tells a riveting story but illuminates something about a slice of America and gets into a lot of very deep issues. Its really great on every front."
— Slate, DoubleX

"Riveting and often heartbreaking...a lashing critique of how society, and the police, let these young women down."
— New York Times

"Immensely evocative...we are left with is a visceral understanding of the lives of the victims and why they should have mattered more."
— New York Daily News

"Terrific...vivid and moving...Grade: A-"
— Entertainment Weekly

"So masterful."
— Megan Abbott, author of Dare Me , via Twitter

"By learning the intimate details of the women's lives, seeing them as humans rather than victims, we see our similarities…Lost Girls is possibly the realest, fullest picture of what is happening with sex work in the US right now."
— The Guardian (UK)

"Kolker does not hold back in addressing the fact that there was dysfunction in these women's lives. They were drug addicts and teenage mothers and petty criminals. They suffered. But he can also see that within those circumstances they had moments of strength and self-assurance. "
— Barnes & Noble Review

"Lost Girls is partly unsolved mystery...[partly]the intimate story of the five women… [and] a case study in the profound impact of the Internet, and particularly Craigslist, on the business of buying and selling sex."
— National Post (Canada)
Harper Perennial, 9780062183651, 416pp.
Publication Date: May 6, 2014
About the Author
Robert Kolker is the New York Times bestselling author of Lost Girls, named one of the New York Times 100 Notable Books and one of Publishers Weekly Top Ten Books of 2013. As a journalist, his work has appeared in New York magazine, Bloomberg Businessweek, the New York Times Magazine, Wired, GQ, O, and Men's Journal. He is a National Magazine Award finalist and a recipient of the Harry Frank Guggenheim 2011 Excellence in Criminal Justice Reporting Award from the John Jay College of Criminal Justice in New York.
or
Not Currently Available for Direct Purchase