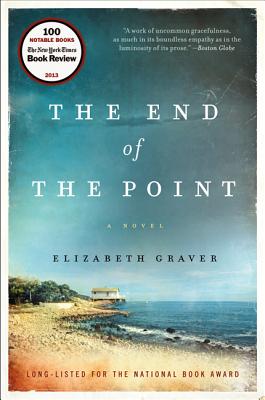 The End of the Point (Paperback)
A Novel
Harper Perennial, 9780062184856, 368pp.
Publication Date: April 22, 2014
Other Editions of This Title:
Digital Audiobook (4/21/2014)
Hardcover (3/5/2013)
Paperback, Large Print (3/5/2013)
Pre-Recorded Audio Player (3/1/2014)
Compact Disc (4/22/2014)
Compact Disc (4/22/2014)
* Individual store prices may vary.
Description
A place out of time, Ashaunt Point, Massachusetts, has provided sanctuary and anchored life for generations of the Porter family, who summer along its remote, rocky shore. But in 1942, the U.S. Army arrives on the Point, bringing havoc and change.
An unforgettable portrait of one family's journey through the second half of the twentieth century, The End of the Point artfully probes the hairline fractures hidden beneath the surface of our lives and traces the fragile and enduring bonds that connect us. With subtlety and grace, Elizabeth Graver illuminates the powerful legacy of family and place, exploring what we are born into and what we pass down, preserve, cast off, or willingly set free.
About the Author
Elizabeth Graver is the author of the novels Awake, The Honey Thief, and Unravelling; her short story collection Have You Seen Me? won the Drue Heinz Literature Prize. She is the mother of two daughters, and teaches English and creative writing at Boston College.
Praise For The End of the Point: A Novel…
"Eloquent ….Graver's engaging, expansive storytelling allows us to take up residence inside the minds of a host of different characters, watching as they create their own pictures of the world around them, as they invest certain places and people with mythic significance."
— New York Times Book Review

"With her fourth and most emotionally textured novel, Graver proves herself a master chronicler of the ever-spiraling human comedy. The End of the Point is a work of uncommon gracefulness, as much in its boundless empathy as in the luminosity of its prose."
— Boston Globe

"With a style and voice reminiscent of William Trevor and Graham Swift, Graver's powerfully evocative portrait of a family strained by events both large and small celebrates the indelible influence certain places can exert over the people who love them."
— Booklist (starred review)

"In this globalized age, with everyone talking about migration, here comes Elizabeth Graver to remind us of just what place can mean. The attachment in this gorgeously written, enormously moving book transcends time and personality. It is deep, extraordinarily ordinary, and finally provocative."
— Gish Jen, author of World and Town

"A lovely family portrait: elegiac yet contemporary, formal yet intimate….Helen and Charlie's difficult but enduring mother-son relationship is particularly moving, but every character is given his/her emotional due."
— Kirkus Reviews (starred review)

"One place and one family are inextricably linked in this marvelous novel. Elizabeth Graver writes with a painter's attentiveness to detail, and creates from these particulars a vivid rendering of American life from 1942 to the century's end."
— Ron Rash, author of The Cove

"An engrossing and intimate portrait of a New England family and the patch of land that gives them solace, generation after generation, when other people cannot. Graver's writing is simply stunning on every page, and she has gone deep under the skin of these characters to create this magnificent novel."
— Lily King, author of Father of the Rain

"This absorbing novel spans half a century, and deals with war, love, illness, frustration, ambition, politics—and most particularly with place and its meaning. I was embedded in The End of the Point—not so much reading it as living it: a deep and singular experience."
— Edith Pearlman, author of Binocular Vision: New and Selected Stories

"Is it possible for a novel to be at once cunning and magnificent, epic and compressed, topical and timeless? Yes, yes, yes, in the case of Elizabeth Graver's gorgeous The End of the Point."
— Margot Livesey, author of The Flight of Gemma Hardy

"The End of the Point is intimate and rich and compelling, a sprawling saga that evokes both the wildness and fragility of the New England coast."
— Stewart O'Nan, author of A World Away and Wish You Were Here

"Moves fluidly across time, all on this same beloved piece of land….Graver is incredibly good at evoking past, present, and future, and the ways in which they intersect….Graver's gifts—her control of time, her ability to evoke place and define character—are immense."
— Publishers Weekly

"Elizabeth Graver is an uncommonly fine writer: dancingly in command of language, yet always, foremost, faithful to something quieter and more essential - call it the complexities of truth. The ambitious scope of her new novel is beautifully matched by her largeness of spirit. I would read anything this author writes."
— Leah Hager Cohen, author of The Grief of Others

"An excellent choice for book clubs."
— Library Journal

"Graver takes an eloquent, balanced look at the power of place and time and the evolution of a family of flawed but relatable characters, building a subtle symphony that unfolds over decades….Graver is a master at showing how beautifully ordinary people survive the twists and turns of everyday life."
— The Millions