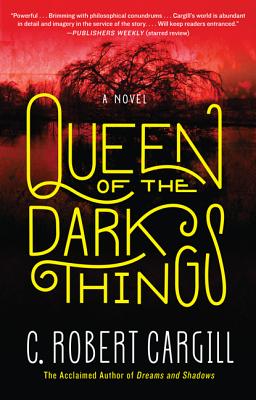 Queen of the Dark Things (Hardcover)
A Novel
Harper Voyager, 9780062190451, 448pp.
Publication Date: May 13, 2014
Other Editions of This Title:
Digital Audiobook (5/12/2014)
Paperback (1/27/2015)
Compact Disc (5/13/2014)
Compact Disc (5/13/2014)
* Individual store prices may vary.
Description
Screenwriter and noted film critic C. Robert Cargill continues the story begun in his acclaimed debut Dreams and Shadows in this bold and brilliantly crafted tale involving fairies and humans, magic and monsters—a vivid phantasmagoria that combines the imaginative wonders of Neil Gaiman, the visual inventiveness of Guillermo Del Toro, and the shocking miasma of William S. Burroughs.
 Six months have passed since the wizard Colby lost his best friend to an army of fairies from the Limestone Kingdom, a realm of mystery and darkness beyond our own. But in vanquishing these creatures and banning them from Austin, Colby sacrificed the anonymity that protected him. Now, word of his deeds has spread, and powerful enemies from the past—including one Colby considered a friend—have resurfaced to exact their revenge.
As darkness gathers around the city, Colby sifts through his memories desperate to find answers that might save him. With time running out, and few of his old allies and enemies willing to help, he is forced to turn for aid to forces even darker than those he once battled.
Following such masters as Lev Grossman, Erin Morgenstern, Richard Kadrey, and Kim Harrison, C. Robert Cargill takes us deeper into an extraordinary universe of darkness and wonder, despair and hope to reveal the magic and monsters around us . . . and inside us.
About the Author
C. Robert Cargill is the author of Dreams and Shadows and Queen of the Dark Things. He has written for Ain't it Cool News for nearly a decade under the pseudonym Massawyrm, served as a staff writer for Film.com and Hollywood.com, and appeared as the animated character Carlyle on Spill.com. He is a cowriter of the horror films Sinister and Sinister 2, and Marvel's Dr. Strange. He lives with his wife in Austin, Texas.
Praise For Queen of the Dark Things: A Novel…
"Powerful…. Brimming with philosophical conundrums… Cargill's world is abundant in detail and imagery in the service of the story. … Will keep readers entranced."
— Publishers Weekly (starred review)

"Hard to put down…this is definitely going to attract readers of contemporary fantasy, particular those who enjoy Neil Gaiman's adult books or Lev Grossman's The Magicians."
— Library Journal

"As a result, Dreams and Shadows is a potent introduction to a world where the wondrous is rarely wonderful, the best intentions are guaranteed to roam farthest astray, and the reader is destined to keep turning the pages until the (somewhat) bitter end."
— BookPage

"A thoroughly enchanting debut novel"
— Starburstmagazine.com

"In this beautifully written debut.... The universe is richly detailed, and issues of destiny and sacrifice give the story depth…for those that enjoy a rollercoaster ride into the depths of strangeness and despair."
— Publishers Weekly (starred review)

"Exceptional worldbuilding, sure-handed plotting and well-rounded characters, even the nasty ones, abound, and the whole impressive enterprise moves smartly along through a fairy culture with a structure and motivations sharply different from that of humans. A mesmerizing and highly original debut."
— Kirkus Reviews (starred review)

"Richly imagined...an auspicious debut."
— Booklist

"Dark, comedic, and unsettling, Dreams and Shadows is everything an urban fantasy sets out to be."
— Tor.com

"Cargill proves with Dreams and Shadows that he's not just a writer capable of creating and presenting dense mythology well
— Breitbart/ Big Hollywood

"[T]his is a fantasy about mythmaking, learning the uses of power, and living with the consequences of one's behavior. Recommended for readers of Lev Grossman's Magicians series and Neil Gaiman's adult contemporary fantasies."
— Library Journal on QUEEN OF THE DARK THINGS

"Cargill's screenwriting chops bring to life a vivid mix of real and imaged folklore in his fantastical second novel. While the mix of urban fantasy, Guillermo Del Toro-like monsters and academic explanations of this magical world shouldn't work, it absolutely does."
— No Source on QUEEN OF THE DARK THINGS
or
Not Currently Available for Direct Purchase