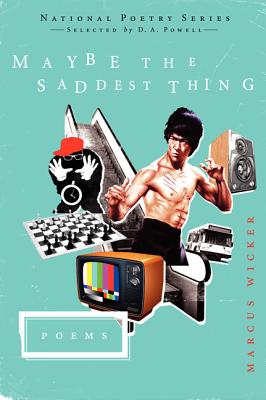 Maybe the Saddest Thing (Paperback)
Harper Perennial, 9780062191014, 79pp.
Publication Date: October 23, 2012
Description
"These are wide-ranging Whitmanesque poems--self-aware meditations that rap and jazz their way forward, talk back, backtrack, and scratch so hard they blow out the speakers with their complicated love for a huge cast of icons, from Pam Grier to Flavor Flav, from RuPaul to Dave Chapelle."
--Erika Meitner
"Keats, too, would have admired the holy truth of Marcus Wicker, whose lyric wizardry astounds the ear."
--D.A. Powell
Winner of the 2011 National Poetry Series Prize as selected by D.A. Powell, Marcus Wicker's Maybe the Saddest Thing is a sterling collection of contemporary American poems by an exciting new and emerging voice.

Praise For Maybe the Saddest Thing…
"Dense with echo and vibrant with syncopation, Wicker's debut deploys a festive panoply of characters from African-American culture and music to make serious claims about memory, sadness, race, self-consciousness, and desire."
-Publishers Weekly

"Action painting meets the pop of hip-hop. Here is a dashing figure of speech and preach, a lovepoet to the stars....Marcus Wicker['s] lyric wizardry astounds the ear in conclamant melodies and astonishes the eye 'like a shard of glass catches a beam'."
-D.A. Powell

"Marcus Wicker has, as Mos Def and Talib Kweli did, made an art that bridges cultures….The dialogues, love letters, and reflections throughout this wonderful debut show us what it is to be in vigilant conversation with the world and with the self."
-Terrance Hayes

"Wicker preaches an urgent gospel of pop-culture, desire, adolescence, race, and family, that says "Hell yes" to the world with deft turns of phrase, and a rhythmic inventiveness that hurtles down the page. This fearless debut will make your head spin, your heart strut."
-Erika Meitner
Advertisement