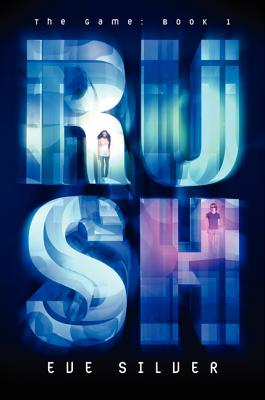 Rush (The Game #1) (Hardcover)
Katherine Tegen Books, 9780062192134, 368pp.
Publication Date: June 11, 2013
Other Editions of This Title:
Digital Audiobook (6/10/2013)
Paperback (5/13/2014)
* Individual store prices may vary.
Description
Rush pulls you headlong into the thrilling, high-stakes world of Eve Silver's teen series The Game, about teens pulled in and out of an alternate reality where battling aliens is more than a game—it's life and death. Eve Silver's teen debut offers science fiction and gaming fans romantic thrills at a breakneck pace. New York Times bestselling author Kelley Armstrong says, "Smart and original, Rush is an action-packed ride with plenty of heart."
Sixteen-year-old Miki Jones's carefully controlled life spirals into chaos after she's run down in the street, left broken and bloody. She wakes up fully healed in a place called the lobby—pulled from her life, pulled through time and space into some kind of game in which she and a team of other teens are sent on missions to eliminate the Drau, terrifying and beautiful alien creatures. There are no practice runs, no training, and no way out. Miki has only the guidance of secretive but maddeningly attractive team leader, Jackson Tate, who says the game is more than that and what Miki and her new teammates do now determines their survival—and the survival of every other person on this planet. She laughs. He doesn't. And then the game takes a deadly and terrifying turn.
About the Author
Eve Silver lives with her gamer husband and sons, sometimes in Canada but often in worlds she dreams up. She loves kayaking and sunshine, dogs and desserts, and books, lots and lots of books. The Game is Eve's first series for teens. She also writes books for adults.
Praise For Rush (The Game #1)…
"The intricate, multilayered plot is inventive, twining hostile alien takeover around uncertainty about Miki's and Jackson's true heritage and their growing romance....Mind candy for those teen readers who love the thrill of the game. "
— Kirkus Reviews

"Whether teens read this for the romance or the science fiction, they'll finish eager for the second installment of the Game series."
— Booklist

"The fight scenes offer unrelenting, pulse-quickening action, and Miki's personal struggle with her own need for control, even as she finds herself in an uncontrollable situation, provides the novel with an intriguing emotional core."
— Bulletin of the Center for Children's Books

"Thrilling action and addictive romance-a mind-bending rush of a read!"
— Pittacus Lore, author of the #1 New York Times bestselling I Am Number Four series

"Within one chapter, I found myself hooked. The stakes are high, the action is consistent, and there is never too much revealed at once; Silver has a wonderful talent with suspense. . . . Highly Recommended."
— CM Magazine

"Smart and original, Rush is an action-packed ride with plenty of heart."
— New York Times bestselling author Kelley Armstrong

"RUSH is the perfect title for Eve Silver's fantastic YA debut. A RUSH of excitement, a RUSH of danger, of action, of romance, of hot boys with dark secrets. I loved it!"
— Michelle Rowen, national bestselling author

"A taut, exciting YA debut with believable dialogue, enticing characters, and a cliffhanger ending that will have readers waiting impatiently for the series' next instalment."
— Quill & Quire (Starred Review)