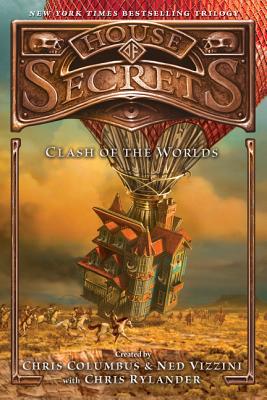 House of Secrets
Clash of the Worlds
Paperback

* Individual store prices may vary.
Description
The final book in the New York Times bestselling House of Secrets series that was called "a breakneck, jam-packed roller coaster of an adventure" by J. K. Rowling. Created by Hollywood director Chris Columbus (of Harry Potter fame) and bestselling author Ned Vizzini (It's Kind of a Funny Story), with the acclaimed author of the Codename Zero series and the Fourth Stall saga, Chris Rylander.
With their last adventure just barely over, the Walker kids thought life would finally go back to normal. But things don't remain calm for long . . . especially when the colossus Fat Jagger turns up in San Francisco Bay—and he's in danger!
With the police closing in, the Walkers must figure out how to save their giant friend. When a frost beast is spotted in Santa Rosa—and more mystical creatures start appearing all over America—it's soon clear that the characters from Denver Kristoff's works are invading the real world. It's up to Brendan, Eleanor, and Cordelia to reenter the book world one last time to keep the worlds from colliding, causing mass destruction.
They will have to track down three Worldkeepers hidden in Kristoff's books—magical items that when used together will seal the worlds off for good. But the Walkers' first move leads them straight into the Wild West, with lethal outlaws and lawless deputies—and that's just the beginning. They'll encounter dinosaurs, aliens, killer robots, and the Wind Witch herself—with new friends and old—and be faced with some of the deadliest choices they'll ever have to make. The scariest thing of all could be deciding who to trust, since everyone is hiding something. . . . 
Praise For House of Secrets: Clash of the Worlds…
"Fans will relish this final adventure . . . Delightfully imaginative" — Booklist
Praise for HOUSE OF SECRETS: "A breakneck, jam-packed rollercoaster of an adventure about the secret power of books, HOUSE OF SECRETS comes complete with three resourceful sibling heroes, a seriously creepy villainess, and barrel loads of fantasy and fear." — J.K. Rowling
Praise for HOUSE OF SECRETS: "A swift-paced . . . clever page-turner for any reader who has wanted to take part in literary adventures. . . . This story is compelling, great fun, and sure to be popular." — ALA Booklist
Praise for HOUSE OF SECRETS: "In a rousing adventure reminiscent of THE EMERALD ATLAS, director Columbus and author Vizzini catapult a trio of siblings across time and space, as they square off against a forgotten writer's literary legacy... The nonstop action comes with increasingly high stakes...wildly imaginative." — Publishers Weekly
Praise for HOUSE OF SECRETS: "[It] stirs up plenty of action involving pirates, giants, and man-eating insects - not to mention a skeleton sword fight worthy of Jason and the Argonauts. House will have even reluctant readers lining up for a sequel." — Tara Fowler, Entertainment Weekly (A- Review)
Praise for HOUSE OF SECRETS: "HOUSE OF SECRETS is one of the most entertaining middle-grade fantasy novels I have ever read. Anyone can enjoy House of Secrets because it's chock full of action, adventure, and humor...Once you read HOUSE OF SECRETS you'll be begging for the sequel!" — Jonathan Goldhirsch, Examiner.com
Praise for HOUSE OF SECRETS: "This book is a true masterpiece of perfection." — Krazy Kesh, The Guardian
Praise for HOUSE OF SECRETS: "Columbus and Vizzini craft a fast-moving, cinematic narrative that packs plenty of punch." — Kirkus Reviews
Praise for HOUSE OF SECRETS: "Columbus and Vizzini know how to keep a story moving. Every chapter ends in a cliffhanger." — Marjorie Ingall, The New York Times
Praise for HOUSE OF SECRETS: BATTLE OF THE BEASTS: "A dark action-adventure-fantasy with surprising heart." — Kirkus Reviews
Praise for HOUSE OF SECRETS: BATTLE OF THE BEASTS: "[An] imaginative, fast-paced adventure that is sure to please fans." — Booklist
Balzer + Bray, 9780062192547, 528pp.
Publication Date: May 2, 2017
About the Author
Chris Columbus has written, directed, and produced some of the most successful box-office hits in Hollywood history. He first made his name by writing several original scripts produced by Steven Spielberg, including the back-to-back hits Gremlins and The Goonies. As a director, Columbus has been at the helm of such iconic projects as Harry Potter and the Sorcerer's Stone, Harry Potter and the Chamber of Secrets, Home Alone, Stepmom, and Mrs. Doubtfire. As a producer, Columbus was also behind the hit films Night at the Museum and The Help.
Ned Vizzini (1981-2013) was the bestselling author of the acclaimed young adult books It's Kind of a Funny Story (also a major motion picture), Be More Chill, Teen Angst? Naaah . . . , and The Other Normals. He wrote for the New York Times, Salon, and The New Yorker. He also wrote for TV, including MTV's hit show Teen Wolf. His work has been translated into twenty-five languages.
Chris Rylander is the author of the Fourth Stall saga and the Epic Series of Failures trilogy, as well as Codename Zero and its sequels. A fan of baseball, statistics, and baseball statistics, he lives with his family in Chicago. You can visit him online at www.chrisrylander.com.