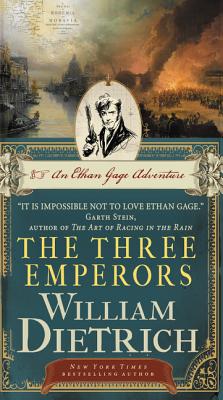 The Three Emperors (Mass Market)
An Ethan Gage Adventure (Ethan Gage Adventures)
Harper, 9780062194121, 432pp.
Publication Date: June 30, 2015
Other Editions of This Title:
Digital Audiobook (5/5/2014)
Paperback, Large Print (5/27/2014)
Hardcover (5/6/2014)
Compact Disc (5/6/2014)
* Individual store prices may vary.
Description
Adventurer Ethan Gage travels through the darkest and most superstitious realms of eighteenth century Europe, to the castles and caves of Bohemia to rescue his family and uncover a mysterious medieval device rumored to foretell the future.
Having quick-wittedly survived the battle of Trafalgar, Ethan is rushing to rescue "Egyptian priestess" Astiza and son Harry from imprisonment by a ruthless mystic who seeks revenge for disfigurement, and an evil dwarf alchemist who experiments with the occult on Prague's Golden Lane.
Using death as his ruse, and a pair of unlikely allies—a Jewish Napoleonic soldier and his sutler father—Ethan must decipher clues from Durendal, the sword of Roland. Astiza uses her own research to concoct an explosive escape and find a lost tomb, their tormentors in relentless pursuit.
William Dietrich skillfully weaves intrigue and magic, romance and danger in a historical thriller that sprints from the fury of Napoleonic war to the mystic puzzles of Central Europe. What enigmas will the fabled Brazen Head finally reveal?
About the Author
William Dietrich is the author of fourteen novels, including six previous Ethan Gage titles—Napoleon's Pyramids, The Rosetta Key, The Dakota Cipher, The Barbary Pirates, The Emerald Storm, and The Barbed Crown. Dietrich is also a Pulitzer Prize-winning journalist, historian, and naturalist. A winner of the PNBA Award for Nonfiction, he lives in Washington State.
Praise For The Three Emperors: An Ethan Gage Adventure (Ethan Gage Adventures)…
"Rousing adventure. . . . The latest rousing adventure from Dietrich shows antihero Ethan Gage, his exotic wife and a varied cast of characters grappling with an especially tumultuous historical period."
— Kirkus Reviews

"Another rip-roaring nineteenth-century adventure that combines historical people and events with imaginative fiction."
— Booklist

"Dietrich's writing style is vivid, lush, and rich. Readers will get the feel of the time period and the places involved. His plots, and his latest is no exception, are fast-paced and filled with derring-do and close escapes. Readers should suspend their disbelief, make popcorn, and enjoy."
— Library Journal

"Ethan Gage is one character in the suspense world that readers have grown to truly love. . . . This is a very busy tale with family, friends, and bad guys jumping from place to place to solve some pretty amazing puzzles that readers will not soon forget. Yet a new Gage story that will have everyone cheering!"
— Suspense magazine

"William Dietrich has created a truly unique hero in Ethan Gage."
— Bookreporter.com