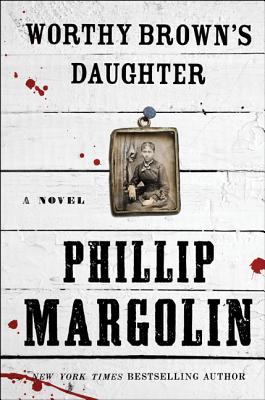 Worthy Brown's Daughter (Hardcover)
Harper, 9780062195340, 352pp.
Publication Date: January 21, 2014
Other Editions of This Title:
Digital Audiobook (1/20/2014)
Mass Market (9/30/2014)
CD-Audio (9/30/2014)
Pre-Recorded Audio Player (1/1/2014)
Compact Disc (1/21/2014)
Paperback, Large Print (1/21/2014)
* Individual store prices may vary.
Description
Known for his critically acclaimed contemporary thrillers, New York Times bestselling author Phillip Margolin explores intriguing new territory in Worthy Brown's Daughter, a compelling historical drama, set in nineteenth-century Oregon, that combines a heartbreaking story of slavery and murder with classic Margolin plot twists.
One of a handful of lawyers in the new state of Oregon, recently widowed Matthew Penny agrees to help Worthy Brown, a newly freed slave, rescue his fifteen year old daughter, Roxanne, from their former master, a powerful Portland lawyer. Worthy's lawsuit sets in motion events that lead to Worthy's arrest for murder and create an agonizing moral dilemma that could send either Worthy or Matthew to the hangman.
At the same time, hanging judge Jed Tyler, a powerful politician with a barren personal life, becomes infatuated with a beautiful gold-digger who is scheming to murder Benjamin Gillette, Oregon's wealthiest businessman. When Gillette appears to die from natural causes, Sharon Hill produces a forged contract of marriage and Tyler must decide if he will sacrifice his reputation to defend that of the woman who inspired his irrational obsession.
At Worthy's trial, Matthew saves Worthy by producing a stunning courtroom surprise and his attempt to stop the deadly fortune hunter ends in a violent climax.
About the Author
Phillip Margolin has written nineteen novels, many of them New York Times bestsellers, including his latest novels Woman with a Gun, Worthy Brown's Daughter, Sleight of Hand, and the Washington trilogy. Each displays a unique, compelling insider's view of criminal behavior, which comes from his long background as a criminal defense attorney who has handled thirty murder cases. Winner of the Distinguished Northwest Writer Award, he lives in Portland, Oregon.
Praise For Worthy Brown's Daughter…
"Worthy Brown's Daughteris a fast and absorbing read, and Margolin's law expertise makes the book's climax…an exciting moment indeed."
— Seattle Times

"Margolin shines in recreating pioneer life .. . . there's legal wrangling, murder and romance, set against the backdrop of race and frontier life. . . . his scene-setting, knowledge of the frontier and relating of the hard task of the law make for an appealing read."
— Kirkus Reviews

"With plenty of action…the lively narrative will keep readers engrossed."
— Library Journal

"Margolin captures both the haphazard legal theater—when judges ride the circuit, Portland's 'courthouse' is a loft on the third floor of the Coleman Barrel Company—and the daunting racism of the times."
— Oregonian (Portland)

"Worthy Brown's Daughter reads something like Deadwood meets Twelve Years a Slave. The finale in the courtroom is as brilliant and exciting as any great legal drama…. [A] beautifully written story rooted in America's brutal history of slavery and racism."
— Iron Mountain News

"[A] compelling tale of justice for sale… vibrant characters…bring the West to life…. If you like westerns or legal thrillers you will get both in Worthy Brown's Daughter."
— Huffington Post

"The Old West comes alive in heart-wrenching, violent, and wicked racist color…. Legal thriller and western fans will stay with it to the last page.… Margolin's novel offers a compelling portrait of small town justice done right."
— Booklist

"Margolin. . . [and] allows passions to sway his heroes, and generates empathy toward his crooks . . . . [On] the courtroom floor, where Margolin is clearly at home, [there is] a satisfying, white-knuckle climax."
— Publishers Weekly

"This departure for best-selling thriller writer Margolin might appeal to fans of the acclaimed movie 12 Years a Slave."
— USA Today, "New & Noteworthy"

"In New York Times bestselling author Phillip Margolin's first historical, recently widowed attorney Matthew Penny has come to newly-settled Oregon to start fresh. He stumbles into the most challenging case of his career when a former slave, Worthy Brown, asks him to save his teenage daughter."
— Huffington Post, "Books I Want to Read Most in 2014" by Wendy Webb, author of The Vanishing

"Phillip Margolin explores intriguing new territory in Worthy Brown's Daughter, a compelling historical drama, set in nineteenth-century Oregon, that combines a heartbreaking story of slavery and murder with classic Margolin plot twists."
— Bookreporter.com

"The action is brisk and the villains are shifty…[t]his energetic tale does cover interesting regional history for readers who might be averse to picking up a book of nonfiction, but who are willing to follow Margolin in his break from the regular routine."
— Bellingham Herald
or
Not Currently Available for Direct Purchase