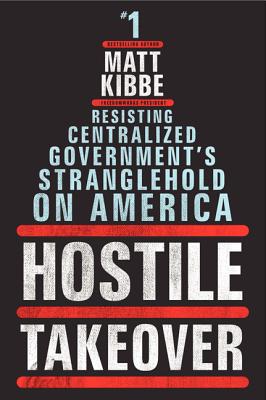 Hostile Takeover (Hardcover)
Resisting Centralized Government's Stranglehold on America
William Morrow & Company, 9780062196019, 392pp.
Publication Date: June 19, 2012
* Individual store prices may vary.
or
Not Currently Available for Direct Purchase
Description
"Hostile Takeover is essential reading for anyone looking to understand how individual freedom can prevail in a world of decentralized information. Matt Kibbe and this book provide us all with a roadmap on how to take back our lives, liberties, and responsibilities. "
--Glenn Beck
Matt Kibbe, the high-profile leader of FreedomWorks--who Geraldo Rivera calls "a warrior for the cause of limited government"--now offers an intelligent, aggressively argued attack on the American federal government machine in Washington, D.C. In Hostile Takeover, Kibbe, co-author of the #1 bestseller Give Us Liberty, provides a blueprint for "resisting centralized government's stranglehold on America," in order to return the nation to the more workable system our Founding Fathers originally intended.

Praise For Hostile Takeover: Resisting Centralized Government's Stranglehold on America…
"Hostile Takeover is essential reading for anyone looking to understand how individual freedom can prevail in a world of decentralized information. Matt Kibbe and this book provide us all with a roadmap on how to take back our lives, liberties, and responsibilities. "
-GLENN BECK

"Matt Kibbe is a warrior for the cause of limited government. He is a citizen activist who makes sense, and his well-researched and passionately argued book is a strong addition to the discussion that will eventually define the constitutional balance between government and people- power."
-GERALDO RIVERA

"Matt Kibbe brings an intellectual foundation to the national outcry for limited government. Hostile Takeover proves we come armed and prepared for battle, and that we are prepared to fight in the arena of ideas."
-SENATOR RAND PAUL (R-Kentucky)

"Few understand the decentralized nature of politics today like Matt Kibbe. In Hostile Takeover, is a must read for anyone trying to understand where the freedom movement is going next."
-SENATOR MIKE LEE (R-Utah)

"If you want to know how the free market can bring about prosperity when it is free of the heavy hand of government central planners, Matt Kibbe has a gift for you. It is the refreshingly readable Hostile Takeover."
-JUDGE ANDREW P. NAPOLITANO, Senior Judicial Analyst, Fox News Channel
Advertisement