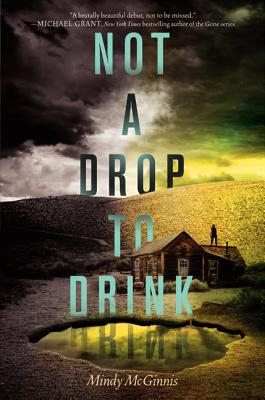 Not a Drop to Drink (Hardcover)
Katherine Tegen Books, 9780062198501, 320pp.
Publication Date: September 24, 2013
* Individual store prices may vary.
Description
Fans of classic frontier survival stories, as well as readers of dystopian literature, will enjoy this futuristic story where water is worth more than gold. New York Times bestselling author Michael Grant says Not a Drop to Drink is a debut "not to be missed." With evocative, spare language and incredible drama, danger, and romance, Mindy McGinnis depicts one girl's journey in a frontierlike world not so different from our own.
Teenage Lynn has been taught to defend her pond against every threat: drought, a snowless winter, coyotes, and most important, people looking for a drink. She makes sure anyone who comes near the pond leaves thirsty—or doesn't leave at all. Confident in her own abilities, Lynn has no use for the world beyond the nearby fields and forest. But when strangers appear, the mysterious footprints by the pond, nighttime threats, and gunshots make it all too clear Lynn has exactly what they want, and they won't stop until they get it. . . .
For more in this gritty world, join Lynn on an epic journey to find home in the companion novel, In a Handful of Dust.
Praise For Not a Drop to Drink…
A high-quality survivalist story for readers who enjoy internal story arcs as well as external dangers.

The intensity of action moves the story forward, but not at the expense of character development. The complex, authentic characters are neither fully evil nor unbelievably good. The honest and hopeful ending—while not "happily ever after"—will resonate with readers and leave them asking for more.

Those in search of fierce female survivalist characters need look no further than this.

In an understated but gripping debut, McGinnis paints a stark picture of a world not far removed from our own, concentrating on Lynn's gradual emotional growth as contrasted against the physical harshness of her existence.

A brutally beautiful debut, not to be missed. NOT A DROP TO DRINK is an unwavering story with incredible drama, danger, and power. This writer is for real.

I can't say enough good things about the writing, and the characterization. If you're looking for grit, realism and heart, you found it.

Deftly written, Mindy McGinnis's NOT A DROP TO DRINK is a frightening picture of a potential future without fresh water, which left me ridiculously grateful for my working faucet. This post-apocalyptic survival tale is about so much more than just survival. I loved it.

Set against the grim backdrop of an all-too-possible future, McGinnis's very fine coming of age novel doesn't stint on lifes hard lessons—or its triumphs. Lynn's story is what Laura Ingalls Wilder might've penned if she'd traveled a frontier imagined by Cormac McCarthy.