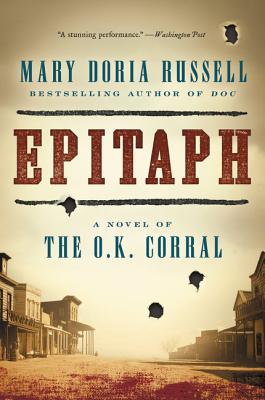 Epitaph
A Novel of the O.K. Corral
Paperback

* Individual store prices may vary.
Other Editions of This Title:
Digital Audiobook (3/2/2015)
Hardcover (3/3/2015)
Hardcover, Large Print (4/15/2015)
March '15 Indie Next List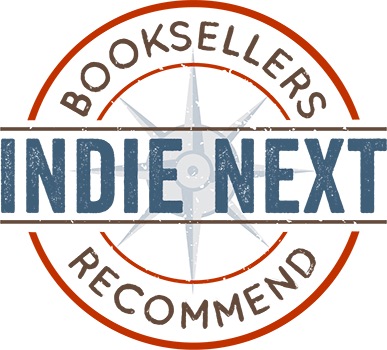 "This continuation of the story begun in Doc is equally engaging. From a shroud of American West mythic bombast and misrepresentation, Russell creates compelling, realistic characters with Wyatt Earp and Doc Holliday shown to be both heroic and heatbreakingly human. Epitaph focuses on Josie Marcus, the love of Wyatt's life. Theirs is a grand romantic tale told in hardscrabble detail, and Russell even makes what could have been cardboard villains into fully realized characters, both flawed and sympathetic. A rip-roaring good yarn!"
— Kathi Kirby, Powell's Books, Inc, Portland, OR
View the List
Description
Mary Doria Russell, the bestselling, award-winning author of The Sparrow, returns with Epitaph. An American Iliad, this richly detailed and meticulously researched historical novel continues the story she began in Doc, following Wyatt Earp and Doc Holliday to Tombstone, Arizona, and to the gunfight at the O.K. Corral.
A deeply divided nation. Vicious politics. A shamelessly partisan media. A president loathed by half the populace. Smuggling and gang warfare along the Mexican border. Armed citizens willing to stand their ground and take law into their own hands. . . . 
That was America in 1881.
All those forces came to bear on the afternoon of October 26 when Doc Holliday and the Earp brothers faced off against the Clantons and the McLaurys in Tombstone, Arizona. It should have been a simple misdemeanor arrest. Thirty seconds and thirty bullets later, three officers were wounded and three citizens lay dead in the dirt.
Wyatt Earp was the last man standing, the only one unscathed. The lies began before the smoke cleared, but the gunfight at the O.K. Corral would soon become central to American beliefs about the Old West.
Epitaph tells Wyatt's real story, unearthing the Homeric tragedy buried under 130 years of mythology, misrepresentation, and sheer indifference to fact. Epic and intimate, this novel gives voice to the real men and women whose lives were changed forever by those fatal thirty seconds in Tombstone. At its heart is the woman behind the myth: Josephine Sarah Marcus, who loved Wyatt Earp for forty-nine years and who carefully chipped away at the truth until she had crafted the heroic legend that would become the epitaph her husband deserved.
Praise For Epitaph: A Novel of the O.K. Corral…
"A magnificent sequel to Doc that represents a significant advance in her considerable narrative technique… Adroitly shifting points of view throughout, Russell assembles her cast in Tombstone, where her prodigious historical research illuminates the personalities and politics that propelled the combatants toward that corral."
— Cleveland Plain Dealer

Despite all that has been written and filmed about Doc Holliday and Wyatt Earp, Russell's pointedly anti-epic anti-romance is so epic and romantic that it whets the reader's appetite for more."
— Kirkus Reviews

"Well-written and provocative, Doc is a book that will haunt you."
— Historical Novels Review

"Russell shows how the gunfight at the OK Corral is not the end of a hero's tale but just 30 terrible seconds in a decades-long, nationwide struggle to evolve out of ignorance into enlightenment."
— Library Journal (starred review)

"Epitaph peels back all the layers of the events leading up to and following America's most storied gunfight, in a compelling, richly told narrative with complex characters, sharp context - and a number of parallels to today…a fully realized landscape with nuanced characters."
— Milwaukee Journal Sentinel

"Russell breathes new life into the well-worn western saga of the Earp brothers and Doc Holliday's infamous shoot-out in the Arizona Territory town of Tombstone… a raucously Hogarthian depiction of how the West was truly lived."
— Publishers Weekly

"With vast amounts of research and a poetic prose line … Russell has crafted an epic tale … a stunning performance."
— Washington Post

Her writing is so vivid it seems she must have been there. … As Russell says, it matters where a tale begins and ends and "who tells the story and why … That makes all the difference." Russell has made a big difference in bringing this story to life again.
— Seattle Times

Russell catalogs [the action] with power and beauty and a calculating eye until, as a reader, …understand something primal about the making of famous moments: That the causes are never as simple as you want, and outcomes never as clean or clear."
— NPR Books

"Mary Doria Russell has lifted the participants in the frontier's most famous gunfight out of the realm of genre fiction and catapulted them into the realm of literature."
— Dallas Morning News

"An epic retelling of the Gunfight at the O.K. Corral that sets the 30-second battle within the broader context of the times."
— Washington Post, Notable fiction books of 2015

"This novel tells the story of Wyatt and Sadie Earp from beginning to end, not stopping at the famous gunfight and its aftermath but following the couple to the end of their lives, inevitably shaped by that 1881 blaze of gunfire in Tombstone, Arizona Territory."
— Seattle Times, Critics Best Books of 2015

"Whatever it is you think you know about the gunfight at the OK Corral, however it is you think you feel about it, forget it all... Mary Doria Russell has 600 pages to burn a fresh understanding into you, and she uses every one of them."
— NPR, Best Books of 2015
Ecco, 9780062198778, 592pp.
Publication Date: February 16, 2016
About the Author
Mary Doria Russell is the author of five previous books, The Sparrow, Children of God, A Thread of Grace, Dreamers of the Day, and Doc, all critically acclaimed commercial successes. Dr. Russell holds a PhD in biological anthropology. She lives in Lyndhurst, Ohio.