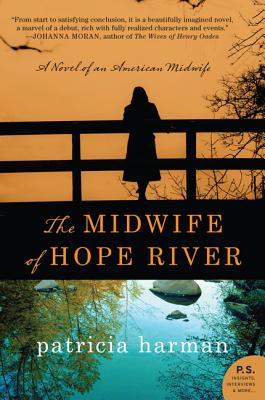 The Midwife of Hope River (Paperback)
A Novel of an American Midwife
William Morrow Paperbacks, 9780062198891, 400pp.
Publication Date: August 28, 2012
Other Editions of This Title:
Digital Audiobook (2/11/2013)
Compact Disc (11/10/2015)
Compact Disc (11/10/2015)
Hardcover, Large Print (3/18/2013)
* Individual store prices may vary.
Description
A remarkable new voice in American fiction enchants readers with a moving and uplifting novel that celebrates the miracle of life. In The Midwife of Hope River, first-time novelist Patricia Harmon transports us to poverty stricken Appalachia during the Great Depression years of the 1930s and introduces us to a truly unforgettable heroine. Patience Murphy, a midwife struggling against disease, poverty, and prejudice—and her own haunting past—is a strong and endearing character that fans of the books of Ami McKay and Diane Chamberlain will take into their hearts, as she courageously attempts to bring new light, and life, into an otherwise cruel world.

About the Author
Patricia Harman, CNM, got her start as a lay midwife on rural communes and went on to become a nurse-midwife on the faculties of Ohio State University, Case Western Reserve University, and West Virginia University. She is the author of two acclaimed memoirs and three novels: the bestselling The Midwife of Hope River, The Reluctant Midwife and The Runaway Midwife. She has three sons and lives near Morgantown, West Virginia.
Praise For The Midwife of Hope River: A Novel of an American Midwife…
"The Midwife of Hope River...is still on my mind days after finishing. From start to satisfying conclusion, it is a beautifully imagined novel, a marvel of a debut, rich with fully realized characters and events. This is one I'll read again, more slowly next time."
— Johanna Moran, author of The Wives of Henry Oades

"As always when writing of birth, the bleakest of times can be transformed by the power and beauty of birth...the moments of joy between new parents and their baby, between the mothers and the midwife, and between the midwife and her young assistant, light up the pages. Amen baby!"
— Penny Armstrong, CNM, author of A Midwife's Story and A Wise Birth

"I learned, I laughed, I cried, but most of all I was deeply impressed by the artistry of the midwife and her central role in women's lives prior to the advent of commercialized, institutionalized medicine. This novel will live in my heart for years to come."
— Amy Hill Hearth, author of Miss Dreamsville and the Collier County Women's Literary Society: A Novel

"a luminous novel of new beginnings, loss, love…and yes hope! Patricia Harman's all-too-human stories of birth mingle with the harsh realities of rural life in the 1930s...A thoroughly satisfying read by a talented storyteller."
— Gay Courter, author of the New York Times bestsellers The Midwife and The Midwife's Advice

"Midwives are warriors in this beautifully sweeping tale."
— Kirkus

"...will definitely renew your faith in love, loyalty, forgiveness, understanding and just plain HOPE."
— Fran Lewis

"Memoirist Harman (Arms Open Wide; The Blue Cotton Gown), herself a certified nurse-midwife, takes readers back to hardscrabble times and adds plenty of medical drama and a dash of romance, to offer an uncommonly good piece of American historical fiction."
— Library Journal
The opening scene in The Midwife of Hope River presents a dark and scary view of birth. Do you think most women (and men) see birth that way, or do they look forward to childbirth as a peak experience? How do you feel about childbirth?
Have you ever lost a baby or known anyone who has?
Living without electricity was an ordinary part of rural life in the 1930s. We are so used to all our conveniences now. How would you feel about living without them?
Unions played a big part in Patience's life and an important part in U.S. history. What is your experience with unions? Have you ever been a union member, or has anyone in your family? What place do unions have in modern times?
Most people think of inhabitants of Appalachia as Caucasian. Did it surprise you to read about African-American miners?
What did you think about the developing friendship between Bitsy and Patience? Realistic? A stretch of the imagination?
Have you ever had a servant in your home? What was your relationship to them?
The author writes of Patience's loneliness, living out on the farm without Mrs. Kelly or her Pittsburgh community of radical friends. Do you think you could make it alone like that?
What do you think the book says about the human capacity to endure hardship, loneliness, and fear?
Patience tells us of her grief and guilt over having killed her husband accidentally while trying to get the goon off him at the Battle of Blair Mountain. The experience defined her life for many years, yet she couldn't talk about it. How can a person let go of something like that? How important is it for a person to find someone to talk to?