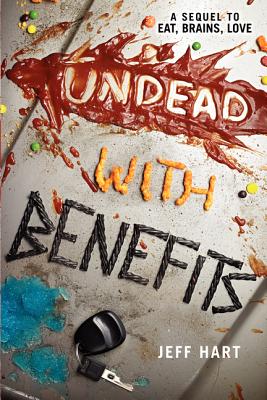 Undead with Benefits (Eat, Brains, Love #2)
Paperback

* Individual store prices may vary.
Description
With its heartwarming blend of guts, romance, and humor, this road trip–ready sequel to Eat, Brains, Love is The Walking Dead meets John Hughes.
Jake and Amanda are in love, on the run—and undead. They've picked up a new psychic friend, ex-government-zombie-hunter Cass, and are making a break for Iowa, where a cure for the rapidly spreading zombie virus is rumored to be waiting. But in order to find it, they have to contend with an unlikely undead warlord, ghoul-infested cornfields, a psycho psychic out for blood, and their own super-awkward love triangle—all before Iowa goes up in flames.
Every reader with a pulse (or without one) will devour Jeff Hart's surprisingly romantic and laugh-out-loud funny take on friendship, love, and finding the meaning of (un)life in an eat-or-be-eaten world.
Praise For Undead with Benefits (Eat, Brains, Love #2)…
"Hart balances humor and heartbreak with expert precision. These zombies are so touchingly human it's impossible not to love them."
— Kirkus Reviews

"Witty and full of plot twists and turns, suspense, and intrigue."
— School Library Journal

Praise for Eat, Brains, Love: "One hell of a road trip … funny, gross and scary in equal, alternating measures. Readers will be slavering for the sequel."
— Kirkus Reviews

"Debut author Hart brings a sympathetic voice to the zombie phenomenon in this offbeat adventure … with touches of humor and teenage self-awareness."
— Publishers Weekly

"Hart's action-packed plot is full of suspense and humor. A captivating first installment that leaves fans eagerly awaiting its sequel."
— School Library Journal

"Features characters shambling toward personal identity in sweet, funny, and incisive ways. Zombie fans will find this debut full of (undead) heart."
— Booklist
HarperTeen, 9780062200365, 416pp.
Publication Date: August 26, 2014
About the Author
Jeff Hart is originally from Rochester, New York, and now lives in Brooklyn. He is also the author of Eat, Brains, Love.