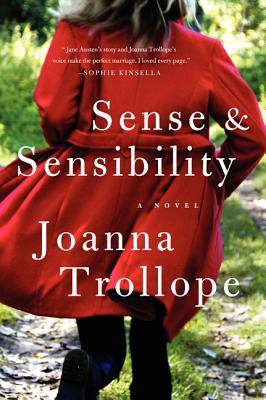 Sense & Sensibility
A Novel
Paperback

* Individual store prices may vary.
Other Editions of This Title:
Digital Audiobook (10/28/2013)
Paperback, Large Print (10/29/2013)
Hardcover (10/29/2013)
Paperback (6/5/2014)
Description
From Joanna Trollope, one of the most insightful chroniclers of family life writing fiction today, comes a contemporary retelling of Sense and Sensibility, Jane Austen's classic novel of love, money, and two very different sisters.
John Dashwood promised his dying father that he would take care of his half sisters. But his wife, Fanny, has no desire to share their newly inherited estate. When she descends upon Norland Park, the three Dashwood girls—Elinor, Marianne, and Margaret—are faced with the realities of a cold world and the cruelties of life without their father, their home, or their money.
With her sparkling wit, Joanna Trollope casts a clever, satirical eye on the tales of Elinor and Marianne Dashwood.
Reimagining Sense and Sensibility in a fresh, modern new light, she spins the novel's romance, bonnets, and betrothals into a wonderfully witty coming-of-age story about the stuff that really makes the world go around. For when it comes to money, some things never change....
Praise For Sense & Sensibility: A Novel…
"A fizzy, pop-fiction Jane Austen update....Trollope's comic romp is a satisfying tribute….When Sir John arrives to invite the displaced family to live at Barton Cottage, he gets his laptop out and plays a slideshow of the house. 'It's a charmer,' he tells them. Likewise Trollope's book."
— Boston Globe

"Trollope is a gifted chronicler of modern life and mores; she also clearly knows and appreciates Austen's world. Her update retains the essence of the characters Austen created...with a true Janeite's dry sense of humor and the occasional sly reference to the original."
— St. Louis Post-Dispatch

"Even though you may know Austen's novels well enough to predict exactly what will happen next, you'll care about finding your way to the happy ending of Trollope's version…Is the new S&S worth reading? The answer is unequivocally yes...The Austen Project is a breathtaking tribute to Jane Austen."
— Washington Post

"By updating Austen's first published novel to reflect modern slang, dress, and conveniences, Trollope brings an accessibility to this romantic comedy of manners that may appeal to the Bridget Jones crowd."
— Booklist

"Jane Austen's story and Joanna Trollope's voice make the perfect marriage. I loved every page. It's witty and fresh, whilst completely respecting the original, timeless story. What a delight!"
— Sophie Kinsella

"Trollope has clearly had enormous fun with her updating, and part of the delight for the reader is wondering what she's going to do next."
— The Observer

"You don't have to have read the original Sense & Sensibility to enjoy this breezy new take on Austen's 1811 debut….Wittily, stylishly and sensitively written with lots of delicious upmarket detail. A must for Trollope and Austen fans alike."
— Daily Mail (London)

"Trollope has kept the framework of Austen's novel but modernised the surfaces….Trollope adds verbal fizz. It's a faster, zestier read than the original....A fun exercise and one that provokes serious thought."
— The Times (London)

"Jane Austen's bestie sisters ditch the corsets (but keep the Downton-style estate) in a 2013 take on Sense & Sensibility."
— Cosmopolitan

"In many ways, Trollope and Austen are a natural marriage….The moments in which she moves away from the original are satisfying, and well chosen….The fidelity of the retelling has clever consequences."
— The Guardian

"A bloody good read. From Twitter and Taylor Swift to the lure of the wrong man, the Dashwood girls, who I still can't help but love, are drawn to painterly perfection by Trollope; their dreams and dramas as real as they were in 1811."
— Stylist

"Jane Austen's tale of two sisters is vividly brought into the 20th century by one of our best-loved storytellers."
— Woman and Home

PRAISE FOR JOANNA TROLLOPE
— Various

"Like a good kitchen chat, Joanna Trollope's novels dish out equal measures of reassuring warmth and sobering insight....... [Her] gift is her ability to capture far-flung perspectives with compassion."
— New York Times Book Review

"Trollope's astute observations cast her as a modern-day Austen."
— Library Journal (starred review)

"Her books are . . . readable without being trivial, accessible without being pat, psychologically astute without being labored."
— Wall Street Journal

"[Trollope] aims for the heart… and she hits it."
— The New Yorker

"Trollope is at her best analyzing the complex strands of DNA that bind families-and sometimes threaten to strangle them."
— People

"Wonderfully and compulsively readable. She can be as subtle as Austen, as sharp as Brontë. Trollope's brilliant."
— Mail on Sunday (London)

"[An author who] makes her readers want to drop everything in order to keep on reading."
— Publishers Weekly

"Trollope is brilliant at swooping in on a modern dilemma and showing it from every angle… Inventive, surprising and fascinating."
— The Times (London)

"Joanna Trollope is the most emotionally intelligent of contemporary British novelists."
— The Independent

"Trollope is one of those rare writers who creates fully human characters living in recognizable worlds doing regular jobs and suffering all the bitter disappointments that flesh is heir to…a writer who seldom strikes a wrong note."
— Kirkus Reviews

"Supremely sure of her material and purpose, compassionate but never sentimental."
— Sunday Times (London)

"Trollope is as poised and intricate a portraitist as her famous novelist ancestor, Anthony Trollope."
— Washington Post

"As ever, Trollope writes about family life with wit, intelligence and verve."
— The Guardian (London)
Harper Paperbacks, 9780062200471, 368pp.
Publication Date: November 4, 2014
About the Author
Joanna Trollope is the number-one bestselling author of eighteen highly acclaimed contemporary novels, including The Other Family, Daughters-in-Law, and The Soldier's Wife. She was appointed OBE in the Queen's Birthday Honours List and was the chair of judges for the Orange Prize for Fiction. She lives in London and Gloucestershire.
or
Not Currently Available for Direct Purchase